Berry Good
'Tis the season for pick-your-own berries at local farms. But what to do with all those beauties? Chefs and cocktail experts share their top recipes for a berry-themed brunch.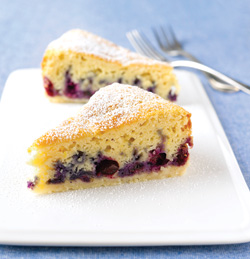 Chef Joe Simone
The Sunnyside Catering
Serves 8−10
2 cups plus 3 Tbs all-purpose flour
1 ½ cups plus 2 Tbs sugar
Pinch of salt to taste
1 ½ sticks unsalted butter, cold, cut into
small pieces
¾ cup milk
2 eggs
1 tsp vanilla extract
Zest from 1 large lemon
1 Tbs baking powder
1 pint blueberries, stemmed and
picked over
Preheat oven to 375 degrees. Grease and flour an 8- or 9-inch springform pan. Add 2 cups flour, 1 ½ cups sugar and a pinch of salt to the work bowl of a food processor. Pulse several times to combine, then add the butter pieces. Pulse until the butter is cut into the flour mixture and resembles small peas. Remove 1 cup of the butter mixture and press it into the bottom of your prepared springform pan. Pour the remaining butter mixture into a large mixing bowl and make a well in the center. Add the remaining flour and sugar along with the milk, eggs, vanilla, lemon zest and baking powder. Gently whisk the liquid mixture inside the well until combined and then fold into the flour mixture. Add the berries and fold gently to combine. Scrape the cake batter into the pan. Set in the preheated oven and bake about 50−65 minutes until a toothpick inserted into the center comes out clean. Remove from the oven, allow to cool to room temperature, then serve. Can be made one day ahead.
Sweet Yogurt Sauce
½ cup confectioner's sugar
1 cup Greek yogurt
Whisk ingredients together. Can be made a couple of days ahead and refrigerated until needed. Stir well, drizzle on top of cake and serve.
Sparkling Raspberry Lemonade
2 cups raspberries, loosely packed (or other berries; hull and slice if using strawberries)
1 cup sugar, divided
½ cup cold water
1 cup lemon juice, freshly squeezed
5 cups sparkling water or seltzer (avoid
mineral water)
Mint sprigs for garnish, optional
Place the berries and ½ cup sugar in a medium pan. Set over medium-low heat, cover and let stew for about 15 minutes, stirring occasionally until the berries have given up their juices. Add the ½ cup cold water and the remaining sugar, then raise the heat and bring to a boil, stirring frequently to prevent any scorching.
Once the mixture comes to a full boil, turn off the heat and allow the berry syrup to cool to room temperature, about 1 hour. Strain the berry syrup to remove any seeds and then store for up to four days in the fridge. To finish the lemonade, combine the berry syrup with the lemon juice and sparkling water in a large pitcher and serve over ice. Garnish with a mint sprig if desired.
Don't miss other recipes from ….
Local 121 Executive Chef Dave Johnson
Eleven Forty Nine Restaurant
The White Horse Tavern
Mixologist Jesse Hedberg
Pick-Your-Own Farms where you can harvest your own berries.
Jam Sessions – Cory's Kitchen turns canning into a booming business.
To read more of this story please visit your nearest newsstand or click the link below.