Ben and Heidi Sukle to Open Oberlin in December
The owners of the acclaimed restaurant birch will open a second, larger restaurant in the former Flan/Bodega Malasana location.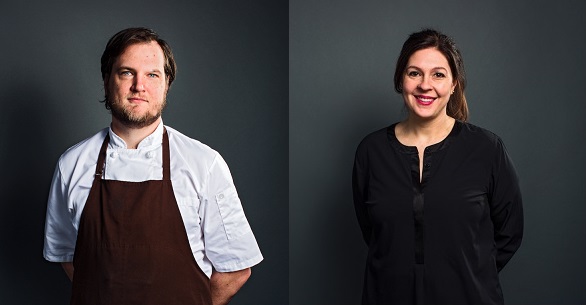 If you love Benjamin and Heidi Sukle's birch – get excited – because the culinary power couple is opening a second restaurant, Oberlin, in December 2015 in the former Flan/Bodega Malasana location. Oberlin is named after the town where Benjamin's father grew up and where he still has family today.
The forty-nine seater will allow them to expand the menu options in a bigger location, while also running the eighteen-seat stalwart, birch. The restaurant will celebrate the relationships the Sukles have forged with local farmers and fishermen through the years. "We felt a genuine desire and obligation to create an outlet that would give us the means to utilize all of the product our friends and purveyors grow, raise and catch," says Benjamin Sukle, in a prepared statement.
Birch opened in 2013 and Sukle earned a semifinalist nomination for the James Beard Foundation's Best Chef: Northeast award that same year. While chef de cuisine at the Dorrance, he was also nominated for the James Beard Foundation's 2012 Rising Star Chef of the Year award in conjunction with the Dorrance being nominated for Best New Restaurant in 2012.
Birch will continue as a sister restaurant, while Oberlin will allow the team to grow and provide more dining options. "Birch has a specifically focused cuisine, a shorter menu and a very curated list of produce," says Benjamin Sukle, "whereas Oberlin will be a utilization and celebration of the whole farm and boat."
Sukle and chef de cuisine Edward Davis will offer smaller and larger plates, simply prepared local produce, handmade pastas and raw and cured seafood and shellfish. Oberlin will be open Thursday through Monday serving food from 4 p.m. until Midnight, wine and beer until 1 a.m. with no reservations.
The new restaurant will also allow Heidi Sukle and general manager Victoria Canel to expand the beverage program. "When we created the beverage list for birch, it opened up a whole new world to us," says Heidi Sukle. "We were able to put the same energy into sourcing beer and wine as we do other aspects of the restaurant, which led to building relationships akin to the ones Benjamin and Edward have with local farmers and fishermen. Oberlin will give us a second, larger platform to showcase these importers and producers."
186 Union St., Providence, oberlinrestaurant.com. Like on Facebook at facebook.com/oberlinprovidence and follow on Twitter and Instagram at @oberlin_pvd.