Below the Surface With Underwater Archaeologist Dave Robinson
He recently discovered Rhode Island's largest ship graveyard.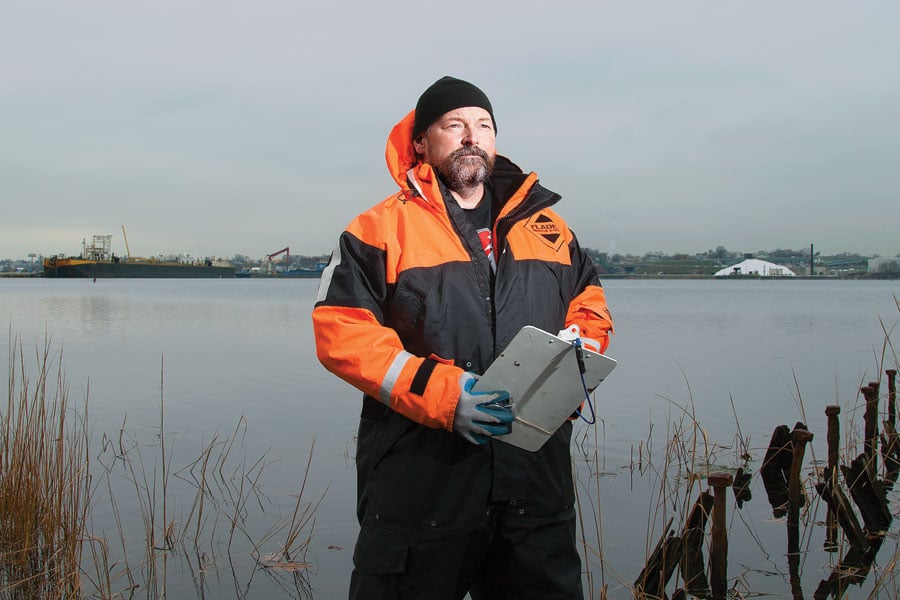 Dave Robinson pulls into Bold Point Park before low tide on a November morning, his friend Pete Manning's kayak strapped on top of his Toyota SJ Cruiser and a Grateful Dead logo containing the outline of Block Island on the back.
The park is at the end of Waterfront Drive in Riverside, near old trailers, the East Providence Yacht Club and Tockwotton on the Waterfront, a living facility for seniors.
In waders, rain pants and sporting a salt-and-pepper beard, Robinson looks across Providence Harbor toward India Point. Wooden debris from a barge dating back to 1972 that was used in the construction of Interstate 195, another vessel abandoned in 1997 and a rotting pier rise out of the water, their jagged edges reminiscent of prehistoric times.
Every decade or so since the 1930s, people have talked about cleaning up the waterfront near Bold Point, which juts out like a knob into the river. Now they're doing something about it, and that's why Robinson is here.
With encouragement from U.S. Senator Sheldon Whitehouse, Middletown-based Clean Bays received $195,000 in federal funding to remove debris from fourteen miles of shoreline along the Providence and Seekonk rivers and within the water itself.
But when URI oceanographers John King and Monique LaFrance Bartley surveyed the area in 2014, they discovered shipwrecks in shallow water off Bold Point Park known as Green Jacket Shoal. Rhode Island Sea Grant Director Dennis Nixon met with representatives of Attorney General Peter Kilmartin's office and the Historic Preservation Commission. Then Rhode Island Sea Grant put out a request for proposals and Robinson, a marine archaeologist at URI, responded and got the job.
With help from friends he'd been diving with since high school, Robinson found first five, then ten, then twenty-six vessels in all off the shore, from steamboats to barges to sailboats.
"People see them sticking out of the water and think they are old pilings, junk, debris," Robinson says. "But they are an archaeological site of some significance. This represents the last gasp of the merchant sailing fleet and the use of the bay as a playground for Rhode Islanders."
Among the wrecks are the wooden remnants of the Bay Queen and the Mount Hope, two of Narragansett Bay's iconic steamboats from the late 1800s and early 1900s. They both ran on the famous Providence, Fall River and Newport Steamboat line and the Mount Hope was designed by noted naval architect George Peirce. During their heyday, they carried thousands of Rhode Islanders each trip to destinations like Crescent Park and Rocky Point.
"It's certainly the biggest ship graveyard in Rhode Island," Nixon says. "It's an extraordinary cultural resource."
For an archaeologist like Robinson, though, the story begins long before that. As he walks along the shoreline before getting into the kayak, Robinson describes how where he is standing would have once been part of a flood plain, with bluffs.
"That's Fort Hill over there, on the other side of the pine tree," he says, gesturing to the southeast. "See how the land rises up? It was called Fort Hill because there was a gun placement there during the Revolutionary War. But there's ancient Native American sites all up in the hill. This would have been an amazingly beautiful place."
Robinson's respect for those ancient sites — and for the people who have descended from them — have made him a regional pioneer in his field.
Other archaeologists have written about what are known as drowned sites, formerly dry land that became submerged with changes in sea levels over the last few millennia.
"But Dave has actually found sites in New England," says Christopher Goodwin, an expert in cultural resource management whom Robinson has worked with since the 1990s.
And in an unprecedented project, Robinson and his colleagues are collaborating with tribal members in a multi-year project based at URI — incorporating their oral history and training a new generation of underwater archaeologists.
"Archaeologists have a checkered history of dealing with tribes," Goodwin says. "Dave is one of the few archaeologists in New England who has actually established a positive relationship. And the benefit of that to science as well as to the public is huge."
Since prehistoric times, people have plumbed the sea for food, treasure from sunken ships and in times of war. Robinson, who is fifty-one, was born in Newport with diving in his blood.
His father worked as a commercial and salvage diver during the 1960s, helping to build the Newport Bridge and to explore the German U Boat that sank off Block Island during World War II.
Robinson's father in turn was influenced by his great uncle, Thomas Eadie, one of the Navy's first underwater divers. During the 1920s, he helped recover the S-51 off Block Island and the S-4 near Provincetown, rescuing a fellow diver. He was awarded two Navy crosses and the Congressional Medal of Honor for his acts of heroism.
Growing up, Robinson knew his father was a diver, but didn't hear his father's stories and learn about Eadie until he was eighteen. His parents divorced when he was three and his father moved to Florida.
"The irony is that my dad was blowing up shipwrecks to make a living, and I'm trying to preserve them to make a living," Robinson says.
He moved with his mother and stepdad to Pettaquamscutt Terrace in Narragansett, next to the Narrow River.
"As long as I can remember, I had masks, because I liked to look and see what was underwater," Robinson says. "I've just always been a water spirit."
The remains of a schooner barge from the late nineteenth to early twentieth century. The barges were pulled behind a steam tug and carried freight like coal, lime, rock and lumber.
During dinners at the Dutch Inn, Robinson was fascinated by paper placemats that featured an outline of Block Island, illustrated with shipwrecks, with an inset about the Palatine. The ship burst into flames and sank off the northern tip of Block Island in 1738, and according to legend, it still haunts the island.
Most of Robinson's neighbors in Narragansett during the 1970s made their living by the sea.
"You couldn't help but be in tune with the water and shipping," Robinson says. "A lot of my friends' dads were commercial fishermen, and boats sank, people died."
As Robinson got older, he watched Jacques Cousteau's explorations on TV. He and his friend Glenn Anderson collected bottles and arrowheads around South County and developed a love of history.
He and his friends also learned about Native American culture growing up in Narragansett.
"You were always intrigued, and you'd get taken to a powwow here and there," Anderson says. "It didn't seem odd to us. Hearing all the Narragansett stories wasn't strange."
In the fall of 1979, Robinson twisted his friend Pete Manning's arm to take him diving, because he wasn't certified. His first dive was about a mile and half from the campus of the URI's Graduate School of Oceanography, where Robinson now works. It was October, and Robinson remembers how clear the water was.
They stayed shallow, in about ten feet of water. Manning would breathe down half a tank of air and Robinson would take the gear and breathe out the rest of it. Whoever wasn't on scuba would snorkel above.
"I just remember how wonderful it was to be able to relax," Robinson says. "You could see so much more."
The bay was filled with all kinds of microscopic life, vivid with color, from the plankton to the sea anemones. He was hooked, and got certified as a diver.
When Robinson and Manning were sophomores at Narragansett High School, they were assigned a history project. Manning had heard that there was a shipwreck off Bonnet
Point of the steamer Rhode Island. It was an overnight boat that ran from Providence to New York and in 1880, got lost in the fog and ran aground. Fortunately, no one died.
Marine historian Jim Jenney published a book on shipwrecks in Rhode Island around that time, and was a neighbor of Anderson's. They knocked on his door and he shared his research. Then they scoured microfiche for more stories about the steamer. And Robinson worked at the Carriage Inn to pay for diving gear.
The Rhode Island was about thirty feet down off the northeast tip of Bonnet Point. The three friends rode their bikes there in their scuba gear during the winter when the water was clear. The wreck was broken up, but they could still make out pieces of the structure. They mapped and photographed it, and recovered metal spikes, a little stencil and a pair of spy glasses with the leather still wrapped around them.
"It's ironic that I'm the one who is the archaeologist, because I never found anything," Robinson says. "Those guys always found all the interesting stuff."
When Robinson and Manning finished their project on the Rhode Island and presented it to their history class, they got an A. But it wasn't yet clear to him how his love of history and diving could be a career.
"We always laugh that he made a living at it," says Anderson. "No career counselor or guidance counselor at school said, 'Hey, you should be an underwater archaeologist.' "
When Robinson was eighteen, he met his dad. They shared stories, and his dad told him he had also dived on the Rhode Island. As they ate dinner, Robinson's father revealed that the platter the turkey was on had been recovered from the wreck of the steamer.
Robinson enrolled at the University of Rhode Island and continued to dive. He knew he liked science, but was horrible at math and had a hard time figuring out what he wanted to do and flunked out of school twice.
Around that time, he met Hayley, who would later become his wife. Robinson worked in a dive shop in Jamestown and met a boat captain who was also a diver, who eventually asked him if he wanted to go offshore.
Fishing the shoals off Nantucket was the hardest work Robinson had ever done. They'd steam out to the site and work nonstop for three days, shoveling tons of clams and sledgehammering ice. But there was nothing like the stars over the water on a winter night.
Robinson decided to go back to URI. This time he majored in art and anthropology and made the dean's list almost every semester. He and Hayley got married in 1987, and Robinson thought about what to do next. His father-in-law gave him a book called The Sea Remembers, a seminal history of shipwrecks and archaeology from Homer's Greece to the Titanic.
Robinson also read a National Geographic cover story on the excavation of what was then the oldest shipwreck found off Turkey. Texas A and M University, led by the man who started the field of underwater archaeology in America, George Bass, was involved in the effort.
Robinson applied, got in and learned the history of shipbuilding, how to record archaeological wrecks and conserve them so they don't disintegrate when exposed to air.
Then he got a graduate assistantship at a field school at Lake Champlain in Vermont, which he describes as "an incredible repository for human history": from ancient Native American sites drowned by sea level rise to ships from the French and Indian and Revolutionary Wars and the War of 1812.
His "first legit archaeology" was working with a group to document a horse-powered ferry boat from the 1830s — which he describes as "kind of a poor man's steamboat." The group's findings were eventually developed into a book called When Horses Walked on Water by Robinson's adviser, published by the Smithsonian.
Meanwhile, the field of marine archaeology was changing. In 1987, Congress passed the Abandoned Shipwrecks Act in response to about 3,000 historic vessels in the Great Lakes and other areas that were ravaged by treasure hunters.
The law transferred the titles for recovered vessels to the states whose waters they were found in and made preservation of the wrecks a priority.
In 1992, Robinson got his first professional project. The Baltimore District Corps of Engineers was planning to deepen a channel in the Chesapeake Bay, and a survey showed many shipwrecks, including a steamboat called the Columbus, which burned in the 1850s and sank, killing nine.
Robinson went to work as a project artist for Christopher Goodwin, whose cultural resource management firm is based in Frederick, Maryland. "They needed someone who could dive and who could draw, because the diving was pretty gnarly," he says.
A team of scientists and divers on multiple ships with large cranes worked in sixty feet of water with strong currents and poor visibility to raise parts of the historic steamship. One of the largest projects of the time, they recovered an engine and paddlewheel and other remnants that now reside at the Maryland Archaeological Conservation Laboratory.
Robinson went to work for Goodwin full-time in 1993 and moved with his family to Maryland. It was good timing: the U.S. Army Corps of Engineers was planning a number of harbor improvement and flood control projects. But if a federal agency or company wants to build a highway or dredge a channel, they have to comply with historic preservation laws before they can begin work. That means hiring archaeologists to look for historic sites, potentially recover artifacts and document what's there.
"They were at the forefront of this wave of opportunity for work that began to grow: underwater archaeology," Robinson says. "Before it was land, now it was underwater."
Working with geologists and geophysicists on boats equipped to show data in real time, Robinson completed surveys with sound-based and magnetic tools that provide a picture of the sea floor and can reveal the presence of a shipwreck. Then depending on how deep the wreck is or if the water is dangerous, archaeologists either dive themselves or send down a remotely operated vehicle with a video camera to record what's on the bottom.
Then in 1995, Robinson worked on a project that changed the course of his career. The Baltimore Corps of Engineers wanted to get rid of clean dredge material and was considering some marshy islets that had once been an island.
But people had almost certainly lived there at some point, so Maryland's underwater archaeologist at the time asked them to look for evidence of historic sites.
"The guy who was my boss at the time and I were like, uh, how do we do that?" Robinson says. "All the training that underwater archaeologists got before then and even up until very recently was how to find and study shipwrecks, not how to find and study submerged sites."
They weren't even sure what they were looking for, but they used one of their sound technologies — a high-definition sub-bottom profiler — to look for potential buried channels. When they found oyster shell deposits buried, they knew the technique worked.
Robinson began to shift his focus and traveled several times to Denmark, where he says underwater archaeologists are about three decades ahead of the United States in terms of identifying submerged sites, with some dating back 10,000 to 12,000 years.
When Robinson returned to Rhode Island in 2001 to work for the Public Archaeology Lab in Pawtucket (PAL), he continued to develop methods for identifying ancient sites.
As he surveyed the project area for an offshore LNG (liquefied natural gas) pipeline terminal in Massachusetts, he was once again asked by the state archaeologist to look for any ancient sites.
The process is completely different from searching for shipwrecks and much more like how archaeologists work on land. "You have to think very much about the geology, the shape of the landscape," he says. "You have to think about how that old land form which was once dry was affected by rising sea level and how sediments were eroded, destroyed, removed and redistributed. It's a wonderfully challenging puzzle."
They didn't find any sites, and the pipeline went forward as planned.
In 2003, he and URI oceanography professor John King made a major discovery as part of their work on the Cape Wind project, a wind farm that was proposed in Nantucket Sound. They found a piece of wood dating back more than 5,000 years that was preserved intact beneath the sea floor many miles out to sea. Robinson says the implication of the finding was that if part of an ancient landscape had been preserved despite sea level change, archaeological sites could be there as well.
Cape Wind redesigned the proposed path of the project because of the find at the time, but the initiative has since foundered for other reasons.
During this time, Robinson also began having conversations with Doug Harris, the deputy tribal historic preservation officer for the Narragansett Indian Tribal History Preservation Office (NITPHO) and a preservationist for ceremonial landscapes.
Robinson told Harris about the work on submerged sites that was being done in Denmark.
"When he started sharing with me, I was elated," Harris says. "It was a whole new world for me.
Harris doesn't have a high opinion of archaeologists in general. There's a cultural perception of archaeologists as grave robbers, he says.
"We work on projects because we feel that we have to protect the resting places of our ancestors, and we have to protect them from archaeologists," he says.
But working with Robinson made Harris adjust his perception.
"He always presented himself, not as an archaeologist, but as someone who cares," Harris says. "It's forced me to start looking at archaeologists beyond my personal stereotype."
In 2010, NITPHO was asked to participate as a stakeholder in the Rhode Island Ocean Special Area Management Plan (SAMP) process, which provides ecological and geological information to help guide offshore development like wind farms.
During the first meeting, Harris relayed how the Narragansett medicine woman, Dr. Ella Sekatau, had told him that more than 15,000 years ago, the ancient villages of the Narragansett were out where the ocean is now, that the waters began to rise overnight and the people had to abandon their homes.
"So our question was, if this oral history is true, then there will potentially be cultural resources of the ancient Narragansetts on the continental shelf, where these wind turbines may be installed," Harris says. How would scientists determine the presence or absence of those sites and preserve them? He asked those questions for more than two years.
There's archaeological evidence of people living in southern New England as early as about 12,000 years ago, Robinson says. And the more recent discovery of an ancient stone tool and mastadon skull by scallop fishermen off the Maryland coast could show that people lived as long as 23,000 years ago along the ancient shorelines in the Americas that are now submerged far offshore. The implication of the finding has been the subject of debate among some archaeologists, however.
The Narragansetts believe that their ancestors have always been here and did not cross a land bridge or originate in Africa. Rhode Island's state geologist at the time, Jon Boothroyd, lent additional credence when he said during the SAMP meetings that what is now the continental shelf off Rhode Island — the underwater landmass that extends off the coast — was an open and vegetated plain 24,000 years ago.
When Deepwater Wind began work on the first wind farm in the United States off Block Island, Narragansett and Wampanoag tribe members were included in the process.
"This was the first time that tribes had been out to see the data come in and interpret it and learn about the techniques used offshore," Robinson says. "The tribal input is really important because these are their ancestral sites. They have more knowledge about their past than we could ever hope to have."
With the potential for offshore development growing, the United States Bureau of Energy Management entered into a $2 million agreement in 2012 for a four-year effort called the Submerged Paleocultural Landscapes Project.
King, Robinson and Harris are now working together to reconstruct the glacial landscape that's submerged off Rhode Island, developing guidelines for identifying and protecting underwater ancient Native American cultural sites and training young Narragansett tribe members to combine scientific knowledge with their oral history. It's the first time a project of this type has involved tribal collaboration.
"It's a huge challenge because of the dark history that exists in tribal and non-tribal people interacting in this country," Robinson says. "Because particularly for East Coast tribes that were affected by colonization 400 years ago and the destructive effects that have been so thorough and so long ago, there's been oral history that's been lost.
"So to suddenly ask tribes to 'Hey, help us do a better job of finding your ancient sites,' it's not that simple. It requires the long-term development of relationships that are trusting and respectful," he says.
Robinson's high school friend Anderson, who has seen him speak often, says that Robinson noted in a lecture that "as scientists, we're out here, we're measuring, we're digging up graves and moving the bones and looking at everything scientifically. But these are people's relatives we're looking at. They're not just bones. There's a soul here."
Chali Machado and her brother, Norman, are two of the students working on the Paleo initiative. They grew up in Charlestown learning tribal history from their mother and were already working with NITPHO and land archaeologists to identify artifacts when Harris approached them to work on the project.
"We knew that our culture was very important and it's something we were very passionate about," says Chali Machado, who is twenty-eight. "We thought it was a brilliant idea. Maybe this was our calling."
They got certified as scientific divers, learned how to collect sediment samples to look for signs of ancient life and returned to school at URI. As part of the search for sites, they've worked in west Greenwich Bay and off Block Island.
"It's a whole different world down there," says Norman Machado, who is twenty-seven. "I'm a very spiritual person, and I get the energy when I go to these sites."
The great thing about sites that were once dry land is that they preserve organic materials such as wood, baskets and fiber mats, says Charlotte Taylor, a state archaeologist who manages underwater sites in Rhode Island.
"What I'm hoping is Dave Robinson will find a submerged Narragansett site that is in shallow enough waters so that we can excavate it," she says. "They haven't found it yet. But there almost has to be a site like that somewhere in Narragansett Bay."
Robinson also continued to discover shipwrecks. Over last spring and summer, with help from two of his sons and high school friends Manning and Anderson, Robinson headed to Bold Point Park during the low tide monthly to document the site.
Anderson brought his quadcopter, outfitted with an HD camera, and took pictures from nearly 400 feet above. When Robinson enhanced the photos on his computer, the technology enabled him to see that a lot more wrecks than he thought were there.
By studying maps, news accounts, photos and other materials, Robinson determined that the shoreline was once filled with oyster beds and was a major fishery until the mid-1800s. It used to be called Wachemocket, which Robinson says he's seen translated as "smelly water."
After the Industrial Revolution started upriver at Slater Mill, the area transitioned into an industrial waterfront with railways running along the water.
By the late 1800s, Providence had developed into a major port and the site had become a shipyard where people brought their boats to be repaired. Steamboats like the Bay Queen and the Mount Hope raced up and down the bay filled with people.
But the industrialization came with environmental costs."Everything that was being produced that had any kind of effluent, it was going into the river," Robinson says.
And with advances in transportation in the early twentieth century, steamboats went out of favor and the maritime industry declined. People began to use Green Jacket Shoal as a place to abandon their vessels. "Benign neglect has preserved these things," Robinson says.
The water quality at the site used to be terrible, but recent efforts to clean up the bay have improved its quality and clarity. "That's why this stuff was hidden in plain view," Sea Grant's Nixon says. "Because the water was so murky, you couldn't imagine what was here."
Clean Bays is removing the non-historic debris, which is expected to take a total of sixteen months. Nixon plans to meet with stakeholders with interest in the site, including the Attorney General's office, because the wrecks could be state property.
Nixon and Robinson are excited about Green Jacket Shoal's historic potential. With a nod to the celebrated pasts of the Bay Queen and the Mount Hope, it could become a place of recreation over wreckage. One day, people might be able to take kayaks out and use their cellphones to take a self-guided tour with 3-D photographic models, and discover for themselves what lies beneath.