Behind-the-Scenes at The Nutcracker
The rollicking performance put on by Festival Ballet returns and we got a sneak peek behind the scenes.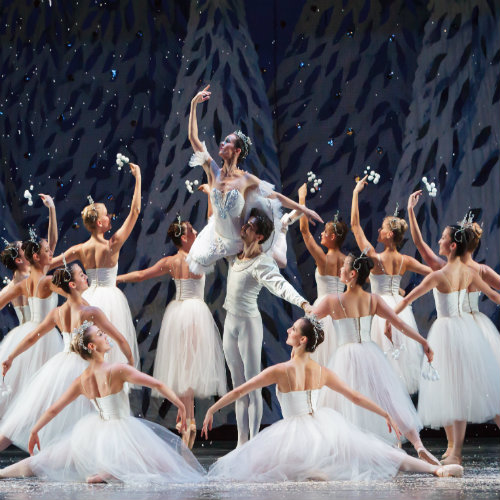 Walking into the backstage at PPAC, a panoply of hurried activity unfolds. A small terrier trots around timidly, its owner periodically picking it up where it gladly snuggles into his warm embrace. Children wearing red tin soldier uniforms slide along the shellacked concrete floors and burly men in black grunt as they push a giant set onto the stage. Lithe ballerinas walk languidly, their toes pointing outwards as if they are about to spring forth and start dancing. This is the atmosphere behind-the scenes at the Nutcracker, the classic candy-coated ballet that Festival Ballet delights us with every year.
Helmed by the multi-talented and bespectacled Mikhail Baryshnikov ("Misha" as all the ballerinas call him), putting together this massive confectionary tale is quite the impressive task.
Baryshnikov stands on the stage, moving kids into the correct positions and attempting to tame the ones who seem to be giddy on the sugary personas they will portray.
"Are you listening? Five, six, seven, eight open up!" he says, while a cluster of children in capes, knickers and dresses swing themselves outward, creating a semi-circle.
Meanwhile, backstage, the array of props sits silently on a black shelf, the nutcracker mask's eyes vacant, waiting for the ballerina to give it life.
As the rehearsal starts to roll more smoothly, ballerinas dressed in gorgeous tutus and bodices wait on the sidelines. A chill breeze swirls throughout, kicking up the fake snow and prompting the dancers to bundle up in boots and shawls.
The fake snow proves to be beautiful, but in the words of one of the burly stage hands armed only with a tiny broom and pan, " No matter how much I sweep…" followed by a heavy sigh.
The rehearsal rolls onwards, ballerinas chatting about things like what they will eat for Christmas dinner, how much they are looking forwards to sleeping and how they will change a certain move onstage to accommodate the pressure put on their right leg.
They sprint onstage, where they dance as if it were the easiest thing in the world, only to reemerge backstage dripping with sweat and panting heavily.
" I go out and do some of the most athletic stuff I've ever done, I'm in the best shape of my life," says Jordan Nelson, who plays one of the Russian Candy Cane dancers.
You can see it as they limp off stage, where the grace and poise they carried in their shoulders and chests slumps a little, and sweat beads on the tips of their noses. This is a tough art form, grueling almost, but rewarding in the best way possible.
Nelson sits in the dressing room where costumes, bags and clothes are scattered, his black cap plastering down his hair. " My favorite part of this whole thing is seeing where this journey takes me and that feeling of being onstage; it's like a fairytale to me."
A candy-coated, sugar-dusted fairytale where visions of sugarplums dance in their heads.
See the amazing display of talent tonight and this weekend.
Dec. 16–18. Fri., 7:30 p.m.; Sat., 2 p.m. and 7 p.m.; Sun., 1:30 p.m. Prices range from $23–85 depending on seat choice. Providence Performing Arts Center, 220 Weybosset St., Providence. ppacri.org.