Behind the Scenes at StyleWeek Northeast
Interviews with the creative directors of hair and makeup and back of house manager; the people who put the finishing touches on runway shows.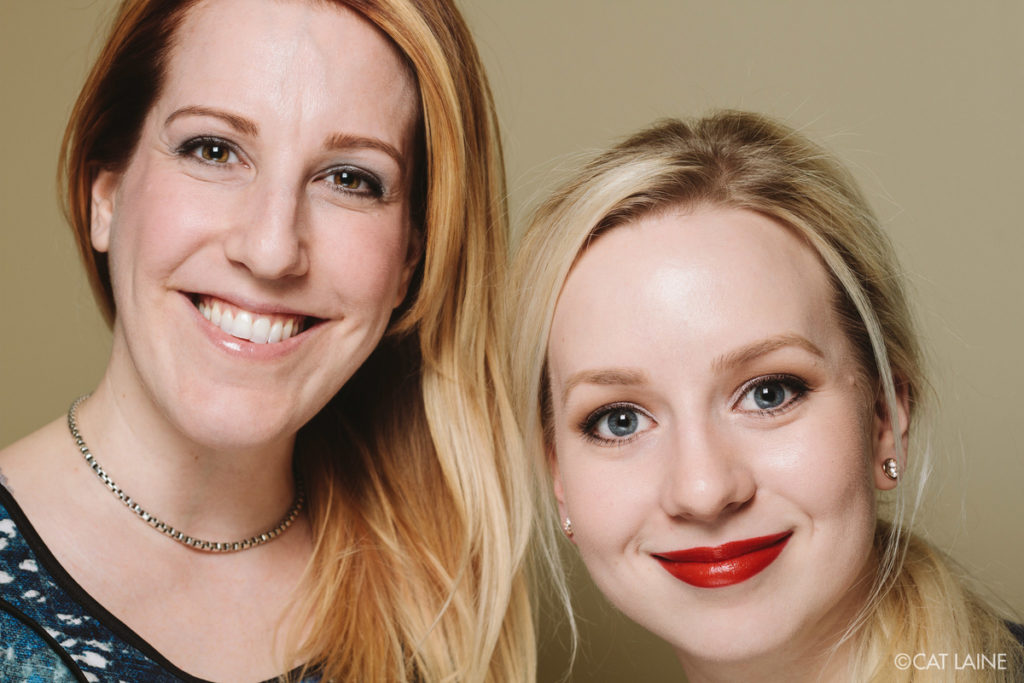 Rhode Island Monthly went behind the scenes at StyleWeek Northeast to learn what goes into hair and makeup and back of house organization at the annual fashion week. Meet creative director of hair Betha Wood, creative director of makeup Holly Dalton and LuLu Locks, back of house manager. Photos by Cat Laine of Painted Foot photography.
Betha Wood, Creative Director of Hair
Owner of Salon Bianco in Providence.
How long have you been with StyleWeek?
Since the very beginning. Ten seasons.
What has it been like this season so far?
Sometimes it gets crazy, but this season, since LuLu is back of house, she's the cat herder. It's been the easiest season so far. It's running so smooth.
I don't think I've ever seen any snafus?
There have been goofy things that have gone wrong, but nothing catastrophic. I think it always looks good out there. The [audience] doesn't have any idea.
What is the process for doing hair for the shows?
Usually, we do makeup first and then have them come to hair. Every show has a different number of models. Sometimes we have over ten models for each show. Then we might start the second or third show first for hair. The first show has to get finished first. The second show doesn't have to be ready until 8 p.m.
What's the most amount of models you've done for hair?
For one night, I would say somewhere around fifty.
How many people help you with hair?
I think the team total is somewhere around twenty people. We never have that many people on one night. It's all volunteer. Some people can only do one or two days. Some people can do most of the week. We love new team members. We always have people who contact us. We hold sign-ups at least once a year as well. Anyone who wants to volunteer to help on the hair or makeup team can email me at bethany@styleweekllc.com or Holly at holly@styleweekllc.com.
Where do the stylists come from?
All over Rhode Island, Boston, Connecticut, all over the Northeast. It's a lot of different people. The biggest thing about welcoming new team members is we have a very strict, no diva policy. We're the zen in the process. The models are nervous. The designers are nervous. There's a lot of nervous energy. We have to be the zen. If someone does something wrong, I have to correct it. You can't get upset with me. Just as easily, I could be struggling if I am having an off day. And then the student who's in school can come over and help me. Say I can't get this braid tight enough. We all have strengths and weaknesses. If I don't have an ego about my own weaknesses then no one else can.
Savannah Reinitzer in the wings at Jess Abernethy's runway show.
I could never see you with an ego.
I love that story! That means I am doing my job.
In terms of preparation, is there a show that has been the most challenging?
The most challenging is when the designer doesn't know what they want, and they keep changing their mind during the process.
It seems like a lot of students help out.
It's so cool when they come in and they're nervous, and doubt themselves and then to watch them become successful stylists. That's why I am doing it. It goes back to our mission for StyleWeek. It's all about coaching the beginners through the business of fashion. Whether it's on the makeup team, hair team or the designers themselves. We have student designers in the SEED show, we have designers just starting their careers and designers who have been doing it a long time. It's all about coaching.
What is the most creative style you have done?
Jonathan [designer Jonathan Joseph Peters and chief operating officer and creative director of StyleWeek] is the one who pushes me in new and uncomfortable, creative ways. His shows are also my favorites. Sometimes I'll be nervous about the crazy hairpieces he wants me to work with. I always think, can we really pull this off, and then it's so beautiful. He did the big puffs in a previous show. The kabuki show was really good. We made big chignons in the back and then we had these artificial hairpieces that were all brightly colored and fan shaped. That was fun. He ordered those. All that stuff is the designer's responsibility. It's a part of the expense for their show. A lot of times when people want a simple ponytail, they really need to buy ponytail hair. Otherwise, it's just not going to look like all the pictures they send me. That's part of the challenge, too, is explaining to the designers that we can do your models this way, but they're not going to look that way unless you get the hair.
Tamar Toramanian, Ashlynne Faith and Naira Zakaryan wearing Petals & Pearls headpieces by Crystal G. Pavlides for Artiss Akarra's Eight United Republic Affair fashion show.
What are you doing for Jonathan's show this season?
I know there are going to be ornate headpieces. He has lady Madonna crowns. This religious woman of power is his inspiration. House of Cach designed all the headpieces and accessories. Whenever those two [Peters and Alexa Cach] work together, the most beautiful things happen.
A model in Jonathan Joseph Peters' February 2015 show wearing a House of Cach headpiece. This photo by Jamie Coelho.
So the designers all send you their inspiration photos. How far in advance does that happen?
Probably two months in advance. I'll ask who wants to be involved in the hair team. Then we take all the inspirations, we get a bunch of models and we play around with hair. Sometimes the designers have one picture, and a very clear statement of what they want. Sometimes they send me twenty pictures. Every stylist has their own interpretation. We'll get together and everyone will do their version of what the designer wanted. Then we send pictures to the designer and they can say, "I like how that is going," or "I don't like that." Then we work through whatever they like. Sometimes they will have us redo it, and send more pictures. It's important to keep reality as a part of it.
Holly Dalton, Creative Director of Makeup
How long have you been working with StyleWeek?
Holly: I've been the creative director of makeup for four seasons.
Can you explain the makeup preparation that goes into a typical day's shows?
We get here at 2 p.m. and we do it in sections. I will demo the first makeup look with my team and we'll talk about what the look's about, and what the show is going to be about, so everyone understands.
How far in advance do you plan the look?
That's planned a month in advance. I work back and forth with the designers on what they're looking for and their inspiration. Sometimes they send me a photo and they know exactly what they want. Other times it's more collaborative and we work together to find something that's going to work on the runway with their collection. We go back and forth for a few weeks and finalize. The night of their show, I demo that look to my team.
How many makeup artists work with you?
This season I have a team of seventeen. But every night, it's different. It's between six to nine [makeup artists] every night, depending on how many models we have. Some designers like to keep it small and more intimate, and do a lot more changes. Others designers don't like any changes and would rather have twelve or thirteen models, so it's always different. I think the most we had this week was fourteen. Other shows, they'll have maybe six models.
Dalton does Ally Tuttelman's makeup for Earl Battle's runway show.
How long does it take to do all of the makeup for one show?
My demo is really easy. I take ten minutes tops with my team. Hopefully the models are here and have done their fittings, because sometimes a designer will come in and there will be last-minute things to be done. But all in all, I try to get everything done in an hour with my team for just makeup. Sometimes we fall behind depending on what's going on that day. Then we ship them off to hair.
What time do the models get here?
Their call time is 2:30 p.m. We continue with makeup and touchups until probably 7:30 or 8 p.m.
So you have to use great products that can last those hours leading up until the show.
Lots of little tips and tricks happen backstage. Even with lipstick. The girls are trying to snack and drink when they only have a couple minutes to themselves. So when they are in their first looks for their first show, that's when we put on the lipstick, so it's fresh and perfect. Every season, we use different cosmetics. We like to bring in a cosmetic sponsor. This year we have TIGI. They give us lots of great products. I love the cream shadow they sent us; it's long-wearing, so it holds up.
It must be hard to change makeup for models who are in two shows in one night.
Ashlynne Faith was one model the other night who opened one of the shows, and then was opening the next show right after. She had a totally different look. Me and Bethany only had five minutes to get her ready. We work together. Me and Betha are always on the same page.
A model with tulle lashes in Carissa Lynne Frazier's runway show. Photo by Jamie Coelho.
What is your favorite look you've put together for this season so far?
That's tough. Carissa Lynne Frazier was really good. It was inspired by Chanel, but so was her collection. We cut pieces of fabric from her collection; that black tulle was used around the eyes. I liked Jess Abernethy's look too. It was simple. They had the milk braid hair. The makeup was very fresh. All the girls were between fifteen and seventeen years old. They were really young; but they don't look it. And they're all so mature. Jess's look was pretty because it was just the right amount of frozen. They had frosted eyelashes and flushed cheeks. Little snow lashes.
How did you do that?
Brandon Ward did that for us. He works at Suite Tart Salon with LuLu. The lashes came from LuLu. Right before the show, we dipped them in lash glue and different shades of sparkle, white and silver and iridescent. We got a really chunky look. On closing night for Jonathan, his makeup will be very intense.
Madison Peck's frosted eyelashes for Jess Abernethy's Candyland meets German Alps runway show.
Madonna themed?
Yes. I don't want to give away too much, but we have crowns. The girls aren't going to have eyebrows.
His kabuki makeup was amazing last season. Did you do that?
That took all day. I started at 3 p.m. He wanted it to be very consistent so me and only one other artist painted the girls' faces for the show, so everyone looked the same. It was time-consuming but it was worth it. We wanted the white round faces to be identical. It was a MAC acrylic paint. We did black and true color pigments and their eyes coordinated with their outfits. They had a shot of orange on the eye, or pink or yellow. Whatever they were wearing, we tried to coordinate.
Carissa Lynne's show, how did you do that with tulle around the eyes?
The fabric was right around the corner of the eye,. The lower lash line was the real intense part, so there were no actual fake lashes on the lids. We took the tulle and cut sharp lines as if we had an exaggerated lash. We used eyelash glue and we stuck them on and they stayed put. They were comfortable for the girls and they came off easy.
How hectic has it been backstage?
Everyone knows how crazy it gets but this week has been really smooth. We haven't been scrambling too much. I think the most fun is the last minute stuff. They're getting dressed. That's the wow moment, seeing it come together.
Do the models get dressed right before they go out?
We give them about twenty minutes before the show to get dressed. The girls get into character. You'll see them start practicing their walk; they're wearing their shoes. They are feeling themselves out, so they can hit the stage and be confident. I love doing their makeup and seeing the hair fall in place. You see this character unfold.
Elizabeth

Bennet in Artiss Akarra's Eight United Republic Affair fashion show, wearing a Petals & Pearls headpiece by

Crystal G. Pavlides

.

What do you love about participating in StyleWeek?

Meeting all the different designers and seeing each one's personal style and what they bring to the table. The fact that it's all emerging designers and being able to help them showcase their art. It's an honor for me to be able to create something that they think is worthy, and that finishes off their collection. That's the icing on the cake; hair and makeup. To finish the look is a true honor, and I love being able to see what each designers does. I enjoy all types of fashion, from the most simple collection to the most outrageous. I love all of it. That's the secret to life. Work that's not work. If I could be at StyleWeek every day of my life, I would.

What do you do throughout the year when you are not here?

I am employed by Bobbi Brown cosmetics, and I freelance. I do special events, weddings, anything. I am a freelance makeup artist. People can contact me at holly@styleweekllc.com, or on Twitter and Instagram at @HollywoodDalton.
LuLu Locks, Back of House Manager
Owner of Suite Tart Salon and Providence Pinup.
Can you tell me what your job involves?
Betha and I have been here since the very beginning, all ten seasons. Over the course of ten seasons, we've figured out where we have communication gaps between the teams. I have a talent for keeping my head on a swivel and seeing these things happening. So I was asked to help the teams communicate; hair and makeup and dressing and shows. Having one person that can find the sticking point has made things significantly more graceful.
Is that person you? You're the glue?
I am the hammer. I am the person who — with love — will pull someone aside and say, "You know your job, please do it." Or I will go up to a stylist and say, "I know you're in the middle of something, but I need you to touch up this one thing right now." Please and thank you. My motto of the week is I have many opinions and no feelings. I am not shy. I have had to ask guests to leave back of house. I have had to ask inappropriate photographers to leave back of house, I have asked people who are pretending to be lost but I know they are trying to use it as a shortcut to do something.
You have to have someone to bring uniformity to the team? The whip cracker?
The whip cracker, the watch-watcher. Stylists and makeup artists and dressers get so into their work. It's beautiful, but time passes and all of a sudden and it's show time. After ten seasons, we figured out we need one more consistent person. It's three separate teams for back of house but there was no one person connecting the three teams.
I am sure in the beginning Rosie [StyleWeek founder Rosanna Ortiz] probably did some of that?
Her role is large and vast. She's needed front of house. She's the face of the brand. She needs to network and connect. Beth, Holly and I all appreciate that, and we are all willing to be back of the house to help make the vision work.