Behind the Scenes at Barnaby Castle
Chic private happenings help preserve this Providence gem.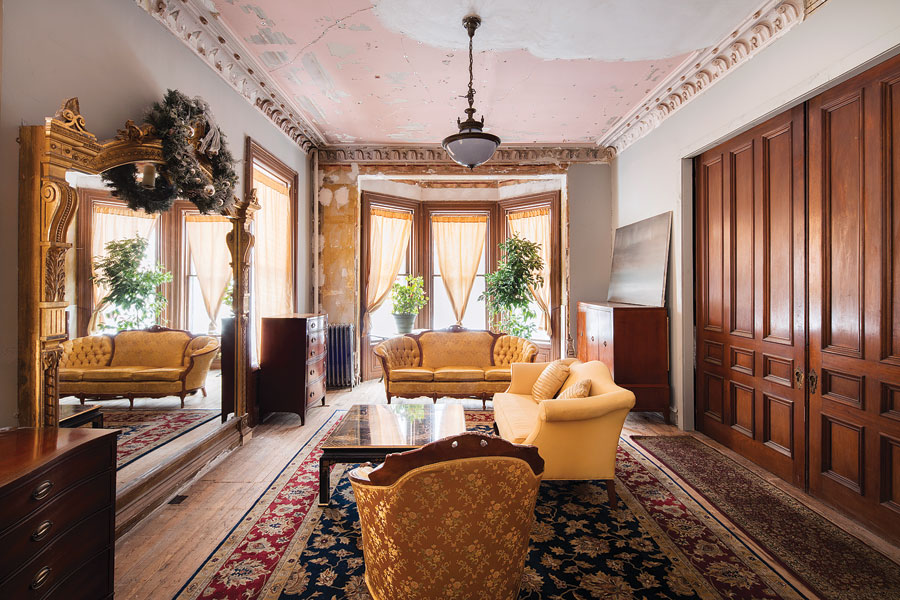 Don't own a mansion? No problem. Those who book an event at one of the most storied estates in Rhode Island also become partners in preservation. Barnaby Castle on the West Side of Providence is being restored and the current owner has unlocked the property for hosting events such as cocktail parties, meetings and more.
Event designer and resident Kaitlyn Frolich of Kaitlyn Alyece Event Architects is the "lady of the house," and she helps interested groups plan fetes to remember within the first floor space.
The home was built in 1875 for Jerothmul B. Barnaby, who owned J. B. Barnaby and Co. department store in Providence. It features 114 windows, including eighteen stained glass ones, fresco ceilings and decorative handpainted walls that are being restored by in-house artist Bob Dodge. There's also a wood-carved breakfast nook and dining room, and a light-filled solarium. "[Barnaby] built this grand castle with the full intent of showing off, having parties here and peacocking," says Frolich.
Visitors can also learn about the home's legendary past. The former owner's wife was murdered out in Colorado with a bottle of poisoned whiskey that was sent to her as a gift. "It was the first murder in United States history to use the postal service," Frolich says.
Mythological creatures and animals can be spotted in the flourishes of the home; the past owner had a penchant for lions, cherubs and the letter B. "You will see faces everywhere, and as you look more and more at the detailed work, they pop out," Frolich says, while pointing out her own spirit animal — a unicorn — that was added during recent handpainting.
Now the lavish surrounds can be appreciated by the public. "It takes a community coming together to save its history," she says. "By opening the doors and inviting people to come and celebrate, it keeps the money here and goes into preservation and local jobs." kaitlyn-alyece-events.com