Behind the Scenes: An RI Monthly Cover Shoot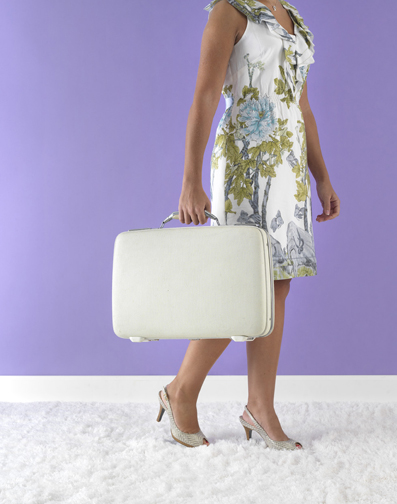 Have you checked out our April issue yet? If not, I really think you should. And not just for the many great ideas about where to go away this summer on a tank of gas. I also think you need to check out the cover. Those legs peeking out from behind that blindingly white suitcase? Yeah, they're mine. And that cover is a product of hours of excruciatingly hard work on the part of myself. With some help from a few other people.
Ok, joking aside, putting together a cover like that takes a lot of work. It may look really simple –– pose, snap a picture and you're done –– but a photo cover is generally the culmination of weeks of planning, starting with an idea at a meeting. From there our art department turns the concept into reality, scouting models, finding the perfect location or backdrop and styling the shoot with props or outfits, whatever it takes. And occasionally, I've been lucky enough to be the model on these photo shoots. My legs were featured in a November 2006 story about outlet shopping, and my hands held the lobster in our July 2006 issue. Oh, and you can see what I actually look like if you check out the February 2007 "Capital Dining" feature. I might start demanding an agent if the art department wants to use me again.
A few days before the April cover shoot, a stylist dropped off loads of outfit and suitcase choices, while our art director, Ellen, booked the photographer, and acquired the purple backdrop and rug. This time the location was the easy part: warehouse space in the back of our office. The day of the shoot, I put on the first look and headed back there. It was freezing (what we models must endure to get the shot) and my coat needed some adjusting, done with the aid of some strategically placed black office clips. Nat Rea, the photographer, had me step onto the rug and stand there while he took some shots to make sure the lighting was right. Then we started to work. Angled toward the camera, I rocked back and forth ever so slightly, swinging the suitcase in my hand so as to mimic a walking motion. I did this several times until Nat felt he had the shot. It wasn't as hard as it sounds, but keeping my balance in heels while shifting from one foot to the other was a little bit of a challenge. And just when I thought I was perfecting my fake walk, Nat would tell me I was either swinging the suitcase too much, or needed to lean farther forward, or turn my body just a little to the right to make sure those clips stayed hidden.
Then I shifted poses, facing forward and doing different things with the suitcase: setting it on the ground, holding it at my side and finally, the one that made the cover, holding it in front. Everyone liked this one immediately. It was simple, and had a really iconic, retro feel to it, which was exactly what we were going for. Throughout the afternoon I tried on several outfits, sporting variations that included a flouncy striped skirt, a really cute floral number (that I wanted to buy on the spot – see photo) and a classic-looking jeans and trench combo. But in the end, it was the first outfit that won everyone over.
All told, the shoot lasted almost three hours that day. That might seem like a long time to get just a couple of shots, but you just never know what pose and outfit will look particularly striking together on the screen until you try them out. And all that hard work paid off: It's getting my legs way more attention than I ever thought possible.