Beer Me!
A truly good brew requires much more than malt, hops, yeast and water. So grab a cold one and drink in all the places, people and pints that are priming our little state to make it big in the beer world.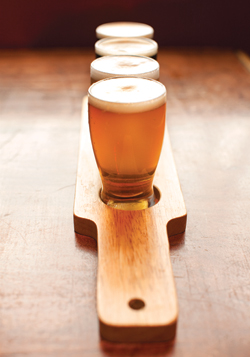 Rhode Island has a burgeoning beer scene that's only getting better. Bars and pubs are pouring desirable ales and stouts from breweries near and far, local startups are making a name for their suds on a national level, and DIY brewers are uniting over their homemade IPAs and porters. In fact, Rhode Island's brewers earned a total of ten awards at the Great International Beer and Cider Competition held this past fall in Providence, which included 470 beers and ciders from across the United States and around the world. Here's more about the places, the people and the pints that are getting our little state primed and conditioned to make it big in the beer world (not that we'll let it go to our frothy head or anything).
Coddington Brewing Company specializes in seasonal brews like the Winter Warmer made with figs and raisins and the summertime Watermelon Ale. The seven-barrel brewing system, on display in the dining area, produces 217 gallons of beer. Order the sample tray, which includes six or seven seven-ounce pours of whatever's on tap for the day. The pub also serves dishes like fish and chips and onion rings made with beer batter and German sausages steamed in Golden Ale. Make a day of it by pairing a visit here with a stop at nearby Newport Storm.
210 Coddington Hwy., Middletown, 847-6690, coddbrew.com.
Nineteen rotating drafts at
Julians
feature breweries like Stone, Pretty Things and Firestone Walker. They tap an occasional cask and have fifty bottles from all over the world, which have included rare varieties like the North Coast Old Rasputin XII, the 2010 Dogfish Head World Wide Stout, Xyauyu and vertical tastings of the Stone Old Guardian barley wine varieties from 2006 to 2011. Can't decide what to sip? Ask for the four-pour flight sampler to taste all the draughts. Julians also hosts frequent six- and eight-course beer dinners featuring popular breweries including Rhode Island favorites.
318 Broadway, Providence, 861-1770,
juliansprovidence.com
.
Newport Storm Brewery
offers daily self-guided tours (except Tuesdays) and one guided tour at 3 p.m. that teaches visitors not only about brewing Newport Storm beer on a microbrewery scale, but also about the story of how it came to be: Four buddies from Colby College worked together to make their beer business a reality in 1999. The tasting taps at the bar pour mainstays like the Hurricane Amber Ale, Rhode Island Blueberry, the newest India Point Ale and the Storms of the Season. They also produce the Cyclone Series of limited releases like Vlad, a Russian Imperial stout, and their annual series features even more ambitious brews — last year's '12 is based on the end of the Mayan calendar and included blue agave, flaked corn, cocoa nibs, chipotle and habanero peppers — but you'll be lucky if you can still get your hands on a bottle.
293 JT Connell Rd., Newport, 849-5232,
newportstorm.com
.
Union Station
is a former train depot-turned-brewery that runs between six and nine brewed-on-site drafts at one time, cycling seasonal beers like Pumpkin Spice in the fall and the Vanilla Bean Porter in winter. The bar has flat screens for watching your favorite sports teams, or head outside to sip on the patio. A full food menu includes dishes like bourbon and ale salmon, old-fashioned chicken pot pie and lobster mac and cheese. 36 Exchange Terr., Providence, 274-2739,
johnharvards.com
.
Mews Tavern
is Wakefield's beer haven with sixty-nine brews on tap and a quirky interior. Dollar bills plaster the original tavern, a full-sized tree is signed and decorated by locals in the dining room and the Celtic pub boasts live entertainment and a pool table. Try the Kona Fire Rock Ale from Hawaii, the Newcastle Werewolf from Scotland or the Ommegang Aphrodite from New York, all served in the proper glasses, of course. It could be the secret cooling system that keeps beer at the coldest possible temperature, or it might be the Rack-O-Draughts sampler deal, but whatever it is, locals love this legendary pub that's been up and running since 1947.
456 Main St., Wakefield, 783-9370,
mewstavern.com
.
Mohegan Cafe and Brewery
, located across the street from the Block Island Ferry, became a brewery by chance. Fourteen years ago, the beer master happened to clean out his home brewing equipment at the restaurant, and the owner got an idea. Why not produce on a larger scale right at the eatery? The brews (Striper Red Ale, Summer Wheat and Chili Pepper Ale among others) are available only on-site, made in small ten-keg batches using four key ingredients and left unfiltered for the purest possible taste.
213 Water St., Block Island, 466-5911,
moheganbi.com
.
The Avery
is a hidden gem that leaves first-timers second-guessing its location. The exterior resembles a residence with drawn curtains and not even a sign to give away its whereabouts; inside is dark and moody with wood detailing repurposed from a yacht. Owner John Richard says his regulars are aficionados who travel great distances to experience great beer. "They are more than happy to share their knowledge and they help shape what I choose," he says. The bar has eight constantly changing draughts, and forty to fifty bottles and cans. Richard builds relationships with breweries, which is how the Avery was one of only four places in Rhode Island to tap a five-gallon canister of Founders Kentucky Breakfast Stout.
18 Luongo Memorial Sq., Providence,
averyprovidence.com
.
More…
Profiiles of local brewers and breweries
Our favorite beers from locally minded brewers
Ocean State Hops
How to make your own beer
To read more of this story please visit your nearest newsstand or click the link below.