Beer Lover's Guide: Tilted Barn Brewery
A tree farm-turned-brewery sources hops and maple syrup onsite.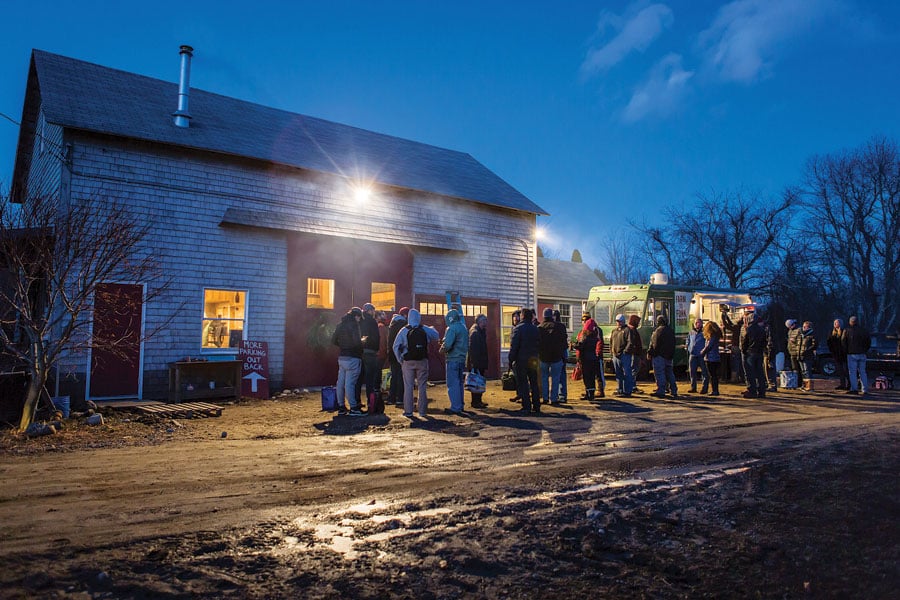 A bumpy dirt road framed by deep woods and a distant field of untrimmed Christmas trees leads to Tilted Barn Brewery in Exeter. Construction equipment surrounds a deep trench that will become a new irrigation pond to quench the thirst of spruces and firs, and a half-acre of hops that, come spring, will twirl themselves up sixteen-foot trellises towering nearby. The century-old barn leans slightly while two dogs — a black lab named Tupelo and a yellow one called Summit (after a type of hop) — greet visitors with a friendly tail wagging and sniff. Roast Beef, a Calico cat, darts by and couldn't be bothered to say hello.
Inside the cozy shingled barn, brewer and owner Matt Richardson points to the brewery's new stainless steel seven-barrel system visible through the tasting room windows. The original, smaller tanks are off to Mystic, Connecticut, sold to another brewer, and Richardson's using the money to purchase a new canning system. Now that Rhode Island's expanded beer laws allow each visitor to purchase up to a caseload of beer (288 ounces, up from seventy-two), the increased production capacity helps him keep up with demand. The new laws and more business inspired Richardson to quit his day job at the USDA to brew full-time at his home-turned-brewery.
"People told me I am crazy; federal job, stable pay, retirement, benefits, but it's not for me," he says.  "It was a great job, don't get me wrong, but this is what I want to be doing." In the barn's rafters, two surfboards wait for summer.
While the brewery just celebrated its second birthday, it took awhile to get to this point. Richardson started out growing hops for home brewers and local breweries in 2007, but by 2012, he knew he wanted to launch a farm brewery. The process included applying for federal and state licenses while seeking town approval. "Our town didn't allow breweries at the time. They only allowed them in industrial areas with a special use permit, so I met with the planning director and told them what we wanted to do. They loved the farm brewery idea," says Richardson, who ended up writing his own ordinance for town council approval. "Exeter has been great," he says. "They approved it unanimously. If they said no, we wouldn't be here."
He now spends his days brewing hoppy beers produced with the multiple varieties of hops that his farm grows: Cascade, Chinook, Centennial, Columbus, Willamette and Newport. But it's not just the hops that go into the farm-to-pint brews. Tilted Barn also uses other homegrown ingredients: pumpkins for its Jack pumpkin beer and Blackjack stout, spruce tips cut from the family's Christmas trees and yeast propagated from wild grapes growing around the property. In late February and early March, Richardson taps maple trees to produce a beer called Pour Sap. It takes fifty gallons of sap to produce one gallon of maple syrup and the self-taught Richardson will now quadruple his efforts to scale the recipe up to the bigger barrel system.

From left: Kara Richardson holding Milo, Matt Richardson, Violet and youngest daughter, Libby, along with labs Tupelo and Summit; beer tasting in the namesake Tilted Barn.
Richardson goes to work in the barn while his wife, Kara, and three children, Violet, Libby and Milo, are never too far from their home, which sits 100 feet away from the barn. The couple's and two girls' handprints — and dogs' paw prints from when the original barn floor was poured — are preserved in cement. "No matter what's going on, I can take a break, go in and help with the kids, eat dinner, put them to bed and come back out if I need to," he says. Kara also manages the tasting room, serves as chief taste-tester and handles merchandise orders.
Lines form outside the barn for cans and pours of Richardson's hazy, tropical fruit-forward and citrusy IPAs, including his Propagator series. Each variation is assigned a number until a desired outcome is achieved. His favorite Propagator, Number One, was recently renamed Milo Phoenix after his eleven-month-old son. "Propagators are a chance to throw everything against the wall, and if something really sticks, you make it a beer," says Richardson. "Violet and Libby have beers named after them so we had to get Milo in there. Yes, in all this craziness, we had a son."
Now that his dream of opening a farm brewery has been realized, Richardson welcomes people to his home turned business. "It's like a working vacation for me," he says. The bucolic setting on a Christmas tree farm sets it apart from the asphalt and concrete of industrial breweries. "People come inside this barn that's over 100 years old and, on a nice day, they wander around the farm. People bring their kids and play with the dogs and chickens," says Richardson. "It's more of an outing or an adventure," an adventure that was worth quitting his day job for. Helmsley Pl., Exeter, tiltedbarnbrewery.com
Proclamation Ale: We got the scoop on the brewery's past, present and future expansion.
Tilted Barn Brewery: A tree farm-turned-brewery sources hops and maple syrup onsite.
Newport Storm Brewery: The brewery's co-founder reflects on nearly two decades in the business.
Beer Lover's Guide: Craft Beer Bars: Local bars pour regional and faraway favorites.
Brew Bus Tours: Stouts, porters and pretzels aboard the RI Brew Bus.
RI Beer: Sixteen spots to grab a pint, from newly minted breweries to timeworn brew pubs.
Narragansett Beer is Back: The century-old company is brewing in Rhode Island once again.