Beer Lover's Guide: RI Beer
Sixteen spots to grab a pint, from newly minted breweries to timeworn brew pubs.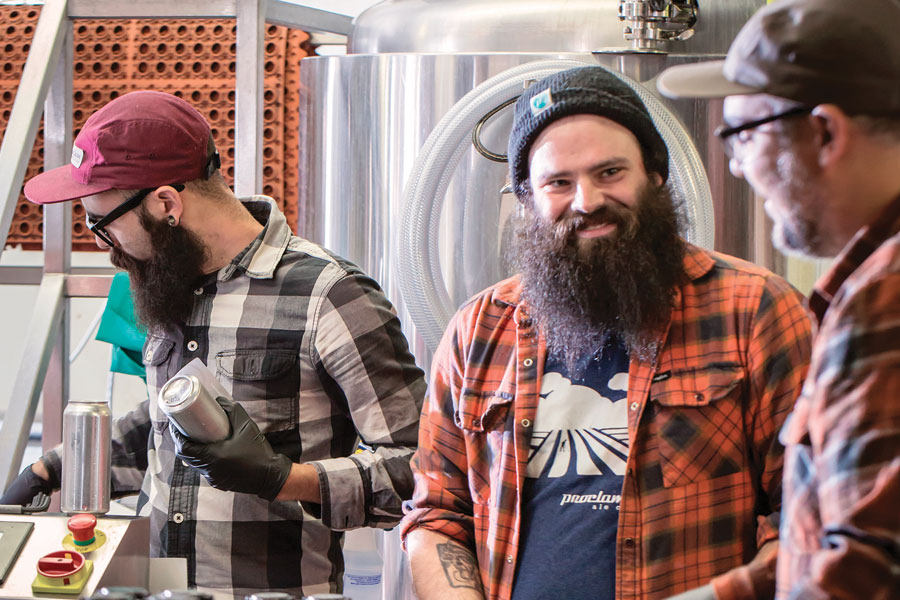 Brutopia Brewery
Beer is to barbecue what wine is to cheese. And at Brutopia, bite into dry-rubbed, fall-off-the-bone ribs and pulled pork while sipping brewed-on-site suds from Revival, and Brutopia exclusives. The atmosphere is prime for watching sports — pick a sport, any sport — and shooting pool with friends. Check out the beer tanks visible from the dining room and head downstairs for a peek inside Revival. Don't miss the outdoor beer garden in warmer months.
505 Atwood Ave., Cranston, 464-8877, brutopiabrewery.com
Crooked Current Brewery
February brings a chocolate stout tap takeover to Crooked Current, a standing-room-only brewery featuring limited releases that go fast once they're tapped. Rhode Island's smallest craft brewery — run by two lifelong Ocean Staters, including one of the state's only women brewers, Nichole Pelletier, and Jason Lourenco — will pour chocolate cherry stout, along with chocolate orange stout, chocolate mint stout and chocolate habañero stout. The oatmeal raisin stout is one of their most popular dessert-in-a-glass drafts to take home for a cozy night by the fire.
560 Mineral Spring Ave., Pawtucket, 473-8312, crookedcurrentbrewery.com
Foolproof Brewing Company
Foolproof pairs beer with life experiences. Sip a Backyahd IPA outdoors when the sun is shining, and a Raincloud Porter when clouds cast a heavy gray. Run by Nick Garrison with operations led by head brewer Steve Sharp, Foolproof's popular seasonal brews include the nutty, rich Peanut Butter Raincloud Porter made with peanut butter and, for Valentine's Day, the briny but sweet Shuckolate, brewed in collaboration with Garrison Confections chocolate and Walrus and Carpenter oysters. Annual Barrel Reserve Nights are always a huge draw, during which guests experience the brewery's rarest barrel-aged releases. Beer and Yoga nights start back up in April, where poses are followed by pours.
241 Grotto Ave., Pawtucket, 721-5970, foolproofbrewing.com
Grey Sail Brewing of Rhode Island
To mark its fifth anniversary, Grey Sail is building a 4,500-square-foot addition and installing new equipment by spring. The Westerly spot, run by husband and wife team Alan and Jennifer Brinton along with head brewer Josh Letourneau, will be able to brew up to 14,000 barrels to keep up with demand. Last spring, it added a taproom and beer garden in an Italianate Colonial home next door, serving Grey Sail creations and lots of other great Rhody drafts. The floral and heady Captain's Daughter double IPA with hints of stone fruit continues to earn outstanding ratings from serious sippers, and fans look forward to Black Mast Stout earning a place on Grey Sail's regular rotation.
63 Canal St., Westerly, 212-7592, greysailbrewing.com
Long Live Beerworks
Providence's answer to the microbrewery, this West Side hotspot, run by former commercial mason Armando DeDona, is known for its hop-heavy IPAs and coffee-infused brews. Fresh off its first anniversary, favorites include Coarse Grind, a stout featuring Dave's Coffee, and Black Cat IPA and Three-Day Weekend double IPA can releases. Check out Furkin Fridays to taste new cask-conditioned beers, made by experimenting with items like bourbon-soaked oak, toasted coconut and citrus zest. Great Northern Barbecue and Gastros food trucks often serve bites on site that pair well with Long Live's potent pours.
425 W. Fountain St., Providence, longlivebeerworks.com
Ravenous Brewing Company
Police officer turned full-time brewer Dorian Rave launched Ravenous Brewing Company in 2012 in conjunction with the release of his beloved coffee milk stout (before 'Gansett started doing one). The actual brewery opened later down the road, allowing Rave to eventually quit his day job. Rave's goal is to quench the "ravenous thirst" of craft beer lovers with very limited barrel-aged releases of his American Wild Ale and "brewery only batches" like the Dolly Cole, American black ale and a vanilla chocolate porter. Don't miss Black Harvest Ale, a sweet potato stout with a creamy mouthfeel and caramelized finish.
840 Cumberland Hill Rd., Woonsocket, 216-5331, ravenousbrew.com
Revival Brewing Company
A hidden hangout for beer lovers exists beneath Brutopia. It nails the "friend's basement" vibe with plenty of well-loved couches, a floor hockey net, Super Mario Cart on the big screen, pinball and cornhole on the cement floors. Here, you can sip some of legendary brewmaster Sean Larkin's higher-alcohol, experimental brews on tap or in special release bottles (Up Ship Kriek lambic sour is aged with tart cherries in wine barrels and Elder Dweller is a chocolate stout made with cocoa, coconut, mint and marshmallows). Larkin's personal memorabilia — think signed hockey sticks and skateboards — doubles as decor and offers insight into the mind of the master.
505 Atwood Ave., Cranston, 372-7009, revivalbrewing.com
Whalers Brewing Company
Spend the day playing cornhole and shooting pool in the warehouse-style tasting room while sipping the creamy hazelnut stout, brewed with hazelnut coffee. The brewery, founded by former marine Josh Dunlap and mad scientist Wes Staschke, will soon move into a larger space within the Palisades Mill Complex to expand production, and it will add an events space and outdoor patio. Flagship beers are always on tap along with special brews like Lyra, a tart ale made with lemons, and Nebula, a sour ale brewed with cinnamon. Monthly yoga sessions include a pint or tasting flight.
1174 Kingstown Rd., Wakefield, 552-0002, whalersbrewing.com

Long Live Beerworks, Whalers Pleiades, Grey Sail pours, Ravenous growlers. PHOTOGRAPHY COURTESY OF LONG LIVE BEERWORKS, RAVENOUS BREWING COMPANY, GREY SAIL BREWING OF RHODE ISLAND, WHALERS BREWING COMPANY
OLD FAITHFULS
Coddington Brewing Company
Founded in 1995, the brewpub's always been a great spot to grab some grub and housemade seasonal pours. Winter weather calls for hearty beers steeped with the flavors of raisins and figs (the Winter Warmer), the chocolate porter and oatmeal stout. Watch the brewmaster at work in the dining room where the seven-barrel system is visible through windows. A sample tray offers pours of rotating tap offerings best enjoyed with fish and chips battered with Golden Ale, and the ribs smothered with Coddington's stout Sriracha barbecue sauce.
210 Coddington Hwy., Middletown, 847-6690, coddbrew.com
Mohegan Cafe and Brewery
Located across from the Block Island Ferry, go straight from boat to brewery and enjoy one of its four constant pours: the pilsner, the Striper English Ale, Joe's High Octane Ale and Black Buck Stout, amongst seasonal brews like blueberry. Order a tasting paddle and get four small pours of your choice to sip while you dig into chowder fries (yes, that's french fries topped with clam chowder, bacon and cheese).
213 Water St., Block Island, 466-5911, mohegancafebrewery.com
Trinity Brewhouse
Trinity Brewhouse is the cool grand-father on the craft beer scene; it's been brewing before the trend took off, earning dozens of awards along the way. From the classic Rhody murals on its walls to the weathered and well-loved wooden tables, Trinity is as Providence as it gets. Tommy's Red and the RI IPA are always winning handles to pull, but we also love pours of the newest bourbon barrel-aged Darkness. Join the Mug Club for your own personalized mug and beer discounts.
186 Fountain St., Providence, 453-2337, trinitybrewhouse.com
Union Station Brewery
Refuel over craft drafts inside a historic former train depot within walking distance from Providence's current train station. Union Station Brewery runs between six and nine handcrafted ales and porters, including seasonal selections like pumpkin spice, a coconut porter and a raspberry sour. Indulge in pub fare in an unpretentious setting where the game's always on and questions about barley and hops are answered with cheer.
36 Exchange Terr., Providence, 274-2739, johnharvards.com
NEWBIES
Buttonwoods Brewery
Cranston got another brewery last spring in the form of Buttonwoods Brewery. Brewer Morgan Clark Snyder Jr., and his father, Morgan Sr., focus on old and new world styles, including a German Kolsch and rustic saisons. The goal is to develop thirty recipes within the first year, rotating mainstays like IPAs, sours and saisons with more experimental brews.
530 Wellington Ave., Cranston, 461-2337, buttonwoodsbrewery.com
Providence Brewing Company
Welcome the return of Providence's oldest recorded brewing company in the heart of North Providence, opening Memorial Day weekend in 2018. The handcrafted small batch beers made by owner Efren Hidalgo include the Habana Loco, an experimental New England-style double IPA, and other beer varieties that pay tribute to Providence Brewery's 1817 roots. Hidalgo also plans to launch the Urbn Brewdega on site to sell supplies and to coach beer lovers on crafting recipes at home and then bring them back for tasting and critiquing.
1920 Mineral Spring Ave., North Providence, 424-1817, pvdbc.com
Ragged Island Brewing Co.
One of the newest breweries to come to Little Rhody is run by the founder of Rhode Island Brew Fest, Matt Gray, and his wife, Katie, with some recipes created by longtime brewmaster John Almeida. The Aquidneck Island brewery uses a small-batch one-barrel system, focusing on ales including a West Coast-style IPA called TwoTree, several variations of IPAs and a porter, which are on tap in the tasting room.
200 High Point Ave., Unit B6, Portsmouth, 318-2991, raggedislandbrewing.com
Proclamation Ale: We got the scoop on the brewery's past, present and future expansion.
Tilted Barn Brewery: A tree farm-turned-brewery sources hops and maple syrup onsite.
Newport Storm Brewery: The brewery's co-founder reflects on nearly two decades in the business.
Beer Lover's Guide: Craft Beer Bars: Local bars pour regional and faraway favorites.
Brew Bus Tours: Stouts, porters and pretzels aboard the RI Brew Bus.
RI Beer: Sixteen spots to grab a pint, from newly minted breweries to timeworn brew pubs.
Narragansett Beer is Back: The century-old company is brewing in Rhode Island once again.