Beer Lover's Guide: Proclamation Ale
We got the scoop on the brewery's past, present and future expansion.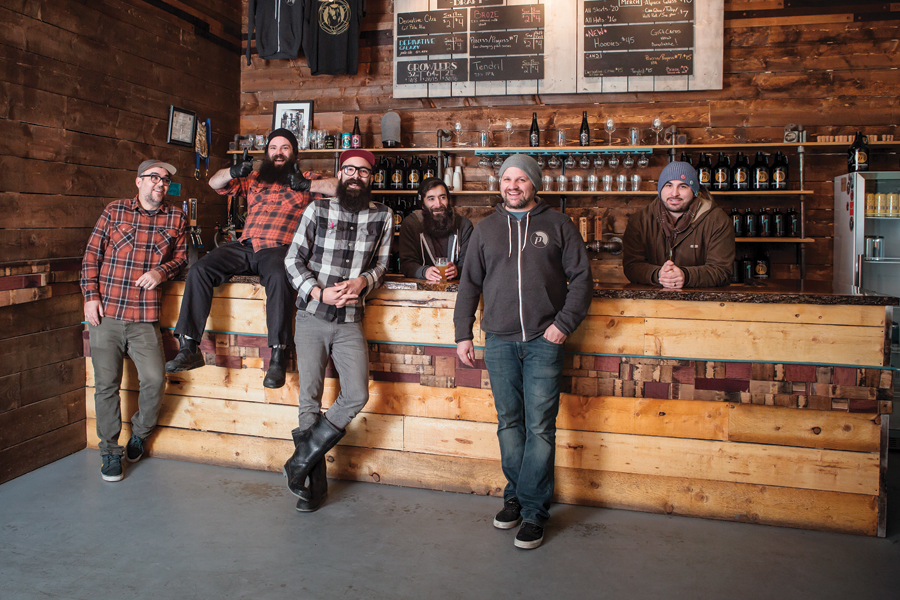 We remember Proclamation founder and owner Dave Witham, who died on Christmas after a short battle with cancer, in this interview from our February 2017 archives.
Founder and owner Dave Witham discusses the brewery's past, present and future expansion.
How did you first get into craft beer?
I am in my early-forties and my first memories of drinking when I was of legal age were of Sam Adams, Sierra Nevada and the old school guys that are still around. My brother-in-law got a home brew kit in the late-'90s and early 2000s and I helped him a couple of times. The stuff he was making was better than what was on shelves. I started home brewing some years later. I think it was 2007−2008 when the first real wave of craft beer started happening. I found beers that were more heavily hopped and bigger and more intense, so that made me gravitate to it. The first ones I bought were Firestone Walker and Green Flash from the West Coast.
When did you first decide you wanted to open a brewery?
When I get into something, I can't just dabble in it. Every moment of free time that I had was devoted to brewing and reading whatever information that I could. Then, the opportunity for opening a brewery presented itself; my wife and I were having our first kid, I was a music teacher at the time and I was finishing my second round of secondary education. We didn't want to send our baby to daycare at two months old, so we decided I would be a stay-at-home dad and then, on nights and on weekends, I would go to the brewery. It was how life aligned that I was able to make the decision to do it.
What has been your most popular brew so far and what was the reaction like?
We were not prepared for the response when we released a series called Alpaca Magi, which is a barrel-aged blonde sour. We call each variation something slightly different and there have been three iterations so far. It's a blonde sour fermented in oak and it gets either raspberries or blackberries or a blend of different fruits, like cherries, added in. That beer was released in the summer and we were supposed to open at five o'clock on a Friday but we were forced to open an hour early because traffic had become a huge problem. Cars were lined up down the road.
What's the story behind the name Alpaca Magi?
We have a friend who spontaneously fermented cider with some apples from an alpaca farm in Exeter. We took the yeast from the apples and isolated that culture and used it to ferment beer. It was so aggressive, how fast it was fermenting the beer. Violent fermentation would be a good way to describe it. You can see the ferment when it happens and sometimes it will be slow and sluggish, but this time it was trying to eat the beer all at once.
How did you learn to perfect the craft and be so different from other breweries?
I have a broad sense of where I was going and what I wanted to do. It's based on "you make what you like." It also has to do with my brewer, Cheyne Tessier. Our beers have been much more consistent since he came in. We share the same tastes in beer, and we have very similar preferences. He picks up stuff I don't pick up on, and I pick up stuff he doesn't pick up on. It's a good team when you have similar tastes, but slightly different experiences. He is more technically trained. He went to brewing school, so that helped in processes and collaborating.
What does the future of your brewery look like?
We've moved to Warwick into a 15,000-square-foot space inside a bigger building (up from 2,500 square feet). That's exactly what's happening as far as production, too, we're five times the size. It's a thirty-barrel brew house, which is the equivalent of brewing 1,000 gallons at a time. Our capacity will be 6,000 barrels per year.
How many beers can you brew at one time in the new facility?
We'll keep our lineup and rotate a cast of one-offs to keep things fresh. We'll probably do six beers at one time. I'm really excited about our 3,000-square-foot wood cellar that's dedicated to barrels for doing sours. The new footprint will allow us to brew up to 25,000 barrels annually, but that won't happen for a few years.
You're doing a lot of sours and wild ales. Is that where you see craft beer going?
It's been trending that way but those beers take a lot longer to make and they are a lot more expensive to buy. As far as volume, it's a lot less. It's something you don't buy a six-pack of, you buy two bottles and split it with friends. Sour beers are growing. There are breweries that are just opening to do that. We're going to embrace it because that's what we like to do, but that's not the only thing we like to do.
How long do sour ales have to age for?
The shortest one we've had in wood is about six months and the longest one has been a year-and-a-half. It doesn't cost a lot to make the beer, unless you do fruit. It's more the time you put into it and you're taking up real estate in your brewery. And the stuff you've paid for is just sitting there.

Last year, you were on the cover of BeerAdvocate. How did that come about and what was that feeling like?
It was thrilling. I didn't even know I was on the cover until pretty much the day when it came out. I found out because I was talking with our distributor in Massachusetts and he said, "The cover looks great!" I knew we had done the interview, but I didn't know we got the cover. It was a photo of me with labels all over my body.
The names of the beers and the labels are so important. Who designs all your labels?
My wife, Lori, does all of our designs. The beers all have a similar layout but they all look different, except Alpaca Magi which is its own thing. I come to her with a name, tell her what the beer is and I see if she has any ideas. Sometimes I'll have a concept or visual and she's able to take my rantings and turn them into something that looks good. Someday, I'll be able to pay her.
What's your favorite beer to brew of your own?
Oh man, I like them all equally. There are two things I really enjoy: Because I am a creative person, I love the first iteration of a recipe when you get to try something out, use new ingredients and see if it works. Sometimes it works out really well, other times you fall flat on your face, but that's the same for anything with creativity. Derivative is our main beer and we've slowly been tweaking that over the last year; in the last couple of months, we finally got it to a place where it needs to be. It's more consistent and dialed into what we want from a flavor standpoint. Honing that was a lot of fun.
New location: 745 Jefferson Blvd., Warwick, 787-6450, proclamationaleco.com
Donate to the Dave Witham Memorial Fund: Friends of Dave Witham are raising funds to assist his wife, Lori, and daughter Harper (7) in this difficult time. Lori will now be running their joint business which has been negatively impacted by COVID. This fund will help with this transition and ease financial burdens.
BEER GUIDE: FEBRUARY 2017
Tilted Barn Brewery: A tree farm-turned-brewery sources hops and maple syrup onsite.
Newport Storm Brewery: The brewery's co-founder reflects on nearly two decades in the business.
Beer Lover's Guide: Craft Beer Bars: Local bars pour regional and faraway favorites.
Brew Bus Tours: Stouts, porters and pretzels aboard the RI Brew Bus.
RI Beer: Sixteen spots to grab a pint, from newly minted breweries to timeworn brew pubs.
Narragansett Beer is Back: The century-old company is brewing in Rhode Island once again.