Beer Lover's Guide: Newport Storm Brewery
The brewery's co-founder reflects on nearly two decades in the business.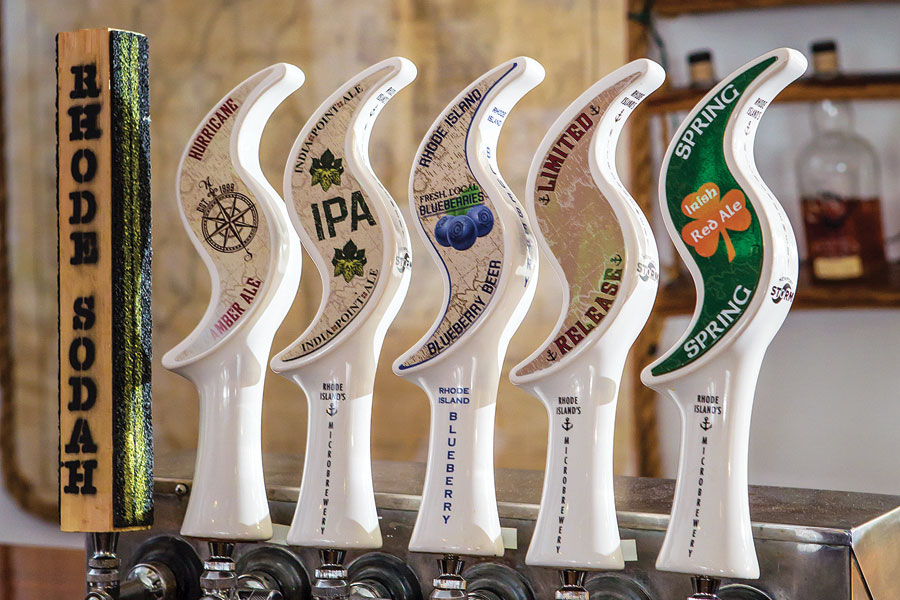 What was the local beer scene when you launched Newport Storm in 1999?
There wasn't really any local beer scene at the bars, restaurants and stores we were trying to sell at. We saw lots of menus that advertised Sam Adams as the local beer. Most retailers were unsure about selling beer from a brewery that wasn't already established. We got a lot of, "Did you make this in your basement?"
Describe your typical day at Newport Storm HQ.
My typical day is a bit all over the place. For example, yesterday I worked on some accounting in the morning, followed by some construction, tasting and bottling some rum [the company's Thomas Tew Rum debuted in 2006, in honor of Newport's rum-making prominence in the eighteenth century], and finished off with some sales. My job is to make sure everyone else can do their job. [Brent is described as the "Keep the Lights On Guy" on the Newport Storm website.]
What's the bestselling Newport Storm beer?
Hurricane Amber Ale, our first release, is by far our bestselling beer. If I could only have one beer for the rest of my life, that would be it. It is amazingly versatile.

Brent Ryan, the co-founder of Newport Storm and president of the Rhode Island Brewers Guild.
In your role as the president of the Rhode Island Brewers Guild, and after nearly two decades of beermaking, what advice have you given to the new crop of brewers?
I keep the unsolicited advice to a minimum as I think the great thing about craft beer is that there are so many ways to be successful. One thing I've tried to express is having some patience with customers, guests and legislators. A year or two can seem like a lot of time when you've only been operating for eighteen months, but in the grand scheme of things, it is really pretty short. That said, a lot of them have ignored this advice and been successful doing so — so what do I know, right? It has been interesting to see how the brewers have chosen to focus on different elements to grow their businesses.
Is there a downside to being a veteran craft brewery in Rhode Island? How do you strive to overcome many craft beer enthusiasts' obsession with the newest and trendiest brews?
There are advantages and disadvantages to every position in an industry — big, small, new, old, etcetera. While the vocal and promiscuous craft beer drinker is constantly seeking out the newest brewery and beer, we've built up a tremendous following of loyal fans. Our fans are constantly seeing the new and creative beers we make and my hope is that some of these beer "thrill seekers" see some value in picking up the new stuff from a seventeen-year veteran. Experience makes a difference when you're trying to make something new. That said, we have to focus on what we do best. We've never been about trends or crazy packaging. We just make really great beer.
293 JT Connell Hwy., Newport, 849-5232, newportstorm.com
RELATED ARTICLES
Proclamation Ale: We got the scoop on the brewery's past, present and future expansion.
Tilted Barn Brewery: A tree farm-turned-brewery sources hops and maple syrup onsite.
Newport Storm Brewery: The brewery's co-founder reflects on nearly two decades in the business.
Beer Lover's Guide: Craft Beer Bars: Local bars pour regional and faraway favorites.
Brew Bus Tours: Stouts, porters and pretzels aboard the RI Brew Bus.
RI Beer: Sixteen spots to grab a pint, from newly minted breweries to timeworn brew pubs.
Narragansett Beer is Back: The century-old company is brewing in Rhode Island once again.