Beer Lover's Guide: Craft Beer Bars
Local bars pour regional and faraway favorites.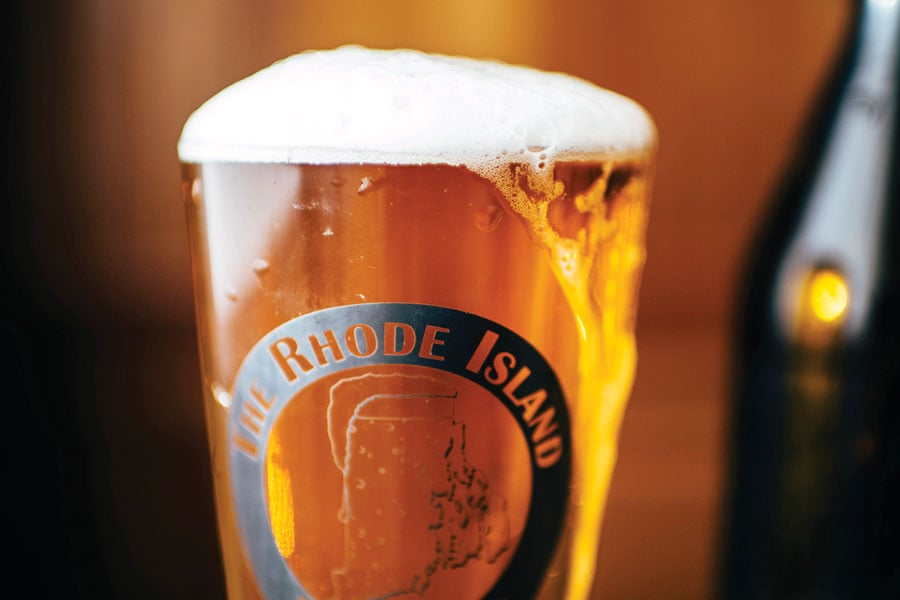 The Wild Colonial
This Providence pub's name turns a derogatory Irish term into something to be celebrated. The historic tavern's eighteen draft lines fill glasses with an ever-rotating list of classic brews — can you say Guinness? — and the latest trends in craft beer, ranging from selections from Maine Beer Company, AleSmith and Wicked Weed to Sean Larkin's Dry Irish Stout from Revival. DON'T MISS: Sierra Nevada's North Flow Porter is a Wild Colonial, Rhode Island-exclusive. WC owner Maurice Collins helped formulate the malt-rich creation at Sierra Nevada's beer camp, and it's available only to those establishments that were involved in the brewing of it.
250 South Water St., Providence, 621-5644, wildcolonial.com
The Avery
The dark and moody atmosphere is the ideal foil for twisting open rare, aged finds from the most renowned breweries. May we suggest the Brooklyn Black Ops barrel-aged imperial stout? "We've got four different years," says owner John Richard. "I've got it going as far back as 2011." The bar also rotates hard-to-find offerings from Uinta out of Utah and Weyerbacher from Pennsylvania, as well as mainstays and special releases from Revival, plus lauded pours from Founders like Kentucky Breakfast Stout. DON'T MISS: One of the only places where you can get Sam Adams Utopias by the glass!
18 Luongo Memorial Sq., Providence, averyprovidence.com
Julians
The beer list has to be good when Julians' operations manager, Brian Oakley, also organizes the state's most ambitious craft beer festival, Beervana. The bar treats brews like fine wines, offering bottled vintages of rare finds that can't be found elsewhere. The collection is like a museum of the best beers ever made, ranging from North Coast Brewing Co.'s Old Rasputin to Allagash's Century Ale. Tap offerings might include the latest from Proclamation, Beer'd, Jack's Abbey and Founders. "I pour a good mix of approachable yet awesome beers all the way to way out esoteric, amazing beers," says Oakley. DON'T MISS: Julians updates its website weekly with the latest beer list.
318 Broadway, Providence, 861-1770, juliansprovidence.com
The Malted Barley
Craft beer and gourmet pretzels go together like barley and hops. Slide a stool up to these bars in both Providence and Westerly and you'll ogle more than three dozen taps like Wells Banana Bread and Brooklyn Brewery's lager or the ever-popular Captain's Daughter from Grey Sail. Draft lines change weekly, so check social media for the latest offerings. DON'T MISS: Tap Takeovers and special nights during which you can meet reps and sample offerings from craft breweries like New Belgium Brewing, Von Trapp, Goose Island and more.
334 Westminster St., Providence, 490-0300; 42 High St., Westerly, 315-2184, themaltedbarleyri.com
Brass Monkey
Twenty-one taps and flat screens on almost every wall make this a comfortable spot to kick a few back and watch the game. One of the more affordable bars to indulge in your craft beer obsession, the Brass Monkey offers $3 drafts on Tuesdays after 4 p.m. (including mainstream craft!) and $7 pitchers of domestic beers on Mondays, because who doesn't like a good old 'Gansett? The list might include heavy IPAs and barrel-aged brews from well known American breweries like Abita, Victory and Lagunitas plus local faithful Revival. DON'T MISS: A cold twenty-two-ounce Olde English served in a brown paper bag, if that's your bag.
800 Allens Ave., Providence, 785-1818, brassmonkeyri.com
84 Tavern on Canal
This classy, welcoming spot in downtown Westerly boasts twenty-four taps and one cask. The well-balanced list blends first-rate national selections with excellent local drafts from Grey Sail (which is just down the street from the 84) and Revival. Settle in at the intimate bar or head to the dining room to enjoy a brew or two with the locally sourced menu. And follow social media posts for news about beer dinners and special events. DON'T MISS: The creations from Beer'd Brewing located in nearby Stonington, Connecticut.
15 Canal St., Westerly, 596-7871, 84tavern.com
Miller's Crossing
This large, ultra-friendly, no-frills bar near the Cranston/Warwick line is an under-the-radar gem. Miller's has a diverse — and very reasonably priced — array of craft options. There are forty beers on tap, with a welcome mix of year-round and seasonal standouts, local picks and the occasional rarity (they scored a keg of Double Dose, the Otter Creek/Lawson's collab). And don't worry — the game is always on at Miller's. DON'T MISS: Wednesday is Pint Night — savor the featured brew and take home a free glass. 43 Bald Hill Rd., Cranston, 463-9792, facebook.com/millerscrossingri
Rogue Island Local Kitchen and Bar
The upscale space at the Arcade keeps it local, local, local. Its twenty taps highlight Rhody's finest (Crooked Current, Long Live Beerworks and Whalers are often in the mix), plus the best of New England and the New York-based Captain Lawrence, Ommegang and Sixpoint. The menu tempts with culinary wizardry made with seasonal local products. DON'T MISS: Rogue provides three glassware options: individual tasters, half-pours and full pours, as well as flights.
65 Weybosset St., Providence, 831-3733, rogueislandgroup.com
Stevie D's Riverside Tavern
Craft beer happily mingles with macro options at this venerable working-class spot (formerly known as the Lincoln). The large room is dominated by an extra-long bar with sixteen of its twenty-five taps pouring beers like DuClaw's Sweet Baby Jesus (a chocolate peanut butter porter), Maine Beer's Mo (a highly-rated pale ale) and Knee Deep's Breaking Bud (an addictive IPA). Keep an eye on the eleven sports-crammed TVs and dig into stuffed burgers, chourico sandwiches and New York System hot wieners. DON'T MISS: Ravenous's Coffee Milk Stout — the pride of Woonsocket — is a favorite.
24 Monroe Ave., Riverside, 383-1578, stevie-ds.com
Jacky Boy Publik House
Tucked away from quaint Pawtuxet Village is a speakeasy-style bar with an array of brews for every palate. With nibbles to munch on and live music, this is truly a hidden gem. Oh, and then there's the beer list. With something for everyone, there are docile brews for stay-it-safe folks, like Sierra Nevada Pale Ale, and out-there-if-you-dare brews for the more adventurous drinker, including an unusually vast assemblage of sours. Pucker up! DON'T MISS: The Founders Mango Magnifico: Rich and creamy, it actually tastes like mango. A slight hit of jalapeño on the finish cuts through the fruitiness.
27 Aborn St., Cranston, 383-7738, jackyboypublikhouse.com
Pour Judgement
The local and craft brew selection here shows anything but poor judgment. Seriously, you could bring a beer snob here and while they might initially think "just another dive bar," when they see the esoteric and vast beer list, they'll realize they just hit liquid gold. Brews on tap include offerings from Ravenous and Proclamation, and German beers like the heavenly Weihenstephen Hefeweizen (for a fun drinking game, drink a few and then say its name ten times fast). DON'T MISS: Paired with any beer, the spicy, finger-staining Buffalo wings will have you fighting for the last one.
32 Broadway, Newport, 619-2115, pourjudgementnewport.com
GPub
Head to the basement at the ProvidenceG for a lively atmosphere that combines karaoke, pool and trivia with a damn fine craft tap list and gastro pub fare. The bar's been known to get releases before they hit the mainstream, including Goose Island's Bourbon County Stout. Expect pours from Two Roads, Kona, Long Trail, Ballast Point, Proclamation and more while you soak up the game on seventeen TVs. DON'T MISS: 2'sDay Tuesdays allow you and a friend to get two beers from Two Roads and an appetizer for $22.
61 Orange St., Providence, 632-4782, providencegpub.com
Chomp Kitchen and Drinks
This Warren beer nook has eight daily rotating taps that spout curated selections ranging from sessions and sours to Russian Imperial stouts. Expect the latest from locals Foolproof and Whalers, plus Proclamation and Maine Beer Company rarities and always Lagunitas. In a weird Rhode Island connection, "The [Lagunitas] CFO used to wash dishes for my dad at his restaurant in North Conway…small world," says owner Sam Glynn. DON'T MISS: Chomp's craft beer club meets for bottle shares and gets beer discounts. "We all bring in stuff from our cellars, talk craft beer and try some really rare ales and lagers," says Glynn.
440 Child St., Warren, 289-2324, chompri.com
Proclamation Ale: We got the scoop on the brewery's past, present and future expansion.
Tilted Barn Brewery: A tree farm-turned-brewery sources hops and maple syrup onsite.
Newport Storm Brewery: The brewery's co-founder reflects on nearly two decades in the business.
Beer Lover's Guide: Craft Beer Bars: Local bars pour regional and faraway favorites.
Brew Bus Tours: Stouts, porters and pretzels aboard the RI Brew Bus.
RI Beer: Sixteen spots to grab a pint, from newly minted breweries to timeworn brew pubs.
Narragansett Beer is Back: The century-old company is brewing in Rhode Island once again.