Beer Lover's Guide: Brew Bus Tours
Stouts, porters and pretzels aboard the RI Brew Bus.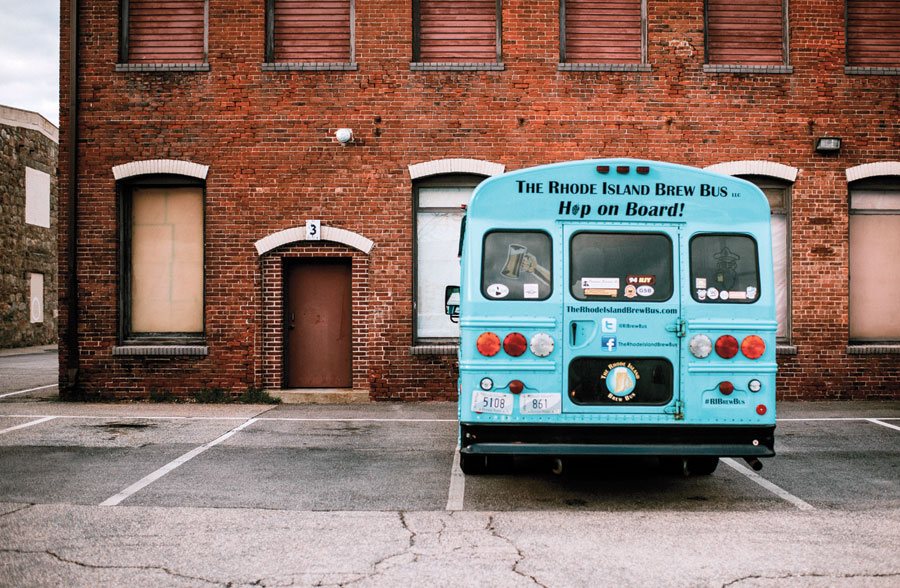 It's pouring. I park on the far side of Wilcox Park in Westerly and make a mad dash for the Malted Barley, cursing both my decision to wear heels and to park what feels like miles away.
"Look for the brew bus," I think frantically as I huddle under a doorway outside the Malted Barley. Inside looks so cozy and the scent of fresh-baked pretzels wafting out is tantalizing.
My stomach grumbles. Not a good way to start an excursion that will take us to three different breweries and one pub, and include who-knows-how-many samplings of local brews.
Good thing I'm not driving ­— at least, not until much later.
A group gathers and two guys with beards (it's practically a requirement if you're into craft beer) usher us into a bright blue bus parked across the street.
Bill Nangle and Eric Euglow are our guides on this Rhode Island Brew Bus tour, "the Border Jumper," one of four different tours offered. We pick our seats, my damp legs sticking to the vinyl, and begin our journey to beer nirvana.
Our route is as follows: Cottrell Brewing in Connecticut, Grey Sail Brewing of Rhode Island and the Malted Barley in Westerly, Beer'd in Connecticut, and back to Westerly, where we will unload, wiser and perhaps a bit tipsier for the wear.
Nangle cautions, "this is the tour you can get the drunkest on because it's the one with the most stops, since we also go to the Malted Barley."
The thirteen people onboard can be divided into four groups: Group one is an extended family that includes parents, friends, boyfriends and girlfriends. Group two is a pair of salty-haired gentlemen with more energy than men half their age. Group three is two best friends who have gone on every Brew Bus tour. And group four (a.k.a. this party of one) is me, the young journalist who scribbles notes between swigs of beer.
Nangle and Euglow dutifully transport us through the rain, dropping us off at each brewery where we taste IPAs, stouts, porters, witbiers, beet brews and the piece de resistance, a pretzel from the Malted Barley dunked in various dips (the artichoke was my fave).
Along the way, our tour guides explain how Nangle launched the business straight out of college to promote local breweries. At Grey Sail, they provide insight into how beer is made (though this crew is already well-versed in that process), with Euglow praising "our little yeast buddies who put the alcohol in beer," a comment that's met with raucous hoots. Go yeast!
By the time we arrive at the last brewery, Beer'd, eyelids are drooping a tad while we sip an array of hoppy brews that clear your nostrils.
We pile back into the bus one last time with a majority of the crew still rowdy, cracking jokes in newly formed camaraderie on the road back to Rhode Island. We pull back into Westerly, the rain still a constant drizzle, the night tinged with beer froth and fond memories formed. therhodeislandbrewbus.com
RELATED ARTICLES
Proclamation Ale: We got the scoop on the brewery's past, present and future expansion.
Tilted Barn Brewery: A tree farm-turned-brewery sources hops and maple syrup onsite.
Newport Storm Brewery: The brewery's co-founder reflects on nearly two decades in the business.
Beer Lover's Guide: Craft Beer Bars: Local bars pour regional and faraway favorites.
Brew Bus Tours: Stouts, porters and pretzels aboard the RI Brew Bus.
RI Beer: Sixteen spots to grab a pint, from newly minted breweries to timeworn brew pubs.
Narragansett Beer is Back: The century-old company is brewing in Rhode Island once again.