Becoming a Real Rhode Islander: Learning to Follow Directions, Rhode Island-Style
Writer Ellen Welty details her adventures on becoming a real Rhode Islander.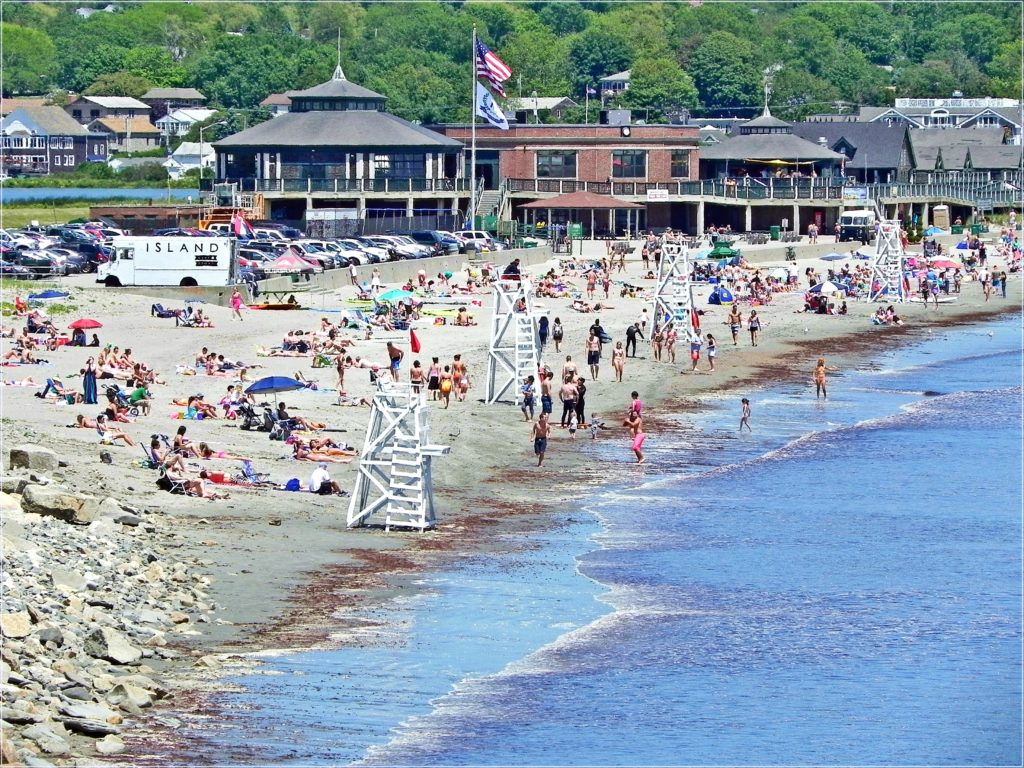 Fourteen years ago, my family and I moved to Rhode Island – our best decision ever. No matter how much I love it here, however, I still don't feel I'm a real local. There are things real Rhode Islanders know how to do, which I don't. So I've decided to learn how to do them. This is my year of getting Rhode Island-er.
I have a GPS. My son and I named her Debbie, because her voice sounds like a Debbie to us. She's been an ace at guiding us, Debbie has: to Hershey's Chocolate World in Pennsylvania — she found Chocolate Avenue right away — to the Baseball Hall of Fame in Cooperstown, and to a little mountain in Maine.
There's only one place Debbie has had problems steering us correctly, and that's here in Rhode Island. One time, for instance, when she told us to "turn right now," if we had followed her advice, we would have gone sailing off the new I-195 bridge into the water.
I have to say, I understand Debbie's confusion. I, too, get lost driving in Rhode Island. It's embarrassing. I've been here fourteen years, but almost every time I try to find some little beach or berry farm a native Rhode Islander has told me about, I set off with their directions, and…end up on some random road, miles from where I need to be.
This month, I have vowed to learn how to navigate the state as deftly as real, long-time Rhode Islanders do. It's the next step in my year of becoming a real Rhode Islander.
For help with this, I turn to a panel of experts: Chris, Kurt and Sonja. Chris is a native son of Rhode Island, Kurt has lived here for decades, and Sonja has been here three weeks.
First, I explain to them that one reason I keep getting lost in Rhode Island is, when people here give directions, they don't use official street names or route numbers.
That's correct, says Chris. We don't. For instance, he says, he can give me a tip about a really great place to go clamming in Jamestown, but he has "no idea" what the name of the road is that he takes to get there. Kurt offers that it has been "decades" since he got around by identifying streets and highway exits by their names.
Wow, I say. So to be more skilled at driving around this state, I will have to be at peace with following directions that have no street names.
"Why can't everybody here at least use north, south, east, west?" asks Sonja. "Is that too much to ask?" I fear it is, Sonja, I fear it is.
I move on to another problem I have: When locals give me directions, they often refer to things like bridges and beaches by their nicknames, which I can't check against any maps or signs, because the nicknames aren't on the maps or signs. Or, they give directions based on landmarks. And half the time, the landmarks don't exist anymore. They could be businesses that died forty years ago. And those definitely aren't on any maps or signs.
For example, my first week here someone told me to take the "little red bridge" to get from Providence to East Providence. But when I went to where she said I'd find the "little red bridge," all I saw was a fork in the road. If there was a sign, I didn't see it, and anyhow, it wouldn't have said "little red bridge," because that's a nickname, in honor of a bridge that used to be in the area. (I found the bridge, off to the left. Turns out, its Google-approved name – which my friend had never heard – is Henderson Expressway. Nowadays, a sign splits the difference and calls it Henderson Bridge. Photo by Marc N. Belanger from Wikipedia Commons.)
Another time, when I went to meet someone at a Newport beach, we almost didn't connect because we didn't know we were standing on the same beach fifty yards apart. We had agreed to meet on the first beach below the cliff walk, which she had said would be First Beach. But when I got there, I saw a sign saying Easton's Beach.
"Easton's Beach? What are you talking about?" she said, as we yelled into our phones. "Are you sure you're in Newport?" Turns out, she didn't even know the official name.
And just last month, someone instructed me to meet her at the blueberry farm near where Rocky Point amusement park used to be. She told me I'd know I was on the right track when I passed a farm stand on the way to Warwick Neck. A single farm stand? Near where an amusement park used to be? How am I supposed to find these things?
"You'd think people could use landmarks that exist right now. And that when they do, they'd use larger landmarks," Sonja says.
"How do you guys do it?" I ask Chris and Kurt.
These are, after all, guys who know Rhode Island so well that they will tell you that the cafe you want to go to is across the street from where Lupo's used to be, a spot which is itself down the street from where Lupo's used to be. (In case that confuses you, they are saying that the cafe is across from the second location of Lupo's Heartbreak Hotel, which was down the street from the original Lupo's. Neither spot is where Lupo's is now, of course.)
"Please," I say to them, "impart your wisdom. Help me become more of a Rhode Islander. Have you memorized all the landmarks?"
"Are you kidding?" asks Kurt.
"Have I ever been confused?" answers Chris. "All the time."
So that's the secret. Just be at peace with it. Roll with it. Be willing to get lost before finally finding that blueberry farm or clamming spot. Stick what address you can into your GPS. I'm good with that. Frankly I'd rather be lost in Rhode Island than know exactly where I'm headed in Los Angeles.
Besides, I have to confess, I see the fun in the nickname thing – which, by the way, Rhode Islanders do with more than directions. The other day, I was at my local market, when a woman asked the young guy behind the deli counter for some potato salad.
"What is it you want?" he asked, his brow furrowed. Potato salad, she told him.
It still didn't click for him. "What is it you want?" he asked.
"The potato salad. It's right there," she replied, jabbing at the bowl of little red-skinned new potatoes tossed with mayo and the usual stuff.
"Oh, that!" he said. Then he smiled at her benevolently and explained, "When people want that, they ask for 'the Red Bliss.' " Of course they do.

Writer Ellen Welty blogs about her quest to become a real Rhode Islander each month on www.rimonthly.com.
Becoming a Real Rhode Islander: Learning to Clam
Photo from Jewishfan on Flickr.