Becky Shaw at 2nd Story Theatre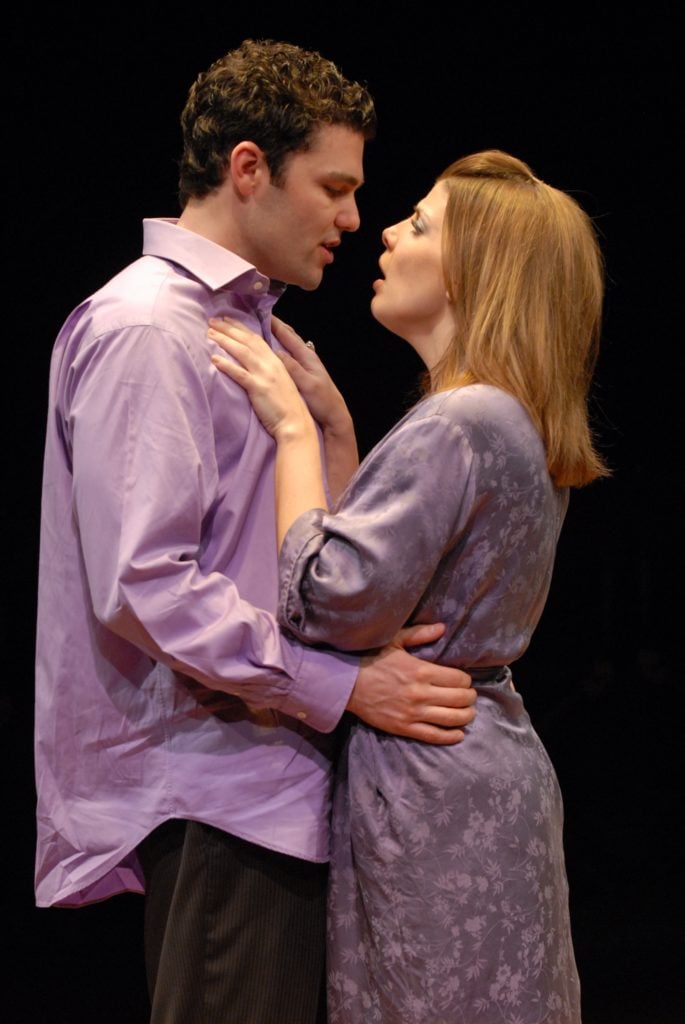 It is an enduring mystery to me that 2nd Story Theatre in Warren, surely the hippest theater in the state and probably a few surrounding ones, too, is not packed with Providence hipsters on any given night.
True, it was packed this past Saturday, as the audience gasped, cringed and laughed through a performance of Becky Shaw, the deliciously explosive comedy of modern bad manners from sometime-local playwright Gina Gionfriddo (also a former writer/producer for Law & Order). But as usual, my companion and I were some of the youngest people there – and we're both pushing 40.
Mysterious, given the play's razor-sharp dialogue, casual sex and tattooed main character – not to mention its thought-provoking exploration of relationships and horror-movie moments of psychological suspense. There's even Providence provenance: Much of the play is set in the Ocean State capital, where Gionfriddo went to grad school at Brown before teaching writing at Brown, PC and RIC. That means jokes about Portuguese cooking, Brown's admittance policies and Edgewood's waterside homes, plus a mugging that sparks the inevitable exchange about whether the West Side is a bad area. Throughout it all, Gionfriddo's biting wit reigns, leaving the audience covetously straining to catch every zinger. I, for one, left with the slightly smug feeling that lots of smart people are, indeed, attracted to these parts. Gionfriddo being one of the foremost.
Director and artistic director Ed Shea is another smart one, of course, and he's come up with the usual spare but thoughtful set and small, well cast group of actors. Simple pieces of modern furniture are arranged to suggest a hotel room, an apartment, a coffee shop. The mellow, atmospheric strains of Everything But The Girl set the opening mood (and are played during scene changes throughout, providing a moment of contemplation to recover from the all-out assault of the action).
We meet Suzanna, who a few months after her father's death is still depressed and in mourning. She is arguing with her mother over her mom's new lover, and taking comfort and advice from someone called Max, and we can't quite figure out who he is; he's like a brother, and yet – is that sexual tension?
Sure it is, in the bracingly amoral prelude to the central plot line, which begins one scene later – which is when Suzanna and her new husband Andrew set up a couple of friends on a blind date. The date is the catalyst for a chain of events that almost rip apart a marriage and reveal surprising sides to every character – no one is the person they at first appear, and all are deeply flawed. They're all familiar, too – as familiar as your Providence friends – and despite all the manipulation and cynicism, there's real wisdom and even romance here, too.
Most of the actors are young, and most are 2nd Story protegees with only a play or two under their belts. In a theater scene in which we're used to seeing the same veteran actors again and again, 2nd Story's rotating stable of unknowns is a refreshing if risky strategy. It works because of Shea's casting and directing skills – he has a gift for pulling remarkable performances out of actors, and this production is a fine example.
Rachel Morris completely inhabits the part of unpleasant psychologist Suzanna. Tim White, with his hipster haircut and tats, is quietly effective as unemployed writer and emotional patsy Andrew. Paula Faber dispenses tough truths as only a mother can in the part of Susan – she's dead-pan and devastating. Hillary Parker manages a veneer of ditziness over a backbone of chilling resolve as the titular character, Becky. And then there's Ara Boghigian, who is a force of nature as arrogant finance guy Max. Boghigian IS Max, in a performance that's unwaveringly unlikeable and yet completely compelling. When we realize, in the last moments of the play, that he may actually have met his match, it's a triumph both of the head and the heart.
In fact, that pretty much describes an evening at 2nd Story these days – it's the best theater in the metro area, and this production once more proves the point. Smart people looking for clever fun will be rushing to Warren through February 20 to fortify themselves with a drink in the playhouse's gorgeous curved wooden bar, before heading upstairs to get run over by Becky Shaw.