Beat the Streets Providence Brings Wrestling to Middle School
The program aims to instill discipline while having fun.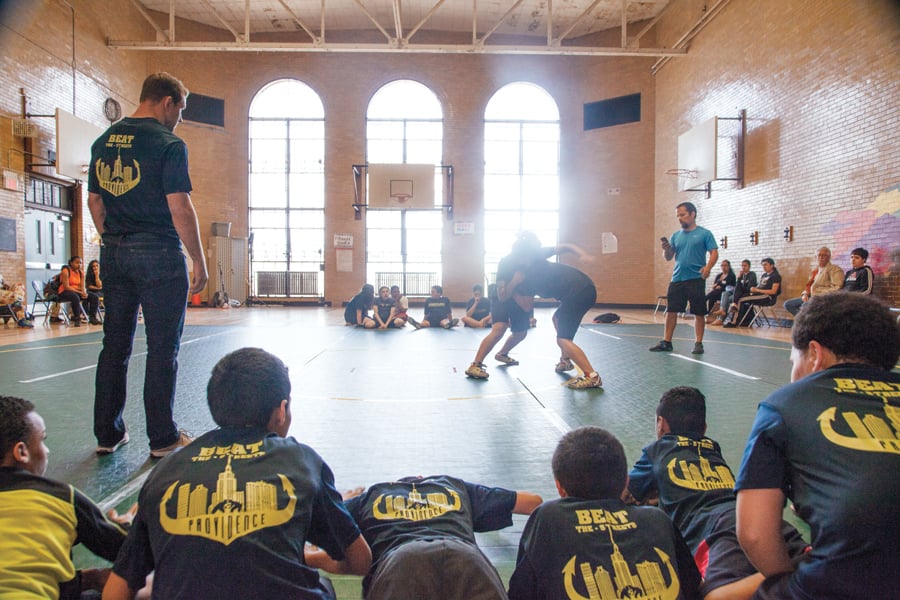 Giselle Martinez tosses her long, dark hair over her shoulders and asks around for a ponytail holder. It's a steamy May afternoon in the small gym at Del Sesto Middle School in Providence. Giselle, who is in the sixth grade, is about to wrestle Kevin Fuentes, who has a grade and a good few inches on her, and answers to the nickname "Curly Fries."
Surrounded by kids ranging from sixty-eight pounds to more than 160, they're part of Beat the Streets Providence, an after-school program that has brought the sport of wrestling into the city's middle schools.
A lot of the smaller guys don't want to go up against Giselle because she roughs them up a bit, their coach, Silas Murray, says. "Especially when kids look through the gym door and they're like, 'Oh, I saw you get beat up by Giselle!' "
"She's very comfortable with the headlock," he adds.
But Kevin doesn't have a problem with wrestling her. A serious kid with a self- deprecating sense of humor, he wants to learn and, like some other kids attracted to the program, he had gotten bullied over the years. He started wrestling to defend himself, but found he liked the strategy behind the sport — anticipating his opponent's next move.
Meanwhile, Giselle is already pretty tough. Short but strong, she uses what she learns in wrestling to get better at some of her other athletic pursuits, karate and jujitsu. And knowing she'll get to spend part of the day grappling on the mat two afternoons a week helps motivate her to go to school.
Giselle shakes Kevin's hand, and Murray blows his whistle. Giselle and Kevin face each other on the mat, surrounded by other paired-off wrestlers. He dives for her ankles and takes her down. "Did I win?" he jokes.
They start again. Giselle grabs the back of Kevin's neck and then his ankles, eventually pinning him.
"I can't breathe," he says.
Giselle releases him, pulls him up and grins. Within a few seconds, they're wrestling again.
They're two of about 200 kids who learned the fine art of the takedown during the 2014 to 2015 school year at one of five of the city's middle schools: Del Sesto, Roger Williams, Nathan Bishop, Gilbert Stuart and UCAP. The year is divided up into sessions and the schools compete against each other and in state and regional tournaments.
Beat the Streets Providence was started by Billy Watterson, a nationally ranked wrestler at Brown University. He took a year off school to launch the program in 2013, graduated in May and got a fellowship from Brown to continue running it. Other cities like New York City and Los Angeles also have their own Beat the Streets programs, but they are all autonomous, locally run organizations.
Watterson's goal is to not only teach kids how to pin an opponent, but to provide them with academic support and match them up with mentors. He recruits fellow wrestlers as coaches.
"It's something that I think is missing from their lives that kids at that age crave," Watterson says. "They have so much energy they want to use, so much aggression they need to get rid of. And more than anything else, kids look for coaches. Especially kids that are struggling. They already have so much trouble respecting and listening to authority figures in their lives, but coaches they'll listen to."
A typical practice includes warming up with a game like sharks and minnows or laps around the gym. The coaches teach skills like the roll and escapes and have the wrestlers practice them in drills. Then the kids pair up to wrestle.
"I try to tell them from the beginning, you guys are going to work hard, you're going to sweat. There's going to be days when you get hurt, there's going to be days when you might shed some blood," Murray says.
But unlike the body slams of professional wrestlers from World Wrestling Entertainment that were part of the attraction for some kids, Beat the Streets coaches teach strategy, how to anticipate and circumvent their opponent's moves.
At meets, team members compete in three-minute matches. If one wrestler manages to pin the other to the mat, he or she wins the match. They can also earn points for escaping, takedowns and other moves. The team with the most points at the end of the matches wins the meet.
But Murray also tells his wrestlers it's okay if they don't win.
"If you're losing completely, don't give up or think 'oh, I'm going to lose and the team loses.' Just go out there and worry about yourself," he tells them. "Everybody on the sidelines is going to cheer for you, no matter what."
Then middle schools in Providence used to let out at 2:30, thousands of kids headed onto the streets with not much to do.
In 2004, then-mayor David Cicilline worked with community organizations to launch the Providence After School Alliance (PASA), a public-private partnership that developed programs to keep kids busy for several hours after school.
The middle school segment is called the AfterZone. In the 2014 to 2015 school year, roughly 40 percent of the students in the schools that offer the AfterZone participated, about 1,700 students. Each middle school has a waiting list, and the two that aren't currently part of the AfterZone would like to be, says Hillary Salmons, PASA's executive director.
It's a time in a kid's life that can be a problem for many parents, no matter what their income level, Salmons says.
"Developmentally, the terrible twos and the middle school years are when the brain develops the most," Salmons says. "It's when human beings quest for creativity and innovation and challenge. They want to get beyond their family and their neighborhood and learn about the world and their peers. It's a time when you really need to do experiential learning and it's a time when you really need sports."
More affluent families make sure their kids are involved in the arts and sports, Salmons says, using field trips and museum visits to enrich and provide context for what they're learning during the school day.
"Low-income kids don't have those opportunities," she says. "They just don't have access to them."
While some parents and teachers do attend and support after-school activities, middle school students in Providence face some daunting statistics. Nearly 40 percent of children in the city live in poverty, according to Rhode Island Kids Count. And kids who are disengaged in middle school might not make it to high school graduation.
"If you look at our test scores, we're improving in fourth-grade reading and math, but they would fall off a cliff in eighth grade," Salmons says. "When you put a huge amount of investment in early childhood math and reading in elementary, if you don't keep supporting and scaffolding that during middle school, I think that accounts for the very high dropout rate in urban high schools in ninth and tenth grade."
Kevin Fuentes and Giselle Martinez on a steamy May afternoon in the small gym at Del Sesto Middle School in Providence.
The free AfterZone programs are intended to entice middle schoolers to come to school with the promise of what comes after. In addition to wrestling and sailing, offerings include cooking, drama, art, CrossFit and video game app development.
But there's something about the discipline of wrestling in particular that Watterson believes can change the course of certain kids' lives — as it did his own.
As a middle schooler in the early 2000s, Watterson was enrolled in a good public school in Pound Ridge, an affluent suburb north of New York City. But he was taking Adderal for Attention Deficit Disorder and getting bad grades.
"I was ninety pounds, uncoordinated, awkward as can be," he recalls. "My parents had just gotten divorced and I was struggling."
Then he discovered wrestling, a sport where it didn't matter what he weighed and that he couldn't catch a ball.
"What's special about wrestling is really anyone can succeed," Watterson says. "There's a national champion with one leg. There have been state champions who are blind. It's a sport that you can find a way to excel, regardless of your size."
With guidance from his coaches, Watterson stopped eating junk food and dedicated himself to being an athlete: lifting and taking his dog for a run each day before school. He started doing his school work, stopped taking Adderal and developed confidence.
In high school, Watterson competed at the state level and was recruited by Brown University, where he started in 2010. A history major focusing on the classical world, he achieved Academic All-American honors as a Division I wrestler.
But Watterson never really thought much about education until a fellow wrestler and Brown alum named Christopher Ayers asked him to volunteer at Gilbert Stuart Middle School in Providence as part of the Junior Achievement program.
It was Watterson's first experience in an urban school. He had to buzz to get inside the building, and it didn't have many windows. Gilbert Stuart was completely different from where he went to middle school.
One day Watterson says he walked into a classroom and a teacher took him aside and whispered, 'This is one of my bad classes, there's no good kids in it.' " He knew the teacher wasn't representative of most, but it still jarred him.
He began asking students what their dream job would be, or what kind of business they would want to launch.
"Across the board, they were saying, 'I want to work at a gas station, the mall or Game Stop' and it was just like, what's going on here? We're in middle school," Watterson says. "You should want to be the president, an astronaut, Indiana Jones, anything. If you don't want to be something at that age, you have no reason to work hard, no reason to try. That drove me nuts more than anything, and that's what made me want to work in the schools."
Over the next few years, Watterson kept volunteering in Providence schools, working on projects in educational technology and for then-Commissioner of Education Deborah Gist.
In the spring of 2013, a student told Watterson he really liked sports. Watterson asked him what he played. "He said, 'There's no sports in my school.' And I said, 'What? How are there no sports in your school?' That's just something that I took for granted."
That summer, he launched Beat the Streets in Providence. He was also working at the time for Lieutenant Governor Elizabeth Roberts and found out that her chief of staff, Jennifer Wood, had experience in education as a lawyer and that she practiced martial arts. She got Watterson in touch with PASA.
"They basically said, let's start a pilot program at Nathan Bishop Middle School and we'll go from there," Watterson says.
Beat the Streets program is financed through a combination of fundraising and money from PASA, which pays the coaches and arranges the after-school transportation for the meets.
"It was wildly successful, the young people really loved it," Salmons says. "And then he really wanted to expand it. I think he's in every middle school now, which is enabling us to do tournaments."
wo days after the practice in the small gym at Del Sesto, the team travels to Roger Williams Middle School for a meet.
Beat the Streets Providence's program coordinator, Tyler Banks, carries boxes of new wrestling shoes in from his car for the kids.
The afternoon sun shines through the windows of the gym onto the blue mats as the kids stream in, shouting to each other and surveying the competition.
"Who's nervous? You shouldn't be nervous," Giselle says to one of her teammates as she laces up a new pair of wrestling shoes.
She's been excited to compete at Roger Williams all day. It's fun to be paired up against people she doesn't wrestle all the time.
There's a certain competition between the middle schools. UCAP's program is the one the kids look up to, Del Sesto coach Murray says. The wrestlers are a little older, and they practice four days a week instead of the two the other schools do. UCAP sent two students to the state championships last year.
As the kids burn off nervous energy running around the gym, the coaches match up the wrestlers by weight. The confidence level in middle school wrestling ranges from a boy making sure his mom caught his match on her phone to a girl who repeatedly confides she's afraid she's going to fail.
The meet begins as sixth grader Isaiah Hudson from Del Sesto faces off against a kid from Roger Williams. They've wrestled each other twice before in meets. Isaiah won the first match, but lost decisively the second time.
Del Sesto coach Silas Murray with one of his wrestlers. Program coordinator Tyler Banks. Beat the Streets Providence's executive director Billy Watterson.
Isaiah's teammates lie down on the edge of the mat, beat on it with their hands and chant his name, as Murray has encouraged them to do. Meanwhile, Murray yells, "Tap the leg, tap the leg!"
It turns out to be a close, high-scoring match, but this time, it's Isaiah's hand that ref Tyler Banks holds high at the end of the match. His dad, Stephen Hudson, who is sitting by the door, calls out, "Come here, buddy. Good job."
Isaiah and his fraternal twin, Elijah, have wrestled in Beat the Streets all year. Elijah, who uses a cane to walk, says his favorite things about wrestling were learning how to defend himself and the competition against other schools.
Murray, who was an All-American wrestler at Rhode Island College, made Elijah captain because he would let him know what was going on with the team and helped the new wrestlers out with pointers.
"I do everything the coach asks me to do, and then I never give up a match," Elijah says. He often winds up competing against an opponent who is a little bigger than him, but says, "I wrestle no matter what the other person's weight is."
His favorite match was the last time Del Sesto competed at Roger Williams. "The first time I wrestled the same kid and lost," Elijah says. "But the second time I did much better and made him very tired."
Stephen Hudson appreciates the physical aspect of Beat the Streets program and how it helps keep his sons in shape. They're both on the honor roll, but they know that they can't play sports unless their grades are good.
"When your kids are in school, there are a lot of distractions," Hudson says. "Not everyone's paying attention, and some kids are taking school seriously. Everybody's situation is different. You see a lot of kids from single-parent homes, and that makes it even harder. I know a lot of single mothers. It's a hard job trying to raise your kids, plus work. We're fortunate in that my wife and I both work, so we get to share in the activities with them."
But even though his sons have enjoyed wrestling, he also encourages them to branch out. The year is divided into four sessions, and kids can choose different programs each time.
"This is a learning experience," Hudson says. "He [Isaiah] wants to try something different next year. That's fine. When they first started out, Elijah had issues with his knee, but he has the endurance of two of me. So I said, no matter how good you are at it, the main thing is to persevere. All anybody asks of you is that you do your best, try your hardest."
Advocates for the after-school programs say kids who participate in them are much more likely to show up and succeed. A study PASA commissioned of 763 middle school students in Providence that tracked them through high school found that the activities motivate kids to come to school and that the longer the students participate in the programs, the better they do academically.
Thirty percent of the kids who didn't attend the AfterZone were chronically absent, according to the study. But after students participated in the program for thirty or more days, only 12 percent didn't come to school regularly.
And of the middle schoolers who took part in the after-school offerings for fifty or more days, 97 percent later graduated from high school. The graduation rate for the Providence school system has improved in recent years, but the city is still looking to increase that number. It is now about 73 percent.
Beat the Streets keeps tabs on how their kids are doing in school. The wrestlers are required to take behavior and grade reports to their teachers and bring them back to their coaches.
In the beginning, Murray says he had kids who had detention every day. So he pulled them aside and asked them why.
"Oh, well, I cursed at a teacher, or oh, I flipped a teacher off," Murray recalls. "Then I had a little lesson with them. Why did you do what you did? How does that help you? You're in detention now, when you could be here, enjoying more time at practice. I feel like they're slowly learning that, that they shouldn't just stand up to do something to be that cool kid."
Teachers and the AfterZone staff tell Murray that the grades and behavior of the kids on his team have improved.
"Even the kids I was told to watch out for, this kid was troublesome, or this one likes to take attention away, those kids came the longest way," Murray says. "Those are usually the kids that want to go on the trips to all the tournaments. It's great because those are the kids that push the whole team."
He wishes he could coach them for more than two days a week, so he could have more of an impact. But he says the kids who are really into wrestling are always asking questions to improve themselves: How is that kid better? Why is he better? How can I get better?
But for all the excitement of wrestling and getting to travel to tournaments in Boston and attend an end of the season awards night, keeping kids in the program can be a challenge. The PASA-commissioned study found that students participated in the AfterZone "intensely, but for short periods of time."
Part of it is that students like the Hudson brothers and Giselle are trying things out, and the AfterZone gives them the chance to sample all kinds of activities. But middle school kids are also pretty easily distracted and might not have transportation in the summertime.
"The kids that don't show up for a while, I don't make them feel like they're doing something wrong," Murray says. "I tell them I understand this sport is hard and that you might not like certain things that we do, but that the door is always open."
Giselle's enthusiasm for wrestling flagged a bit during the second session of the year, Murray says. She loves competing and wants to do well in school, but at the same time, she likes to hang out with her friends during wrestling practice. But she rededicated herself later in the year, which has shown in her performance.
"She's not afraid to go against any guy, even the toughest ones," Murray says. "Her parents were always coming to the meets and matches. I would just imagine if I had a daughter and she's wrestling these bigger guys I'd be a little cautious, maybe say something to the coach. But 'she loves the sport,' that's all they say. 'She loves working hard.' "
The afternoon of the meet, she's paired up against a girl named Elena from Roger Williams. They meet in the circle in the center of the mat. Giselle assumes the top position behind her and wraps her arms around Elena's middle.
As they grapple on the mat, Giselle maneuvers to get Elena into a headlock and goes after her legs, but Elena manages to get out of the hold and stands up. As teammates from both sides shout encouragement ("You got this!"), Giselle pins her down.
Banks calls time. Both girls return to the center of the mat and Banks lifts Giselle's hand in the air. She shakes his hand, walks over to do the same to the Roger Williams coach and pats Elena on the back. Then Giselle turns around, pulls the ponytail holder out of her hair and heads back to her team.