Get a Sneak Peek Inside Bayberry Beer Hall
The German-style beer hall brings the outdoors in with natural lighting, a living wall and a communal atmosphere.
This week, you can "prost" with your neighbors at Bayberry Beer Hall on the West Side of Providence. The German-style beer hall boasts an industrial style with raw brick detailing and exposed ceilings accented by string lights that stays true to the building's past as a 1800s horse stable. It's been completely renovated to bring the outside in with lots of natural light spilling in through the windows and a living wall of greenery.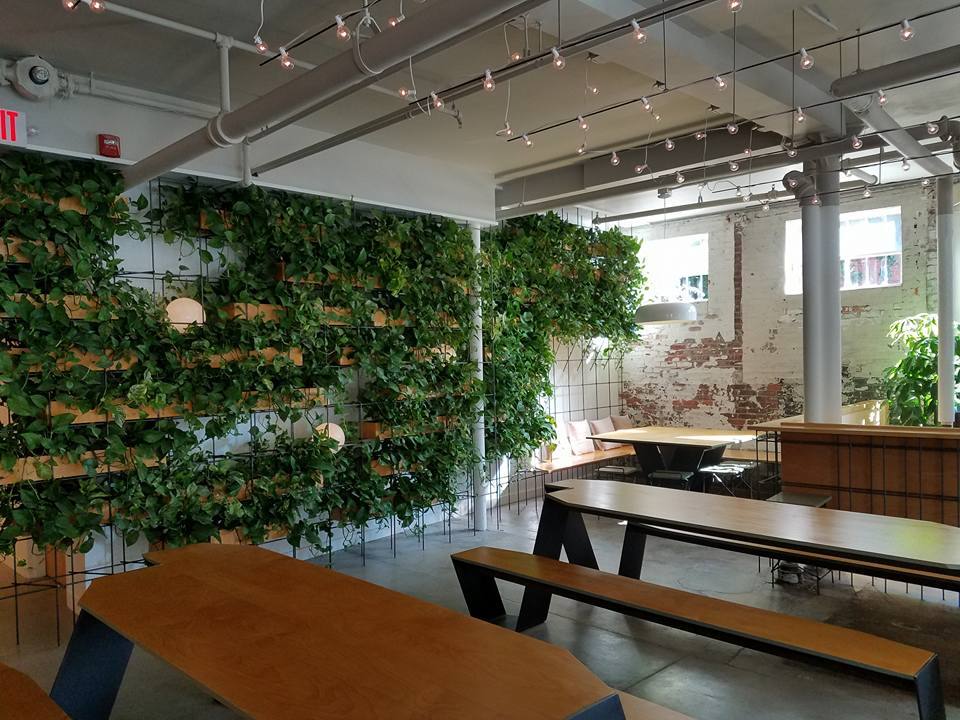 The history of the building is what makes the location so unique. "Above us, which is now loft apartments, was a brewery. They would load the barrels onto horses and send them out to the city," says Bayberry co-owner Tom Dennen, who owns the restaurant and bar with his wife, Natalie. "We heard that story when we first looked at this property, and we were like, 'sold.' We have to have it. It's meant to be."
The idea for the restaurant was spurred on by Tom's visit to a beer hall in Germany on a work trip, and further motivated by a stop at the biergarten at New York City's Standard Hotel. He loved the communal aspect of beer halls, and vowed to make community a priority at their future spot. It's been an idea that was three years in the making, and in design since February. Tom was able to leave his job at Fidelity Investments to focus on his dream, and now, they are just about ready to open.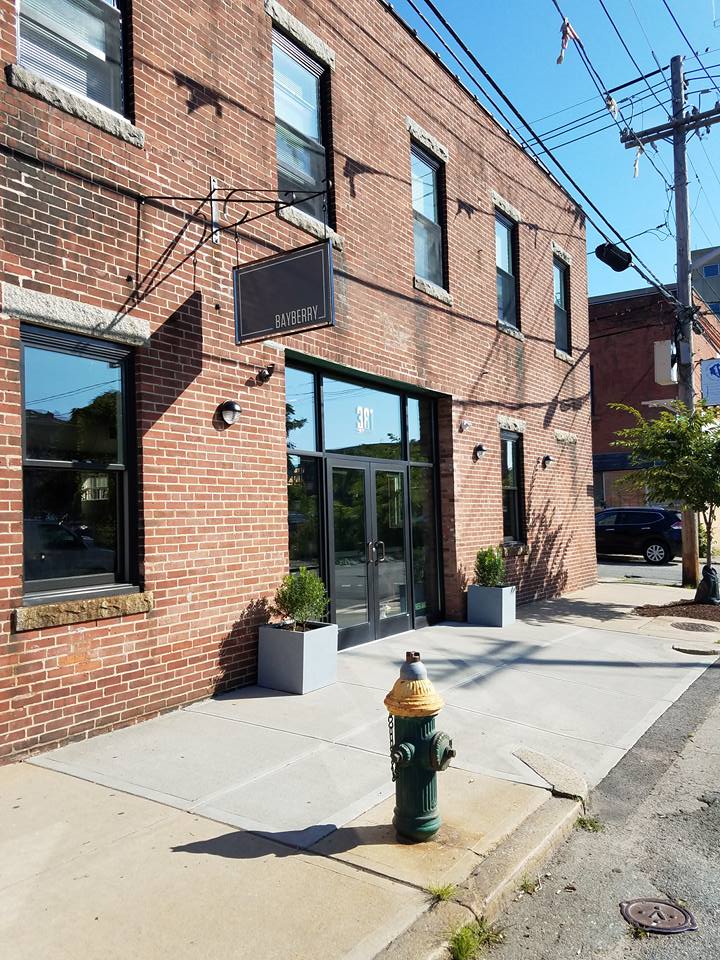 HB Design and Build created the look and feel of the place with input from the Dennens. "They took our vision and brought it to life and then some," Tom says. Beautiful, custom communal tables will bring groups of people together. "We wanted to incorporate these huge tables for people to sit down next to someone they might not know and hopefully strike up a conversation," he says.
There are also several intimate nooks within the space, including two large corner booths and an area with moveable stools and two hanging pod chairs. Lighting is designed by J Schatz using some ideas from the Dennens. They turned ceramic planters pots upside down and transformed them into pendant lamps. The Steampunk-like sprinkler system is an industrial work of art with a bar rail positioned around it like a barrier around a sculpture.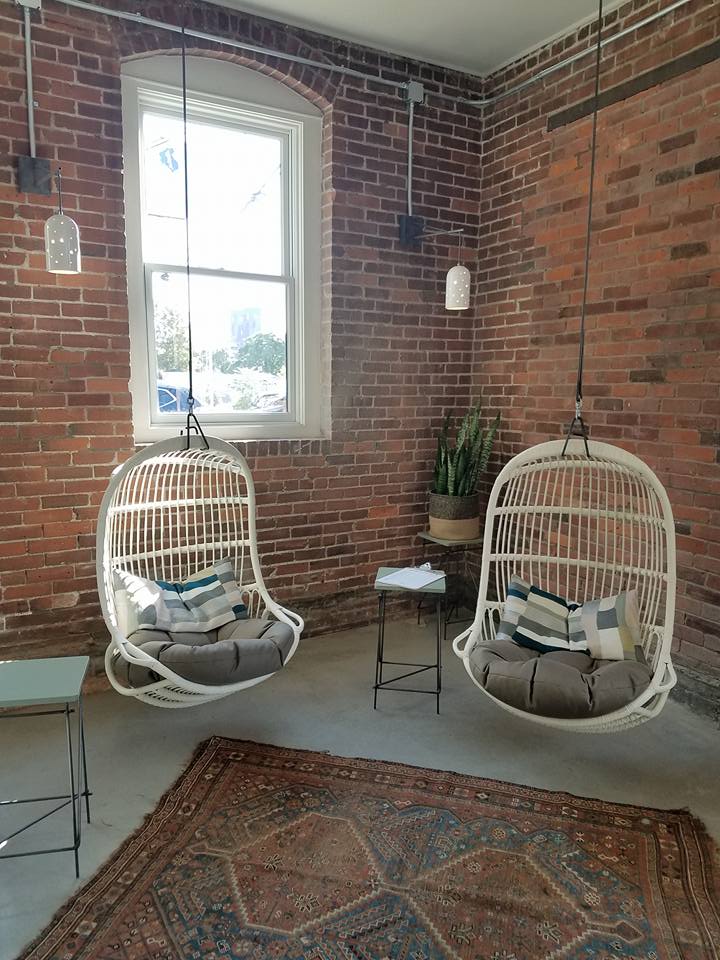 The bar menu board involves movable, wood, laser cut letters that will constantly rotate to announce the beer and wine tap list. "We wanted to have unique beers that we don't necessarily see everywhere else," Tom says. "We have a lot of interesting domestic craft beer and wine, and we have Nitro Cart cold brew coffee on tap, a couple wines on tap and some ciders, plus root beer." The Dennens plan to feature local beers, including upcoming releases from Cranston's Buttonwoods Brewery, which will also be opening in the near future.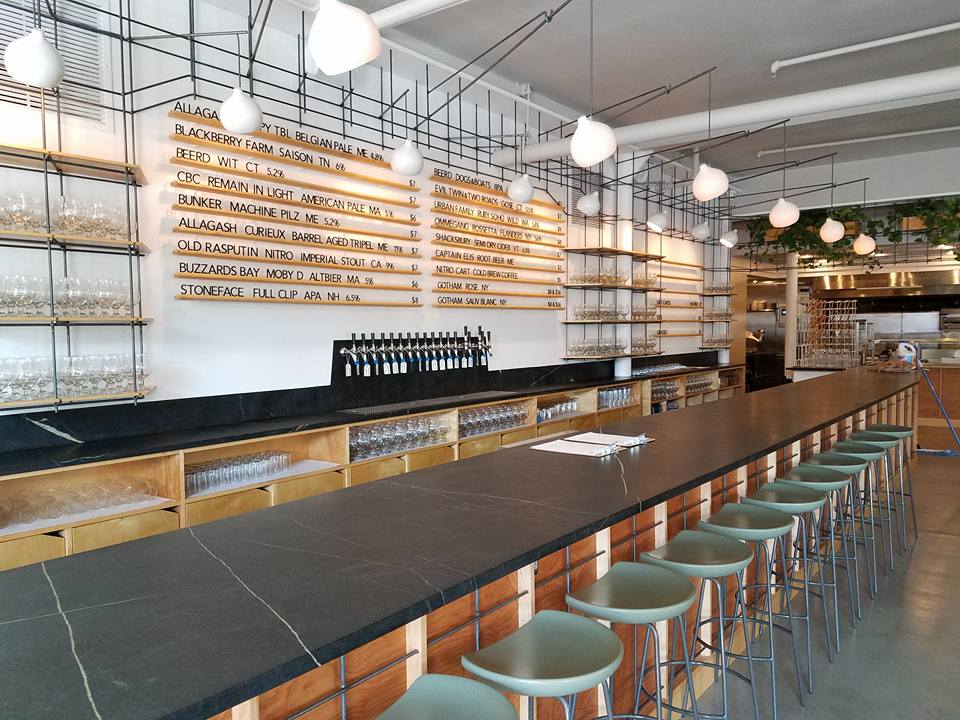 Bayberry has hired a full-time baker to roll pretzels and pasta, and bake housemade breads. Snacks include pickles, smoked bluefish pate and the highly anticipated sourdough pretzels, while more substantial eats include a Gastros hot dog, chicken schnitzel sandwich and Rhode Island steamed littlenecks, plus hand-cut pasta.
The open kitchen allows guests to see their food being made in person. The restaurant will operate by counter service, with no waitstaff. Patrons will give orders to bartenders, who will submit them on iPads and guests will pick up food at the counter. There's also a self-service water station equipped with beautiful carafes and glassware.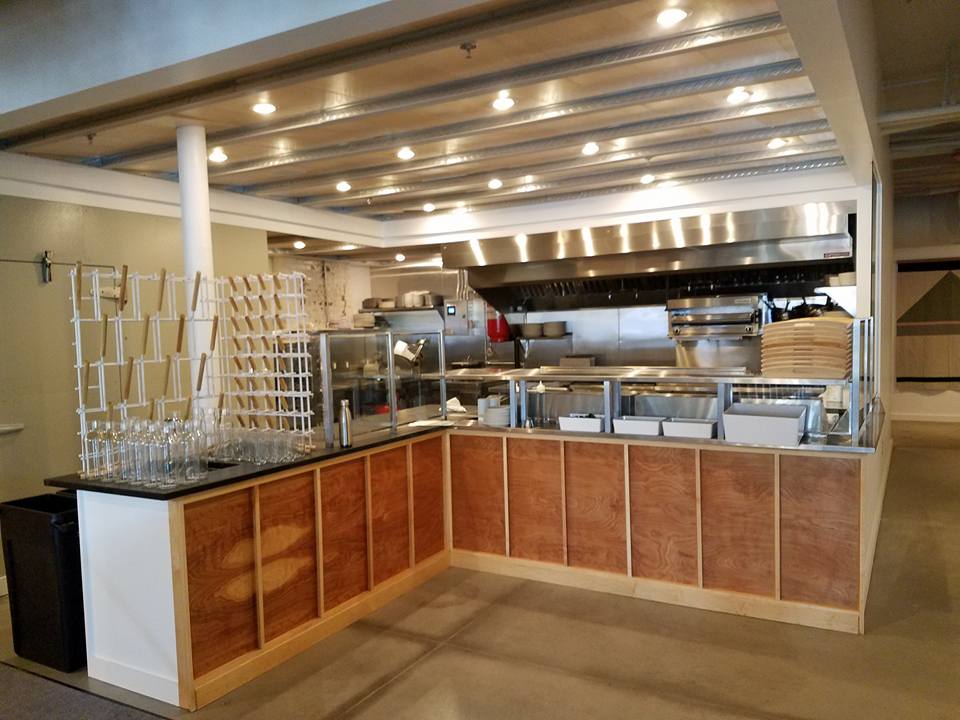 The do-it-yourself details add to the relaxed, communal atmosphere. "We really want to have this casual environment where people can hang out and not feel like a waiter is trying to turn a table over quickly to get someone else in," Tom says. "We want it to be a place where you can come and hang out for awhile, and not feel rushed." 381 West Fountain, St., Providence, 401-714-7487, bayberrybeerhall.com
RELATED ARTICLES