Basta on Broad
A Cranston trattoria unveils a successful renovation and a lively, updated menu that's equally appetizing.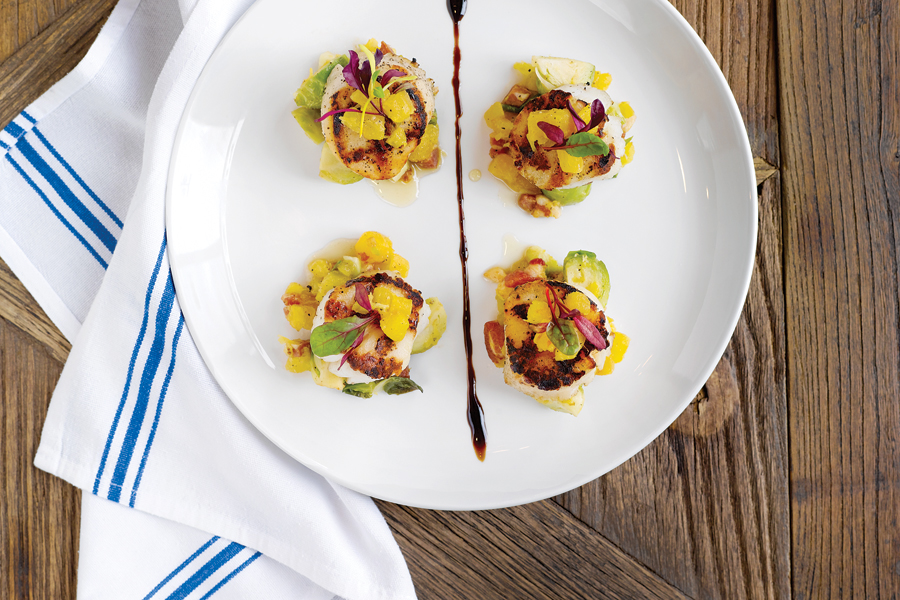 Basta on Broad
2195 Broad St., Cranston, 461-2300, bastaonbroad.com. Open for dinner seven days a week, late lunch on Sunday and late night on weekends. Reservations accepted. Wheelchair accessible. Lot parking. Cuisine Updated Italian. Capacity 100-plus inside with room for three dozen more on the patio. Vibe Espresso bar meets Fellini's favorite bistro. Prices Appetizers $8–$13; entrees $12–$36; dessert $8–$11. Karen's picks Fungi trifolati, arancini, rigatoni alla bolognese.
Key
Fair
Good
Very Good
Excellent
Half-star
Remodeling an Italian restaurant? Don't be hampered by Italian design.
Basta on Broad, a mainstay of what Cranston might call indigenous cuisine, has been resurrected from its old-school ashes into something akin to a boisterous European bistro. What was once an incidental interior design scheme now pulsates with visual intricacies: crimson leather booths rub up against roughly hewn wooden tables as well as red and golden bricks, slabs of white marble and a gilded wood-burning oven that shimmers with smoke. Each corner emits personality like a world's fair — Parisian patisserie on one side, Chicago-style wine club on another, a stone terrazza in the back, even a dash of Victorian charm from the filament bulbs overhead. It might be overly eclectic were it not held together by a menu of both common and contemporary Italian cuisine.
As anyone facing a corporate renovation will tell you, it's tough to strike the sweet spot that attracts a younger clientele without alienating the old. Ambience is by far the most elusive characteristic of a restaurant, particularly if the goal is to span several generations. But owner Ken Guarino — who brought his son Alex onto the project — is looking to prove that traditional doesn't mean torpid.
A glance around the dining room is proof that Guarino's met his goal: it's nearly impossible to define the demographic other than hungry or, perhaps, hungry locals. Kids text myopically while their parents share a bottle of Chianti, first dates peer suggestively over their menus and a table affectionately referred to as the Serengeti — half a dozen women in animal print blouses — bellows toasts with every pour. But as recognizable as the crowd may be, the space itself keeps reminding diners that they've moved beyond the status quo. Servers older than thirty are rare, most are sporting a metro-centric aesthetic, and even the (female) bartenders make a necktie look sexy without offending the patrons. Moreover, stylistic vignettes pop up when least expected: desserts are held under glass cloches, TV screens holograph from bathroom mirrors and yet, amidst the modern homage, a long table is set with bulb jars and Midwestern quaintness. In other words, it's a slice of evolving Americana, served in a pool of San Marzano tomatoes.
Most of the menu is reassuring for Italophiles: there's plenty of picatta, parmigiana and calamari. The standards, however, do allow for creativity in the nightly specials. And it's here that chef Antonio Franco, who previously manned the kitchen at Pane e Vino, marries delicacy and rusticity. A globe of snow-white burrata is paired with rainbowed beets, radishes and pistachios — simple in its presentation but complex in the play of textures. Even heartier are wild mushrooms with sherry reduction ($11) and gargantuan gulf shrimp with garlic butter and white wine ($13). Earthiness is the foundation at Basta, every flavor familiar but far more evocative than redundant.
The kitchen is most proficient with a deep fryer; that seems to be a back-handed compliment, but it's true. Franco loves the interplay of crackling exteriors with molten centers, playing up the juxtaposition in myriad ways.
Crisp strings of zucchini ($8) and crunchy patties of oozing mashed potatoes ($5) are only outdone by cones of risotto ($9) fried so deeply that they need to be cracked open with force. Akin to a Christmas cracker, it's well worth the effort.
Braised beef shows up frequently—
 on pasta, breaking free of shortrib bones, in stews — further manifesting Basta's casual-chic philosophy. In fact, the rigatoni Bolognese ($18) may be the restaurant's best pasta dish.
Of course, there are other signature dishes that succeed to varying degrees. Neapolitan pizza ($12–$16) hits perfect minimalism with chopped clams, garlic and pecorino, but gets laden down in its more indulgent incarnations. Cheese tortellini with vodka sauce ($14) will please those panic-stricken by aggressive acidity but may prove too staid for ambitious eaters. Cotoletta pazza ($36), a layered dish of fried butterflied veal chops with prosciutto, mozzarella, lobster cream and shrimp, plays out in much the same manner: a savory napoleon for interminable appetites, an exercise in gluttony for normal folk. But that's the thing about Italian food. At its best, it hovers between memory and aspiration and Basta sits rather comfortably in that culinary crevice.
No doubt the party vibe that emanates from the decor expands Basta's purpose and its pull. The bar gets full early and stays that way all night. The patio, with its three-season fireplace, attracts cocktailers and the dining room attracts everyone else in Cranston; it's only fitting that the last course is among the most alluring. As much as pasta comforts, desserts do one better. They not only speak to past and present but — as sweets often do — to juvenile fantasies as much as adult sensibilities. Look no further than the Nutella pizza which, even as it takes a step into salty, panders to the fine line between kindergarten glee and the ability to use a knife without supervision. Cannolis, tiramisu, cheesecake are tried and true; biscotti with a dipping glass of vin santo and lemon sorbet with a soaking of Ketel One vodka are the R-rated counterparts. But it's always better to look toward the specials as this is where tradition gets avant-garde. Chocolate-espresso cake and coffee "dirt" are marked by fuchsia macarons that may only be tangentially connected to Nonna's. Not so, though, with an impressive olive oil cake.
A simple sponge-style disk is served with orange crema, polenta crisps, pistachio gelato and a vin santo reduction, as true to the country as you can get but presented with circus-sized taste.
Such dramatics are rare at Basta, which is more about providing what we know than what only exists in the imagination. But that's what makes a favorite restaurant and no doubt it tops that list for its neighbors across the state.
It may not be groundbreaking but it's effective: Basta on Broad looks better, feels better and, not surprisingly, tastes better, too.