Basket Case
Jealousy, betrayal, victory, defeat — it's just your typical basketball game between arch-rivals URI and PC. But as obsessed as the two teams are with their once-a-year showdown, that's nothing compared to the fans.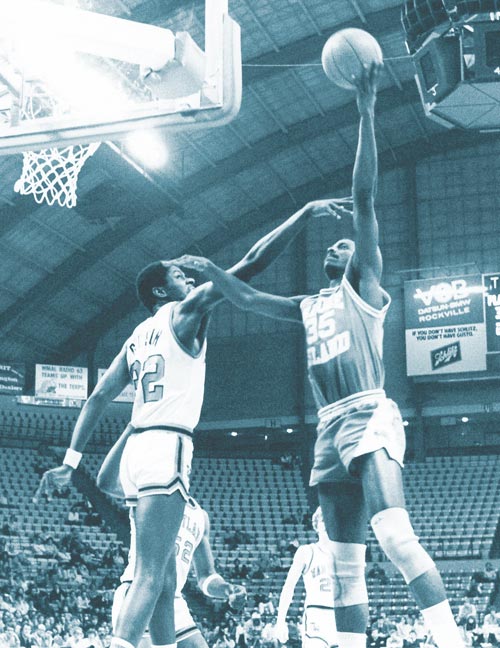 "There's a whole other half to play," she bravely reminds them.
It's even noisier across the court, in the third row behind the PC bench, where Domenic Coletta has a prime seat. Near him, kids from PC sport black T-shirts that taunt "Slay the Rams" while students in light blue "Rhody Nation" shirts wave hundreds of white towels. The URI band is blaring out its fight song and Coletta is grappling with the urge to feel too confident.
"I never mark it down as a win" at this point, he explains. "I've seen too much basketball over the years to do that."
The stakes are high on this, the first Saturday in December of 2009. The stakes are always high when Rhode Island's two premiere college basketball teams collide in what has become a classic sports rivalry.
"It's great for the state and it's great for basketball," says John Rooke, who has been broadcasting PC basketball for twenty-two years. "It seems that every time these two teams play, something remarkable happens."
That's what a sports rivalry will do and there is nothing quite like Rhode Island's. Its ninety-year history is replete with color, anger, jealousy and the unexpected both on and off the court. The two schools can't even agree on how many games they've played — URI lists two extra wins while PC says those were only exhibition meets.
The fans know the game's background, the players do not. Yet when they walk on to the court, either in Kingston or Providence, something magical unfolds.
Bilal Dixon, from Jersey City, New Jersey, plays for Providence College and discovered that when he joined the team two years ago. "It was like something I had not seen before," he says.

"Fans were getting into it, the place was packed. Everything was hyped, the atmosphere, it was crazy. It felt like an NBA championship game."
The schools play once a year and they are scheduled to meet December 4 at the Dunkin' Donuts Center in Providence. It can't get much better than last year's match up.
High up in the stands of the Ryan Center a white sheet secured to a rail reads "Not In Our House" in blue letters, but as the first-half score of forty-nine to thirty-five reflects, Providence College has dominated. There is clearly more blue and white face paint than black and white in the respective student sections, yet the cheerleaders' rhythmic chants of "Let's Go Friars" have often overwhelmed the rival calls of "Let's Go Rams." At one point, URI coach Jim Baron is so upset by the officiating that a referee calls a technical foul. That gives PC two free throw shots and the ball.
Louise Pearson likes Jim Baron, but she prefers to keep her distance. "I don't like to sit too close to the team because I don't like to hear what the coach is saying," she says. The coaches, she adds, sometimes get a little carried away, although Baron "is pretty cool."
Pearson, who lives in Narragansett, recently retired as an assistant principal at the Prout School in South Kingstown. "I've been a URI fan for a long time and the PC games are part of it," she says. "They are a great rivalry. I love the rivalry."
She arrived in Rhode Island in 1965 when her late husband, J. Lincoln Pearson, took a position as a plant scientist at URI. She graduated from Bridgewater State College and the University of New Hampshire, taught at Penn State University, and came to value college athletics and what it represents for a state university.
"This is your school, it represents the state.

It was a given at Penn State," she says. Those attending football games at Penn State — up to 100,000 would turn out — did it because "they were just Pennsylvania people and this was 
your university."
It was not the same in Rhode Island. For one thing, basketball was the dominant sport. But it was also unsettling how many Rhode Islanders did not identify with their state school. In 1979 the Rhode Island Senate passed a resolution wishing Providence College good luck in its upcoming NCAA basketball tournament. URI was not mentioned, even though it was also playing.
The snub made front page news in the Providence Journal, although former Senator James G. Hagan says the media "blew it way out of proportion. There were many senators from South County who could have done the same thing." M. Charles Bakst, the former Providence Journal State House reporter, says it "was juvenile humor, it was not meant to be malicious. It was boys being boys."
By then, the Pearsons were very loyal season-ticket holders. Louise still remembers the spaghetti dinner she made for the team during that time and she and her husband identified with the glory of URI's storied basketball past.
The school was called Rhode Island State when Frank Keaney became the coach and by the 1940s he had made the school a national power. He shattered the conservative play by developing the fast break and four times the Rams went to the National Invitational Tournament or NIT, the equivalent then of a national championship. They never won, but in 1946, Ernie Calverly, who would later coach the team, helped win a semi-final game at Madison Square Garden in New York by hitting a sixty-two-foot shot at the buzzer.
URI had beaten PC in its first meeting in 1920 eighty-seven to twenty-five and by 1957, URI had won thirty-two of the forty-five games. Providence became dominant in the 1960s and today Providence leads the series by either sixty-six to fifty-six, or sixty-six to fifty-four — depending on whom you ask.
The rivalry began to change after the Providence Civic Center opened in 1972. The downtown arena became the home of Providence College and URI also played a few of its games there each year. But it never felt like home to Pearson, especially playing PC. "I remember leaving the Civic Center one year after we had won a game and just wanting to hurry up and get out of there," she recalls.
Sometimes the games can get rough; more than once they've been interrupted by brawls among the players.
In 1979 Providence College coach Dave Gavitt created the Big East Conference — and did not invite URI as a member. Suddenly a number of the schools that URI had always been measured against — Boston College, the University of Connecticut and St. John's University — were in what quickly became one of the top, if not the best, college basketball leagues in the nation.
That hurt.

"I do remember when the Big East was formed. I remember feeling sad about that," says Pearson.
Some URI boosters say Gavitt ignored URI because he still held a grudge over the Sly Williams episode. They have no basis for that accusation, but it does explain the heat surrounding Sly Williams.

At the Ryan Center, with one minute into the half, PC goes up by sixteen points. Then, URI starts getting back on defense faster, PC's scoring slows, and URI in three minutes scores twelve to PC's one point. As URI races to score another lay-up, TV broadcaster Eric Frede yells into his microphone, "This could bring the roof off." It does. PC calls time out. The crowd is roaring, a sea of white towels flutters frantically in the air, and the cheerleaders somersault across the court. Louise Pearson is giddy. Domenic Coletta is not.
Sly Williams stayed at Domenic Coletta's house for a few weeks in August, 1976. Coletta, a junior at PC at the time, had become close friends with many PC players. PC had been recruiting Williams, one of the top prospects in the country, and Williams told everyone he was coming to PC.
"He left with one week to go in August, to get his stuff in order," recalls Coletta. "The last words out of his mouth when he left was that he would see me in a week. He left with every intention of coming to Providence College."
A week later Williams announced he was playing for URI, and rumors began to swirl. Was he offered a car? Did he get an apartment? None of the speculation has ever been proven.
One thing is certain, however: the Williams decision ratcheted up the rivalry.
"The games were meaningful, but they took on a whole other level when Sly came," says Coletta. "It was wild. Every time he touched the ball, PC fans would boo."
TV anchor Ken Bell, who does sports for ABC6, remembers that the first game he covered here — as a reporter for NBC 10 — was a PC-URI match-up with Sly Williams on the floor. "I have never seen anything like it," he says. "This was absolutely wild. I had never seen that kind of passion. People were screaming at each other and sometimes they were pushing and shoving each other."
By 1980, the situation was so combustible that the two schools announced they were cutting back the two games they played against each other each season to one. Former PC coach Dave Gavitt told the Providence Journal: "What happened is we went through the whole Sly Williams thing and the fans really got out of hand. The atmosphere was unhealthy, a lot of verbal stuff in the stands we hadn't had before. It wasn't a lot of fun for the players at either school."
Many longtime fans miss that second game, but not Coletta: "I always felt it meant more to URI than it does to Providence College because they get the opportunity to knock down the big boy, the big school, the big conference."
No one identifies more with PC and its basketball fame than Coletta. The school was the only option he considered after twelve years of Catholic education, and he has been sitting on or near courtside since he was a freshman. In thirty-eight years of home games he estimates he hasn't missed more than twenty. He is the epitome of the loud, passionate fan. "I am very vocal when I am sitting in my seat," he says. "Ask any ref; most of them know me by name."
A few years ago at a game he grew upset by a referee's call. He was sitting a few rows back because he had given his front row seat to his daughter. "So I ran up to the edge of the court and I stopped," he says, "because I never run on the court. Or, well, not anymore anyway."
The referee saw Coletta and asked security to have him sit down. "So now I had everybody in the section going wild," he adds, "because all of the students are behind me, and I'm pumping up the students." He decided he would sit in his daughter's front row seat. The ref noticed and asked security to double-check that Coletta was sitting where he was supposed to.
"So I stood up, and I yelled from my seat, 'Hey ref, you want to see this ticket?' And I turned to the whole crowd and I had the whole crowd standing and cheering for me. Then I sat down."
Why does Coletta care so much about PC basketball?
"It was something in my blood, way back," he says.
Coletta grew up hearing of the glory years of the early 1960s when PC under coach Joe Mullaney went to the NIT five straight years and won the championship in 1961 and 1963. He lived the school's greatest years under legendary coaches like Gavitt and Rick Pitino, who guided teams to regular twenty-win seasons, perennial NCAA tournaments and national rankings. For years PC eclipsed URI in basketball circles, primarily because PC plays in the Big East Conference.
Now a computer consultant in Johnston, Coletta is careful not to insult his friends who are URI fans. Yet, for Coletta, PC's success over the years carries with it a certain hubris when addressing the URI rivalry. While Pearson would love to see the annual game continue, Coletta says he doesn't care if PC were to drop its face-off with URI. "It would be bad for the state," he says. "But from my point of view, I could take it or leave it at this stage. We have other concerns. We have concerns about playing in our own conference. Being in this conference, we are the weak team every year."
At the Ryan Center, with 6:16 left, Orion Outerbridge of URI gets two points off a layup and is fouled. He makes the foul shot, tying the score at sixty-nine. Most URI fans are on their feet. PC brings the ball down and the URI fans scream "DEFENSE, DEFENSE, DEFENSE." PC fails to shoot within the required thirty-five seconds. PC coach Keno Davis pleads with the refs to review the play. He thinks the ball hit the rim, but the game goes on. URI scores and takes the lead.
It's a given among sports writers and commentators that this game means more to the fans than to the players or the coaches.
Don Kaull, who played for URI in the 1960s and has done the game's color commentary on radio for twenty-two years, says the players have always respected each other but never got into it the way the fans have. "It's probably a bigger rivalry for Rhode Islanders who live in Rhode Island," he says. "It's more of a water-cooler rivalry."
"A win means you can brag the rest of the year," adds Bell of Channel 6, "or you take abuse the rest of the year."
Yet the players and coaches have embraced the rivalry.
Of the four players I interviewed for this story — two from each school — none knew of the history or had even heard of the rivalry before arriving, mostly because very few players at either school come from Rhode Island. But several told the same story, of being at the Providence Place mall or on a summer playground, and running into members of the rival team.
"If you win, you want to be proud to go to the mall," says Lamonte Ulmer, who completed his senior year at URI last season and graduated.
Says Bilal Dixon, a sophomore at PC, after PC beat URI: "We just look at them and they know. A look means a lot."
Older players pass on the importance of the game to the younger players, but the fans also communicate the message. PC senior Marshon Brooks says that players get messages on Facebook and Twitter. "Before the URI game you get fifty messages and they say as long as you beat URI I'm fine."
But the strongest communication makes itself felt when they walk into the bas-ketball arena, either in Providence or Kingston.
"The players feed off of the crowd," says Davis, the PC coach. "You put a full crowd in there in the first week in December and the players raise their level."
Davis and Jim Baron, who has coached URI for nine years, say they have great respect for each other and their respective programs. They should; in the last ten match-ups, each team has won five.
Bell says that with PC in the city and the major conference and URI down in South County in a less prestigious one, he and other sports reporters have often been accused of giving more coverage to PC and favoring them. But lately those complaints are fewer because the two schools have become more equal. The most common way to measure the success of a college basketball team is how many times they make a post-conference tournament, especially the prestigious NCAA. Both schools have struggled in that category, URI last making the NCAA in 1999, PC in 2004. The consolation prize is the less desirable NIT. In the last ten years PC has played in the tournament five times, URI four, including making the championship game last spring.
While both coaches praise the rivalry, one has to wonder if they might prefer a less intense non-conference game so early in the season. PC may have more to lose, simply because it does face a more difficult conference schedule, but Davis says he likes the timing of the game.
"It's great to be able to see where your team is at," he says. "If you lose the game, it's not like your season is over. You've got a little bit over a month before your conference season begins, so you have some time to evaluate where you are at." He likes having the intensity of a late-season match-up so early. "It's unique in November or December where the intensity is there from a fan's perspective."
John Rooke, the PC broadcaster, worries that the rivalry may end. "It would be horrible for basketball in this area," he says. "PC and URI are institutions that Rhode Islanders own. We take great pride in their success and we hurt when they lose."
Bell of Channel 6 thinks that prospect is very unlikely. "I think PC and URI will always play because there will always be a demand for it," he says.

As the clock ticks down at the Ryan Center, the teams trade baskets and URI maintains its lead. With 1:10 left, URI's Orion Outerbridge blocks a key shot. Now everyone in the house is on their feet. The three students in blue wigs sprouting orange basketball beanies jump up and down in joy. Louise Pearson is screaming. Domenic Coletta is not. The buzzer sounds. URI has defeated PC eighty-six to eighty-two. PC students and fans watch glumly as URI students stream down onto the court, surrounding the team, whooping and yelling.
Bragging rights have been established for another year.