Bargain Hunter
Ocean State Job Lot CEO Marc Perlman has turned his love of wheeling and dealing into an empire that brought in more than half a billion dollars in revenue last year.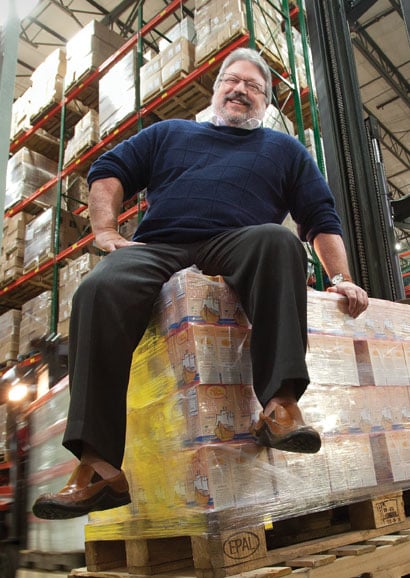 Marc Perlman is like a kid in a candy store. His.
He is walking the aisles of the Johnston Ocean State Job Lot, the company's newest, a former Shaw's. The store is clean, organized, bright and airy, unlike some in the thirty-five-year-old chain that are older, cramped and crowded, but with an adventurous sense of disheveled charm.
Perlman, CEO and co-founder of Job Lot, knows where everything is, how much it costs, where it comes from, how it's made. Purchase orders for every item here, mostly overstocked, discontinued or closed-out goods from top-end suppliers and manufacturers, cross his desk for approval. He knows the stuff like a parent knows his kids — and talks about it as proudly.
At a wall of reading glasses, a Job Lot staple, he excitedly shows me $3 models and explains in engrossing detail the material they're made with and why the polished lenses are better than cheaper models, his pudgy fingers wiggling the spring arms. "Now some people say, 'We can get them for a buck at the dollar store,' but they're not this good," he says, holding a pair aloft. "But we can't explain all this to every customer."
But if customers can't discern the difference in value? There's an equally huge display of buck-a-pairs right next to it.
Perlman pulls a blanket in a clear plastic bag off a shelf, opens it and encourages me to feel the plush softness within.
"This is a great blanket for $18, in a lousy package, no markings, nothing fancy," he says of the WestPoint Grand Patrician five-star hotel blanket. "Know why? It was mail-order, so they didn't need a fancy package."
We move to a stack of bed linens, which the manufacturer erroneously marked as having a thread count of 600 that in reality was 350, allowing Perlman to do what he does best: buy low and sell at a reasonable profit. "We're not gonna run away from someone else's mistake, as long as we point out the error and people know they're getting a 350-count set," he says, beaming.
Just to be sure, they had the linens tested for thread count. Which begs the question: Why the hell would you test sheets? He smiles: "We're from the Reagan school of thought: Trust but verify."

​To read more of this story please visit your nearest newsstand or click the link below.