Bar Americain
It's always a gamble to fill seats in a down economy, but Bobby Flay's betting big on his reputation and ability to appeal to the masses at Mohegan Sun.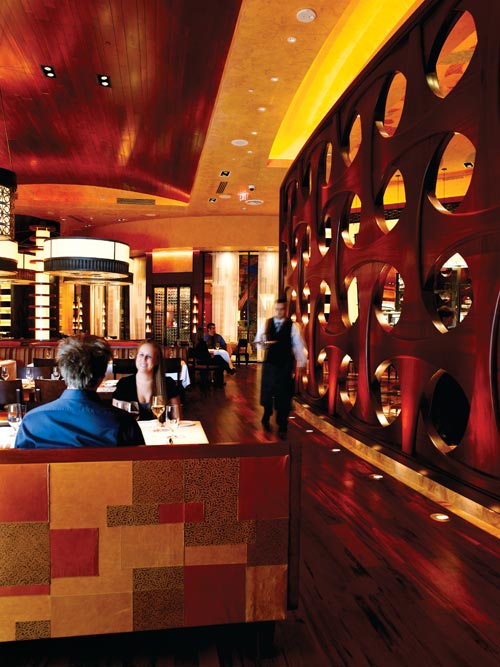 Bar Americain
One Mohegan Sun Boulevard, Uncasville, Conn., 860-862-8000, baramericain.com. Open for dinner every night.
Reservations recommended. Wheelchair accessible. Valet parking. Cuisine American South, from Florida to New Mexico. Capacity 275 Vibe The casino curse: somewhere between exclusive and commercial. Prices Appetizers $11–$25, entrees $24–$39. Wines are affordable (most fall between $35 and $50), but beware the cost of cocktails. Karen's picks Raw bar, "rack of pork," porterhouse lamb chops, steaks.
Key
Fair
Good
Very Good
Excellent
Half-star
In the wake of last year's vote against a Cranston casino, Rhode Island residents continue to peer across state lines, intent on validating their own black line or second-guessing their neighbors'. It's a tough argument for either side to win if your casino knowledge hearkens back to Atlantic City in the age of salt water taffy, where success relied on little more than a militia of Bedazzlers, several hundred weary card dealers and a gauzy film of smoke. And though modern versions may employ equal numbers of sequins and cigarettes, they've got a good deal more funding behind them and a great deal more polish. Even the food has made Goliath strides. Ten-dollar buffets, once the benchmark between substandard and sumptuous, have given way to prime beef and big names. Four months ago, celeb-chef Bobby Flay joined the gated culinary community at Mohegan Sun, already home to Todd English's Tuscany and Michael Jordan's Steak House.
Flay's behemoth 275-seat Bar Americain has the same nebulous glow that pervades the casino, an amber mixture of dawn and dusk that eschews the passage of time. Its ceiling rises thirty feet high simply because it can, with walls of lattice-woven wood and four-foot-wide pendulum lamps crafted of linen. The natural materials of the dining room are flanked by the more modern lounge and kitchen, the former filled with burgundy club chairs while the latter is molded from quilted steel and matched with a u-shaped raw bar. The line is tucked away, pioneering in its own right given the propensity for fry cooks around the country to be paraded in firing squad formation before spoiled diners who view gastronomic drama as a birthright.

Or perhaps it's to hide the fact that Flay's clearly not in the kitchen given his increasingly weighty resume that includes nine restaurants, nearly a dozen cookbooks and incalculable media appearances.
The missing chef doesn't detract from a giddy staff who waxes rhapsodically about their favorite dishes; to be fair, it's not out of line to say that conglomerates work efficiently — at least reliably — given that menus rarely change and cooking is more science than art. And, in a sense, Flay's cuisine is uniquely suited to this Native American money mall since his dedication to American cuisine is anything but contrived. His nearly twenty-year-old first born, Mesa Grill, was a novelty when it opened, bringing South-western ingredients into an acclaimed fold. The Bar Americain duo (Manhattan's Theater District is home to the first) centers more on the deep South, though chilies and avocado show up with some regularity.

It's a Southern stroll that still embraces an America — one that fries chickens and eats potato chips — that appeals to every corner of the country. Crowds, particularly on weekends, manage to fill the ample seating though weeknights prove decidedly more low key.
While popular perception suggests appetizers show better than entrees, first courses here are open to more criticism than large dishes. A red pepper crab cake ($19) can't be faulted for surfeit filler, but an overpowering red pepper binder is too dominant for what could be crab at its finest. The same holds true for one of several shellfish "cocktails," a crab salad ($18) coated in coconut milk that forms 
a hermetic skin as soon as it's delivered. An acidic lobster and avocado "martini" ($19) does much better, hitting several flavors (from honey to horseradish) without losing the integrity of the meat. Not unexpectedly, the strongest shellfish cocktail is the most basic: massive shrimp served with ice cold tomatillo salsa ($17), a better and brighter version of an American classic. None of the dishes are poorly executed, but diners deserve to be demanding when appetizers run this high.
More indulgent openers include duck confit with red chile ($14) on Native American fry bread (think Indian poori) and a bowl of house potato chips ($9) served alongside molten blue cheese. One might even forgive the undersized shrimp (small even for gulf) given the strength of the smoky, soup-like grits that lie beneath them ($15).
Flay does love to contrast rich against sharp in many of his dishes and, like any established chef, he knows his way around textures and taste well enough to play off of disparate features. Individual sides zero in on a showcase item. Take bitter Brussels sprouts (a personal favorite), which pair not only with pungent vinegar but toasted hazelnuts and pomegranate seeds, stripping the characteristics that make it America's most detested vegetable and rendering it altogether transformed. Cauliflower gets the inverse treatment, playing into its milky flavor by dousing it in goat cheese cream.
The reason entrees fare better — other than the fact that sticker shock has dissipated — is that Americain's dishes almost always center on meat, and their sourcing is impeccable. The Vince Wilfork-size cuts are so domineering that Flay (or his doppelgangers) wisely shows restraint, allowing sides to manifest creativity and meats to simply hulk. Beef (ribeye, filet and strip are all $39) is served a la carte though all other proteins are accompanied by cultivated whimsy.
The upside to any culinary empire begins with aesthetic assets, and they're rampant here. Minute lion's head bowls fit into plates designed like artist's palates when one sauce is two too few. Down-home fried chicken comes with a pink peppercorn honey, delicate red snapper with plantains and black beans. Both appear meek next to the porterhouse lamb chops (three of them; $34) with piquant barbecue sauce and a bland corn tart or the unnervingly large but excellent pork chop ($30), glazed with apple cider and topped with an indulgent puddle of apple butter.
But American influence is clear in more than just culinary inspiration at Bar Americain. Size, scope, detail — everything is over the top. Even the marble floor is dizzying in its design. What can you expect given that Todd English got a waterfall just down the walkway? The restaurant also joined the new breed of hybrids at which prices remain lofty but guests eat in jeans or — on rare and unfortunate occasions — sweats. One has to imagine that even Flay is shuddering as he preps for another "Iron Chef."
Desserts ($10) do seem to follow suit though, merging classic technique with everyday dishes. Chocolate cream pie is more like pudding piped between flat tuiles while profiteroles are shellacked with a bourbon praline that starts as sauce and settles as candy. Blackberry souffle is the restaurant's most elevated dessert — insomuch as the staff relishes the requisite scooping and anglaise swirling — though that too remains close to home as far as flavors go. And though shock and awe isn't in the dessert vocabulary, they're designed to delight and succeed in doing so.
No doubt it's imperative to keep meals congenial if they're heading toward a hundred dollars a head; particularly if those same people are planning to barter more capital for a night with vindictive kings and queens. Flay's monument to Americana should fare just fine given the fact that it's got everything a successful restaurant needs: reputation, commendable talent, dramatic presentation and, crucially, undeterred foot traffic.
After all, nothing says success like a waiting list, and Flay knows how to build one.