Band of Brothers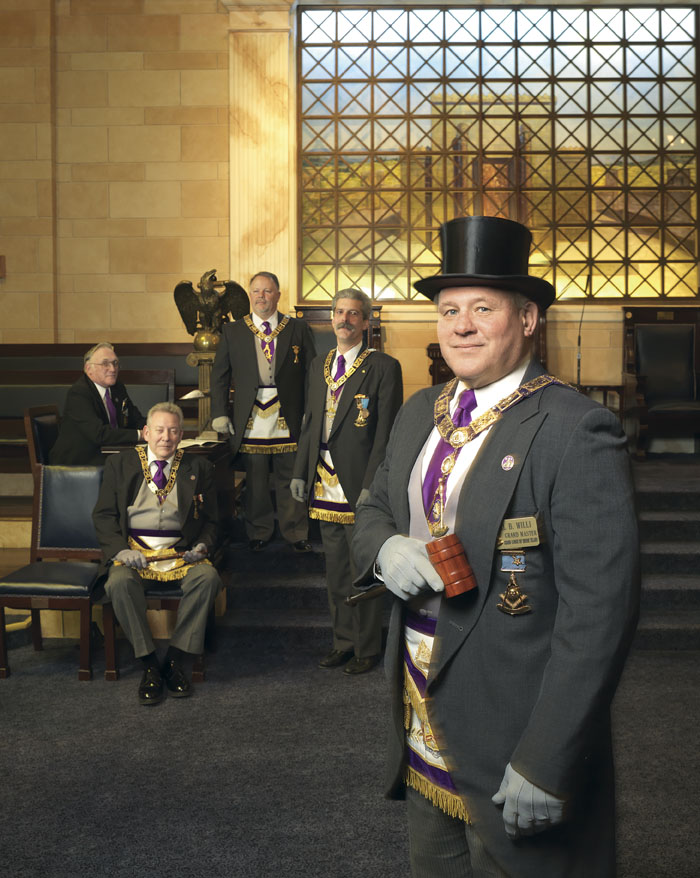 In the graying hours of a fall evening, Dr. Stephen Carr, fifty-three, director of prenatal diagnosis and fetal imaging at Women and Infants' Hospital and Master Mason, answers the phone at his Barrington home. He hears Peter's voice on the other end of the receiver. "How are you? How's your family? I haven't seen you in a while and was calling to make sure everything's okay." The caller is Peter Burke, an employee of the Adult Correctional Institute in Cranston and fellow member of the Masonic Adelphoi number 33 Lodge with Carr. "Is there anything I can give you a hand with?"
Burke made that phone call, the first of many, eight years ago, one year after Carr joined the Masonic brotherhood. Burke's benign gesture became a defining moment for Carr. Just like that, other such phone calls followed, and Carr became impressed by how the men in his Masonic lodge paid thoughtful attention to each other's welfare. "They come together for friendship and fellowship but truly love and care about one another. They call each other without having any expectations, which is such a rare and precious commodity today," Carr says.
Masonry has been on the brink of obscurity in recent years. In 1997, Carr was one of dozens of Rhode Island men inducted that year into the enigmatic fraternity. But even the influx of new members such as Carr isn't making up for the large numbers who are dying or leaving the organization for other reasons. Last year, ninety joined and 190 were lost through attrition. Just thirty years ago, Rhode Island Masonic lodges had 15,000 men on their rosters. Today, only 4,400 Rhode Island men are members, and their average age is around sixty.
Shrinking membership has resulted in new efforts to lift the veil of secrecy that surrounds Masonry. With a presence in popular media, such as in Dan Brown's The Da Vinci Code and the 2004 Disney blockbuster movie National Treasure (both will release sequels this year), Masonry is working to shed its long-standing secrecy, cult-like status and association with various conspiracy theories.
Recently, the Rhode Island Masons created a new video, "The Next Great Mason," which was shown last summer throughout the state at fairs and festivals and is available as a free download on their website, www.rimasons.org. The group has even paid for some advertising to make people aware of the fraternity, a move unheard of in decades past. In Massachusetts and New York, Masonic lodges have recently mounted aggressive public relations campaigns and have offered tours of their meeting halls during open house days.
It appears the group aims to regain some cachet.
No one knows for sure when or how the organization originated, but most historians believe that Freemasonry, or simply Masonry, was founded in Europe's Middle Ages, although it had earlier historical roots. The organization began as a guild for stonemasons who traveled the continent building castles and cathedrals. In the early 1700s, Grand Lodges in England, Ireland and then Boston were formally organized, their mission being self-improvement, egalitarianism, togetherness and charity. Elaborate ritualism and mystery have defined the group, but underneath it all is a band of broth-ers who tries to take good men and make them better.
On a cool autumn evening, in the dark recesses of Freemasonry Hall in East Providence, Rhode Island Masonic Grand Master, Carl Willi, fifty-nine, stands at his symbolic position at the east end of a second-floor meeting room, in front of more than 100 Masons who are attending their first meeting since the summer break. Willi, a retired naval officer and now a civilian manager of the Naval firefighting school in Newport, has been a Mason for twenty-one years. He wears a black tuxedo, a white lambskin apron, white gloves and the purple cloth collar bedecked with symbolic gold medallions that signifies his leadership role.
On the wall behind him, members in similar attire gaze at a lighted mural depicting King Solomon's Temple. The hour-long meeting begins with a prayer to the "grand architect of the uni-verse." Members recite teachings that hinge on character-building doctrines. A member plays the organ, others sing hymns, and colorful overhead lights shine on an inset dome ceiling painted to resemble a cloudy sky.
Willi is the volunteer leader of the state's Masons. He says the social group has always been about character building, but many have no idea what Masons do. "We are not a secret society, but we have secrets by which we can identify one another," he says.
One seldom disclosed detail has almost brought the brotherhood its end: to become a Mason, you have to ask a Mason for an application to join. "Masons do not openly solicit for members, but there's a code phrase, 'To be one, ask one,' " Willi says. "One of the problems with Masonry is it was never talked about. A lot of people didn't know how much they could tell people about Masonry." There's also a traditional reticence for Masons to solicit new members. "Doing the good works, you hope to attract the attention of like-minded men," says Willi.

call out: Masonry is religious, but it's not a religion
So what do these like-minded men do? Behind closed doors, they assemble monthly — sometimes as often as weekly if there's a special happening in their lodge, such as new candidates preparing to take their oaths — for a solemn, one-hour meeting that opens and closes with prayer. The session includes moral lessons about cardinal virtues like fortitude, prudence, temperance and justice and provides opportunities to display brotherly love. Afterward, members share a meal together and listen to a speaker engaged for the evening. They are forbidden to discuss religion or politics with one another in the lodge.
The Masons also do charitable work in the community; it's one of their tenets. It used to be easy to find Masons doing helpful acts around the community due to their sheer volume, says Norman Tierney Jr., sixty-five, a retired accounting professor and a Mason for forty-four years. Small groups would team up to put a new roof on the home of a Mason's widow, for instance. Fewer such projects now occur. "We were always out doing things, helping out, but there was never any hullabaloo," says Tierney. "Now the average age of our membership is about sixty. No one's climbing up ladders anymore."
More often now, the group's charitable programs are formally administered, such as the Child Identification Program. CHIP is a child safety resource, endorsed by the Rhode Island State Police and the Rhode Island Police Chief's Association, in which children are photographed, videotaped and fingerprinted. Their DNA is collected and dental imprints are taken. If a child is lost or abducted, parents can give this information to police to help in the search. Masons bring CHIP to seasonal community celebrations, but admittedly, they aren't as visibly active as they once were, Tierney says.
Other charitable work includes scholarships. Ocean State Masons annually dole out about $250,000 in college scholarships to Rhode Islanders. Among many other philanthropic acts, they also raise money for Mason-affiliated institutions such as the Shrine Burn Centers and Orthopedic Hospitals, which offer free care, the Knights Templar Eye Foundation, and the Scottish Rite Children's Learning Centers. Collectively, Tierney guesses that American Masonic groups give more than $2 million a day to charities nationwide.
Masonry offers men of all faiths the opportunity to join in comradeship and to work together for charitable purposes, says Tierney. Many men like him follow a family tradition of Masonry, joining parents, brothers, uncles or grandparents in the brotherhood. Members' occupations range from lawyers, doctors and bankers to crane operators, police officers and bus drivers. Tierney says this group has always been about character building. "Masonry is based on tolerance," says Tierney. "We meet on the level. It's the great equalizer."
Several founders of the United States were Masons, including Paul Revere and George Washington, as well as several signers of the constitution (Masons claim there were eight or nine, though some esoteric historians posit that as many as fifty of the fifty-nine signers belonged to the society). Other famous Masons include composer Wolfgang Amadeus Mozart, actor Ernest Borgnine and Wendy's owner Dave Thomas.
To become a Mason, a person must be twenty-one years old, have good standing in their community and believe in a deity or higher power. "Masonry is religious, but it's not a religion," says Willi. "Masons have taken their oath on the Bible, the Koran, the Torah, the Old Testament, whatever the book of law is for their religion. Masonic prayers are nonsecular, but because our craft is tied around architecture and construction of buildings, we refer to the 'supreme architect of the universe' in our prayers. It covers whatever deity one prefers to believe in."
Despite its ostensibly open-arms policy, Masonry has been long opposed by at least one major institution, the Catholic Church. Back in the eighteenth century, the Church prohibited its members from joining Masons. It condemned the organization as anti-Church and anti-State, accusing it of contempt for ecclesiastical authority and denial of the existence of one true religion. In 1983, the Congregation for the Doctrine of the Faith said, "Faithful who enroll in Masonic associations are in a state of grave sin and may not receive Holy Communion." Today their position remains the same. Still, Willi says there are Rhode Island Masons who are also Catholics.
Potential masons go through an extensive interview process. Men may be asked to attend a Masonic dinner to get better acquainted with the fraternity before submitting a formal application. At least three Masons will gather at the applicant's home to interview him, and his wife if he's married. "We want to make sure both are aware of what is involved in being a Mason," Tierney says. "Those three interviewers report back to the lodge, either positively or negatively. Presuming that they all report positively, and the guy's application has already been written, then it's published in the next member's notice. When it's voted on, it has to be absolutely 100 percent favorable. If there's one black ball, then he's gone. That's pretty much universal worldwide."
There are twenty-six Masonic lodges throughout the state. Once a person becomes a Mason, it is his right to visit any Masonic lodge in the world. Willi says anyone interested in becoming a Mason should contact the Masonic Grand Lodge of Rhode Island or their local lodge to request an application.
As for Carr, he says he has formed many other close friendships, in addition to Burke's, through Masonry. "I have friends from many, many walks of life," Carr says. "Had they not been Masons, I would have never met them. Now great friendships have blossomed."
For more information about Rhode Island Freemasonry, contact the Masonic Grand Lodge of Rhode Island at 435-4650 or visit www.rimasons.org.