Back to the Old Days of Play
Providence Children's Museum hosts free outdoor programming to inspire young minds.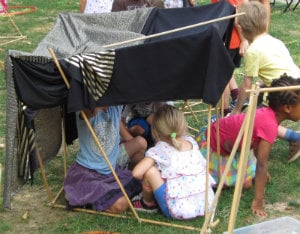 For the second summer in a row,
Providence Children's Museum
is asking parents and kids to unplug and join in on free, spontaneous fun in parks across the city. It's the nostalgic sort that existed before tablets, computer games and other easy entertainment – the type of play that kids, with boundless energy and bubbling imaginations, could really enjoy.
Play at the Park is a facet of Playful Providence 2013, a citywide celebration commemorating Providence's status as a Playful City from the national nonprofit, KaBOOM! The Partnership for Providence Parks and the Providence Department of Parks and Recreation are credited as collaborators on Playful Providence events.
In the Play at the Park press release, the Providence Children's Museum cites a 2007 clinical report by the American Academy of Pediatrics that states, "…play is essential to the cognitive, physical, social and emotional well-being of children and youth."
The press release continues, "With increased emphasis on academics at school, more time in structured after-school and summer programs, parental concerns about safety and more time in front of television and computer screens, many kids today lack time and space for free play – especially outdoors."
The museum's answer to this problem? Plopping huge blue foam shapes, wooden dowels, fabric, bubbles, wacky tools and other loose parts in parks across the city and letting the kids have at them. It might sound like a jumbled mess, but the possibilities are endless for creative kids.
"We firmly believe in the value of open-ended loose parts play," says Providence Children's Museum Executive Director Janice O'Donnell in the press release. "We are delighted to partner with Providence parks to bring these play opportunities to kids and families throughout the city."
What's more, the Play at the Park sessions are held in conjunction with free concerts presented by Providence's
Neighborhood Performing Arts Initiative
. A win for the kids, and a win for you. Here's the schedule:
Wed., July 17 • 5–8 p.m.
Harriet and Sayles Park | Harriet and Sayles sts.
Music by a DJ, plus performers and other activities.
Thurs., July 25 • 5–8 p.m.
Dexter Training Ground | Dexter and Parade sts.
Performances on the fiddle, mandolin and guitar.
Fri., August 2 • 5–8 p.m.
Roger Williams Park | Broad Street entrance
Performance by ECAS (bilingual music, dance and theater).
Tues., August 6 • 5–8 p.m.
Fargnoli Park | Smith Street
Performance by Island Farm Bluegrass Band
Wed., August 7 • 5–8 p.m.
Brown Street Park | Brown and Creighton sts.
Performance by Smith and Weeden.