Authentic Greek Food at Kleos
It's like being transported to a jeweled patio overlooking the Aegean Sea.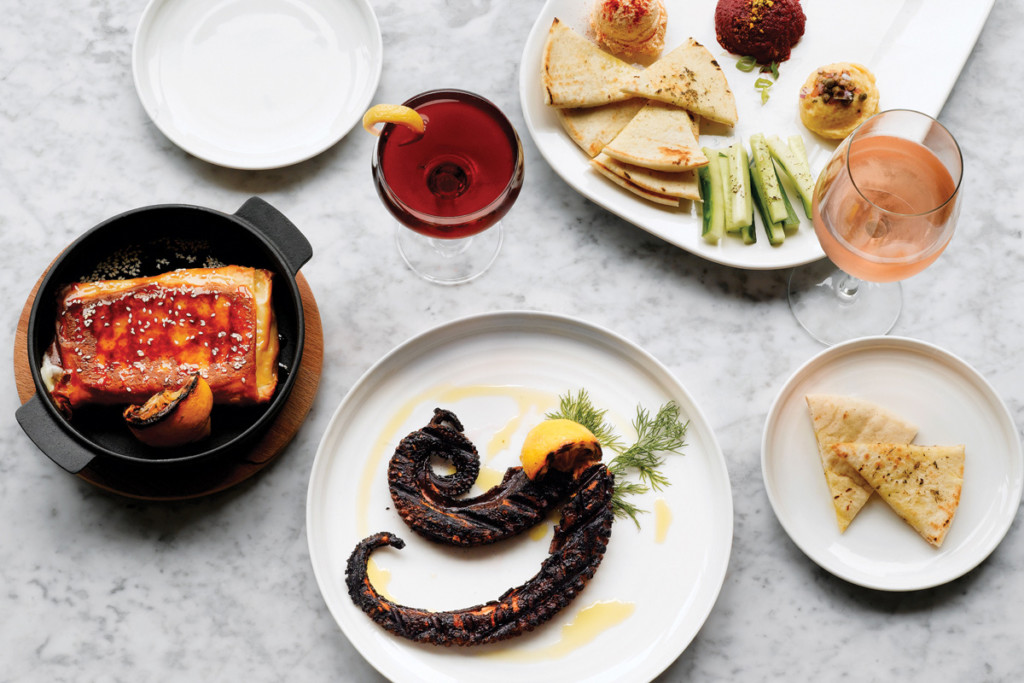 If Italy is amply represented in Rhode Island, Greece is invisible. Other than the occasional feta-topped salad and souvlaki, Athenian food has been sorely underrepresented in a state that defines itself by a similar aquatic horizon. Consequently, Kleos, on the corner of Westminster and Union, bears the burden of a vast representation, the solitary manifestation of Greek experience.
For owners Tom Bovis and his wife, Lauren Lynch, the effort was more than Herculean; it was hereditary. The project comes three years after opening Rosalina, an Italian restaurant with a secret: The basis for everything was a Greek olive oil shipped in from Bovis's family farm, a decision that was more love child than sacrilege. It's the golden groundwork on which Kleos is built, making every dish into a cultural exchange.
It's also the guiding force behind the restaurant's design, a melange of muted earth tones: Whitewashed shiplap and worn wood tabletops are punctuated with the jeweled hues of the sea. Gilded chandeliers umbrella the space while accents in turquoise and cerulean wash away the urban skyline. But as precise and accomplished as the dining room is, it's purposefully unpredictable. The bar is split in two, one side wood flanked in pebble-like tile, while the other is covered in gleaming white marble. Rattan shows up occasionally as do earthenware crocks suspended from the ceiling, vases of olive branches and vintage photos of the Bovis ancestors. It doesn't feel like Greece, as much as life as a Greek filled with nostalgia.
The food operates similarly, particularly for diners harboring a love for feta, lemon and oregano. "I am twenty-three and back in Astoria, Queens," says a corporate stiff longingly. "We ate lemon potatoes at 2 a.m. at Uncle George's, where the whole menu was in Greek." One bite of the contents of a cast iron casserole and he ends his rumination, eyes closed: "It tastes so much the same." The menu is dominated by homage and, if it prevents Kleos from riffing too much, it's a forgivable, even preferable decision. An embrace has to begin with what is before it, then shifts to what can be.
However, Lynch, who built the menu, does have an eye on contemporary Greece. The quintessential dip platter ($14) — hummus, spiced feta, beet, eggplant, yogurt — is served in quenelles with a restrained portion of pita. Kleos pushes you to meander through the terrain, particularly as it shifts from hearty to delicate and what might be a routine relationship with chickpeas becomes far more intricate. Each spread is a detailed study in dichotomy: smooth meets coarse, mellow plays against tart, subdued dairy tempers crimson beets. Kleos asserts that if Greek food is anything, it is bright. The revelation is all the more astonishing given the inclusion of both oil and cheese, neither of which manifests itself as heavy. The same principle applies to Saganaki Kleos ($10), a wedge of kasseri and feta baked in phyllo dough and drizzled with honey that bears some connection to fried cheese but is unexpectedly light.
It's a dynamic that's often found in seafood and Kleos is no exception: Fish carries flavor without weight and, much like olive oil, it adapts to vision with ease. Swordfish ($27) is familiar, but served with nutty orzo and julienned cucumbers, it holds onto what is traditional without feeling stale. Lynch asserts her influence even more with the Grecian gemelli ($18), pasta coated in fresh herbs and pistachios and served with head-on prawns. There's a depth to the flavor, an agricultural heritage that captures the boldness of the islands without strictly adhering to tradition.
Nevertheless, indulgence does have its place. Greek lasagna is served in an iron casserole, anchored by béchamel and mizithra cheese. Molten, creamy and rich, it's the Mr. Hyde to feta's Dr. Jekyll: decadent to the point of dangerous. Even the simple mixed grill ($38) of lamb chops, meatballs, sausage, kebabs, souvlaki and a mountain of fries, is a massive endeavor that speaks more to a winter meal than an ocean side snack. It's Kazantzakis's Zorba, entirely hedonistic and proud of the fact.
If Bovis and Lynch have one goal, it's to capture a family snapshot in food and in doing so, they cover a good deal of disparate ground. Even the cocktails range from youthful (grapefruit vodka and Campari) to mature (fig vodka and ginger beer) and, eventually, hard-boiled. The Nemean Lion's Blood is a deep cherry-red tequila bath that looks like its moniker and tastes, according to a lightweight, like butane. It wouldn't be a family reunion without the wizened patriarch. The diversity of identity is equally evident in the crowd which, from Kleos's first week, has run the gamut of age. Parents nestle babies in cushy carriers and entertain toddlers with plates of fries — a task made easier given how intricate and eye-catching each corner of the restaurant is. But the bar and deuces easily lend themselves to more romantic overtures as drinks parade out in sunset hues and couples evaluate varietals of grapes in the native wines. In a sense, the restaurant is like its country: entrancing and escapist, capable of freezing time for the course of a meal through both vision and taste.
But this portrait of Greek ancestry manages a unique relationship with its unlikely surroundings. It's a tale told through New England eyes, and that vantage point isn't lost in the poetry. While Tazza, which occupied the space for several years, blocked out the cityscape, Kleos is surprisingly in concert with its metropolitan environment. Window seats may have one eye on the interior island retreat but they just as readily keep watch on the varied residents sprinting, strolling and window shopping on Westminster. They too are part of the family and, no doubt, Kleos will take them into the aqua-tinted fold as its story evolves. History is not only referenced in this small corner of the city; it's being made, one lemon-laced bite at a time.
✱✱✱
250 Westminster St., Providence, 443-4083, facebook.com/kleospvd.
Open for dinner every day. Reservations recommended. Wheelchair accessible. Valet parking.
Cuisine Traditional Greek.
Capacity
 Seventy-five.
Vibe
 A jeweled patio overlooking the Aegean Sea.
Prices
 Appetizers: $10–$19; entrees: $16–$38; dessert: $10.
Karen's Picks 
Saganaki Kleos, dip tasting, lamb shank, swordfish, lemon potatoes.
Key
✱ Fair ✱✱Good ✱✱✱Very Good ✱✱✱✱Excellent +Half-star
Save