Aurora Providence Grand Opening
The former Roots Cafe has transformed into a new cabaret lounge, event venue and art space.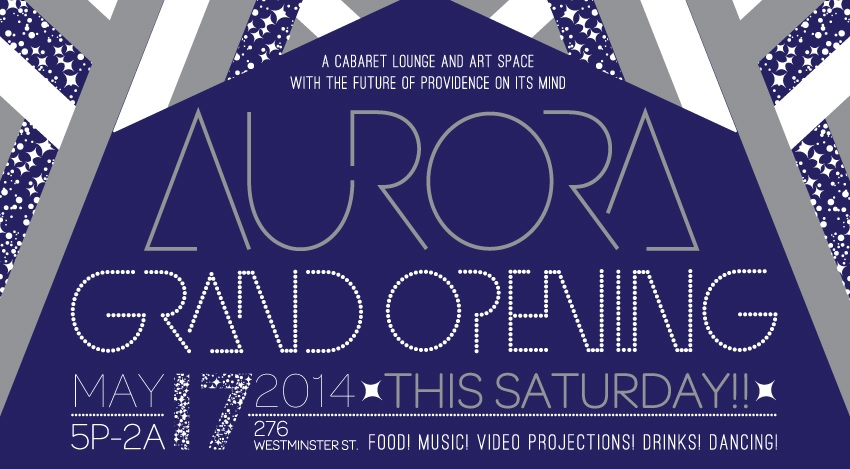 If you've ever wished for a bit more diversity in the Rhode Island bar scene, consider your wish granted. Aurora, a new cabaret lounge, event venue and art space on Westminster Street, is throwing a Grand Opening Spectacular Celebration on Saturday, May 17, and we think it will be one for the books.
Aurora has pulled out all the stops to make sure the night is one to remember. Their premiere celebration will feature two awesome deejays, live music from the Atlantic Thrills, Nightmom and The Sugar Honey Iced Tea, and an aerial dance performance. You'll be treated to a Tape Art installation, video projections, sweet cupcake treats and un-named special surprises. The bar will be fully stocked and the drink list will feature special frozen cocktails created by Providence's own bar-master, Jay Carr. This can't-miss party starts at 5 p.m. and will go strong until 2 a.m. Oh, and did we mention it's free?
After the grand opening, Aurora will be open daily in the space formerly occupied by Roots Cafe. This out-of-the-box venue underwent renovations and is now home to a cabaret lounge, performance space and revamped bar. The management plans to offer a variety of programs, including dance music, live performances, art installations and film screenings. It will also be available for private functions. When not used as an event venue, the bar and lounge will be open to the public. 276 Westminster St., Providence, 401-272-5722, auroraprovidence.com