At Your Service
Amos House's More than a Meal caters to their clients' every need — and offers workers a side order of on-the-job training.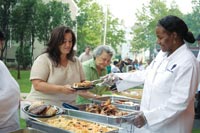 SOMETIMES A GREAT NOTION walks right up to your door, rings the bell, and stands there until you say, "Now, that's a terrific idea!" Next thing you know, you're in the catering business.
Just ask Eileen Hayes, executive director of Amos House, a Providence-based multiservice agency providing food, housing assistance, job and literacy training, and other critical support to people who are poor, hungry or homeless.
Or ask Alan Harlam, business manager of Amos House Works, who can tell you how many corporate, institutional and individual clients have ordered how many quesadillas, breakfasts and box lunches from the agency's food service microbusiness.
Or ask Tom Furney, executive chef of More Than a Meal, an innovative catering service that offers top-notch food with a side order of training and employment for graduates of the Amos House Culinary Education (ACE) program.
MORE THAN A MEAL opened in September, 2006, with one professional chef and more than one goal: to run a financially successful venture that could support a culinary training program, and to provide transitional employment for the program's graduates as they prepare for full-time jobs in the food service industry. The catering operation is one part of Amos House Works, a thriving operation that includes the ACE program; Meeting Street Café, located in and serving the students and staff of an East Providence school; a lunch program that prepares hundreds of meals per day for schools and agencies; and weekday dinners for 100 residents and staff of Crossroads Rhode Island's transitional housing program.
"So many of our guests have few or no job skills, and many doors to employment are closed to them because of a history of drug or alcohol abuse, or a criminal background," explains Eileen Hayes. "We thought about what we do best, and after running a soup kitchen for thirty-one years, we realized that we definitely know about food service. So we created the ACE program five years ago, to provide a good foundation for employment by teaching the skills required by the food service industry, while also providing the case management support and job placement assistance necessary for our graduates to succeed. More Than a Meal was designed to become a self-sustaining business and a bridge for our graduates to careers in the hospitality industry."
Sometimes a great notion needs a hand, from the right people in the right place at the right time. "People hire us because of the mission, but they stay because of the food. We know that we have to put out a good product, whether it's for a corporate lunch, a fundraising event, a conference or a Bat Mitzvah. Tom is absolutely the reason this business has been successful," says Alan Harlam, an entrepreneur who specialized in business turnarounds before turning his personal and professional energies toward Amos House Works two years ago.
For fifteen years, Tom Furney owned Rolfe Street Station, a popular Cranston restaurant where he was also the chef. When he sold his interest in the business, he joined the staff of the fledgling Amos House Works. "Two years ago," he remembers, "we were basically working for school lunch and after-school programs. One day, the Rhode Island Foundation asked us to cater an event. They loved it, and everyone at Amos House said, 'Hey, we could turn this into a business!' We saw the opportunity, and decided to create a catering operation that would train and employ our ACE graduates as a transition to employment in local restaurants and food service businesses. A few months later, we started More Than a Meal."
Tom's role involves more than cooking and menu planning; he's also responsible for preparing his employees to transition to external jobs, which means managing a kitchen crew that changes every three to six months.
Kerri Duarte, who has cooked for several Amos House programs, now works full-time for the catering company. A lifelong resident of Providence, where she lives with her teenage daughter, Kerri worked as a line cook at the Newport Marriott before finding her way to Amos House. "The program was great," says the 2002 ACE graduate. "I already knew how to cook, but I learned about so many other things, like sanitation and food storage and First Aid and CPR. I got my Serv-Safe, which you have to do in order to graduate. I've even learned about the federal requirements for school lunch, how to put together meals that have the right number of proteins and vegetables on the plate." In addition to her forty-hour work week at More Than a Meal, Kerri now runs her own small business, catering for the local Cape Verdean community.
In its first year, More Than a Meal catered more than 15,000 meals for seventy-five corporations and nonprofit agencies, plus a few individual clients—at functions for ten to 600 people. The growing business warranted a full-time catering manager, and once again serendipity sent the agency the right person at the right time.
Mike Martini, who came on board six months ago, brings years of experience as a professional caterer. Primarily responsible for client service and marketing, Mike also works with Tom to create customized menus for clients. And, occasionally, you'll find him back in the kitchen, lending a hand.
The kitchen—specifically, the Crossroads Rhode Island kitchen where More Than a Meal preps and cooks most of their meals—is exactly where I found Mike one afternoon a few weeks ago, looking right at home as he sliced watermelon and mixed potato salad. Tom and his crew (Kerri Duarte, along with ACE graduates Mark Nichols, who cooks the daily meals for Crossroads, and Cheryl Johnson, who runs the Meeting Street Café) were prepping for a barbecue for eighty.
First Realty Management hosts a party each summer for residents and staff of Oxford Place and Oxford Gardens, two South Providence housing units for elderly, disabled and low- and moderate-income families. In previous years the staff made the food themselves, but this year, for the first time, they hired Amos House. "We attended a Rhode Island Housing event last Christmas," recalls Reyna Acarapi, resident services coodinator for First Realty, "and a representative of More Than a Meal was there and made a presentation about the new catering business. We knew right away that we wanted to help, but we also wanted great food."
Three hours before service, most catering kitchens would be edging towards mania, but Tom's team had it all under control, and with an hour to go before the start of the event, the marinated chicken was parcooked and packed, the salads assembled, and the cookies were just coming out of the oven. At the site, Tom set up the grill and lit the coals, while Cheryl arranged the rest of the meal on long buffet tables.
"By far this was one of the best annual cookouts we've had, and Amos House did a great job in making it so," Rebecca Mendonca, property manager for First Realty Management, reported after the event. "Even better, they are in our community area, and it's important to us to work with local companies."
SOMETIMES A GREAT notion is just the beginning. In fall 2008, Amos House plans to open a small cafe on Broad Street, in storefront space being developed by SWAP (Stop Wasting Abandoned Property). The cafe will provide a much-needed eatery for the community, rooms for private functions and meetings, and more opportunities for ACE graduates to get real-world experience.
At More Than a Meal, everyone has an eye on the bottom line—the double bottom line, that is, of business profitability and job creation. After just thirteen months, the catering operation funds 100 percent of the wages of its employees, and provides more than one hundred hours a week of employment for ACE graduates. "I know this place changes lives," Alan Harlam says.
More Than a Meal, which aims to be-come the caterer of choice for local non-profits, hopes to continue to build both its institutional and individual clientele one meal at a time. Quality food, great service and jobs with dignity—now that's a great notion.
More Than a Meal catering, 272-0220, ext. 215, morethanameal.net. To reach Lydia Walshin directly, e-mail lydia@nine cooks.com.