At Wright's Farm Restaurant, It's All in the Family
The Burrillville institution has served its signature menu of all-you-can-eat chicken, fries, pasta and salad since 1972.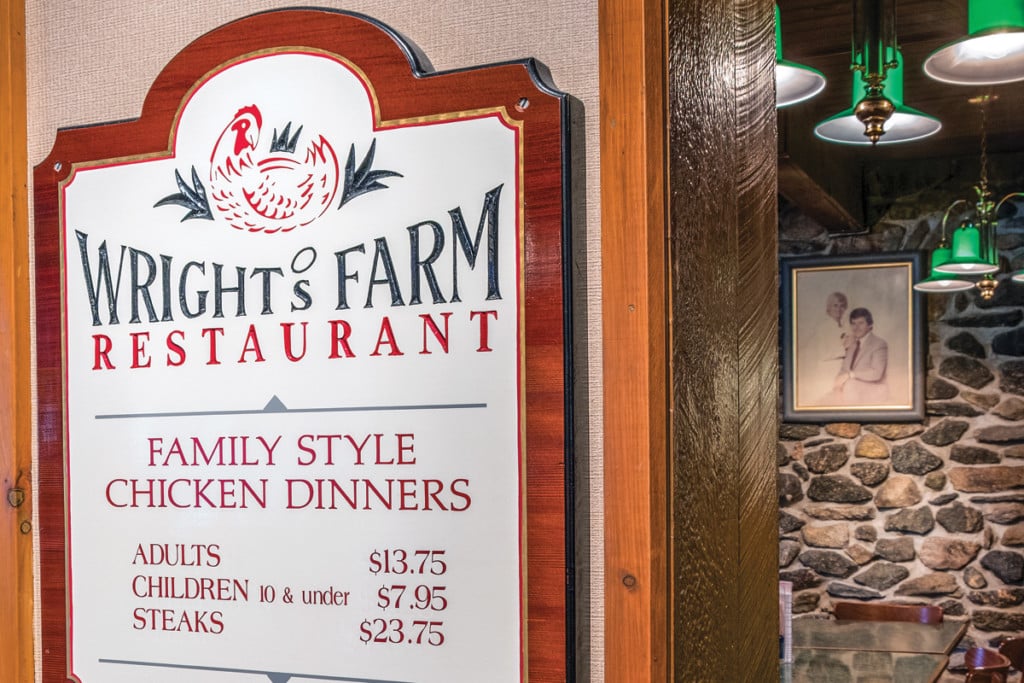 Where to eat
The Taco Shop
Let's taco-bout it! Munch on a dynamite burrito stuffed with spicy ground beef, grilled onions and peppers, charred tomato citrus salsa, cheddar cheese, scallions and sour cream or snack on the Average Jose tacos topped with ground beef, lettuce, tomato and sour cream. Tacos are available in flour or corn shells and come two per order. Rather have it your way? Build your own burrito, taco or salad just to your liking. Save room for dessert! The cinnamon sugar churro bites are pop-in-your-mouth good and totally drool-worthy. 459 Chapel St., Harrisville, 568-8226, thetacoshopri.com.
Monty's Victory Diner
Black and white checkered floors and little red booths create a classic small-town diner vibe at Monty's. Traditional breakfast bites including bacon, egg and cheese sammies, pancakes, omelets and eggs benedict keep the morning meal simple. Try the Texas-style French toast topped with butter and powdered sugar with a cup of joe on the side. The best part? Breakfast here won't break the budget. 2731 Victory Hwy., Harrisville, 765-2661. loc8nearme.com/rhode-island/harrisville/monty-s-victory-diner/3482246/
A short drive away
Tavola da Siena
Mix and match your favorite meats, cheeses and olives to create your own antipasto board, choose from a plethora of grilled pizza options or munch on a salad, and we're not talking about soggy greens in boring dressing. The thick cut tomatoes and fresh mozzarella in the Caprese salad provide the perfect start to a winning meal. Don't forget to order dessert; the tiramisu is heavenly. 400 Putnam Pike, Smithfield, 349-4111, sienari.com.
Condesa Restaurante Mexicano
You haven't had Mexican like this before. At Condesa's, everything is authentic and made from scratch, and the restaurant even offers a number of vegetarian and gluten-free options. Make sure to try some of the handcrafted cocktails, margaritas included. Sugar not salt, please! If you prefer a beer, Condesa's has a number of Mexican classics on tap. 970 Douglas Pike, Smithfield, 349-3935, condesarestaurant.com.
Tavern on Main
It's easy to forget that Rhode Island has a long history, but at Tavern on Main, you'll be greeted by historic details around every corner. Housed at a onetime stagecoach shop, the Tavern is approximately 300 years old. It was also once the focal point of the Dorr Rebellion, Rhode Island's own mini-Civil War. Sit inside its storied rooms and enjoy classic fare, from New England pot roast to stuffed lobster. 1157 Putnam Pike, Chepachet, 710-9788, tavernonmainri.com.
Things to do
Country View Golf ClubBook your tee time on the green at this public golf course. Country View offers a challenging and fun eighteen-hole-par-seventy course that appeals to all golfers. The course sprawls across rolling terrain with beautiful trees lining the fairways. With relatively few bunkers and water hazards, Country View offers an accessible course for all. Rent an electric-powered golf cart and make a pit stop at the pro shop for top-brand golfing merchandise. Plus, enjoy a drink or two and cozy up in the clubhouse with a plate of good food. 49 Club Ln., Harrisville, 568-7157, countryviewgolf.net.
A short drive away
Smith-Appleby House Museum
Take a tour of this delicately restored and furnished farmhouse from 1696 and see how the family lived in the home's quarters. This country mansion was home to the Smith-Appleby clan for many years, and they still linger around their home to this day; many of the family members are buried in the cemetery next to the house and locals claim the property is haunted. 220 Stillwater Rd., Smithfield, 231-7363, smithapplebyhouse.org.
Purple Cat Winery
Situated among the Rhode Island and Connecticut wine trails, Purple Cat Winery offers a bounty of varietals and handcrafted beers. An on-premise bistro features teas, coffee, smoothies and bar food bites. Listen to live music, watch a performance by a local theater company or join a class held in the cedar post and beam building. 11 Money Hill Rd., Chepachet, 566-9463, purplecatwinery.com.
Places to shop
Gift Shop at Wright's Farm
This 4,000-square-foot shop runs the gamut; there is a little something for everyone. Pick up a toy or other child's item in the children's department, peruse the fashion accessories including clothing, handbags and jewelry or snack on homemade fudge or your favorite candies from the candy corner. If you shop often, be sure to join the rewards program and earn a point for every dollar spent. 84 Inman Rd., Harrisville, 765-5745, wrightsfarm.com.
Village Barn Country Store
Browse through a plethora of antiques, reproductions and collectibles for your home. This red barn-like structure houses large pieces of furniture including tables, drawers and cabinets as well as decorative farmhouse-country accent pieces such as quilts, signs, candles and more. Find a woven rug to add color and warmth to your living space or pick up a new vintage-inspired chandelier for above your dining table. 953 Victory Hwy., Mapleville, 568-4542.
A short drive away
Stillwater Antiques
Housed in a repurposed mill building, this antiques emporium reflects the history of the surrounding town. Check out cabinets full of vintage memorabilia, Victorian-era furniture and just about everything else from the near or distant past. If you're an old-fashioned audiophile, Stillwater also has an impressive collection of vinyl, from jazz to rock. Looking to sell some of your own forgotten treasures? Bring in your goods for consignment. 711 Putnam Pike, Greenville, 949-4999, stillwaterantiques.net.
Kalipso Dive Shop
Smithfield is about as landlocked as a town can get, so it may come as a surprise that it has one of the best scuba shops in the state. Kalipso sells a variety of equipment, from tanks and regulators to fins and snorkels. If your equipment needs repairs, maintenance or inspection, stop by for help from the professional staff. Also check out the dive training classes and trips if you're looking for an unforgettable experience. 375 Putnam Pike, Smithfield, 231-3483, kalipsodive.com.