At Home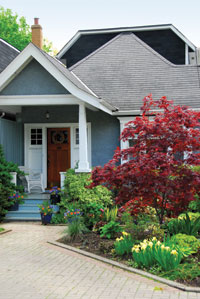 Garden Variety Problems
Don't fret the shrubs crying for haircuts, the straggly path or the neighbor's unsightly trash. Here's how to mend six common landscaping woes and keep your yard looking fabulous all season long.
You've heard there's beauty in imperfection, right? Still, when the snow melts and the flaws resurface it's easy to get downhearted. With the years come galloping growth and different outdoor needs like, say, a screen to hide parked cars or a quiet niche to kick back with a book. n To avoid feeling overwhelmed, heed the experts: First, take stock of your yard. Reevaluate your priorities so you can better deal with them one at a time. Ultimately, we all want healthy plantings, year-round interest and smart-looking, serviceable hardscape. Plenty of jobs, such as enlarging a flower bed or dividing perennials are DIY (Plan A: money-saving and good exercise). Others, such as transplanting a large tree, require a pro (Plan B: an investment for bigger budgets). Either way, you have options.

Problem: Ten years ago, the yew shrubs out front and its companions were small. Today, these same plants are crowding one another and your home's foundation, their shape is distorted and their limbs crave sun.
Plan A: Cut back the biggest specimens aggressively, prune the smaller ones that are in good condition and assign the worst of the lot to the compost bin (the fastest method: Level the plant to the ground and dig out the roots). "The tops of yews can be readily reduced, but not so much the width," says arborist and landscape contractor Ames Kaiser from Kaiser Tree Preservation Company in North Kingstown.
Plan B: Opt for new landscaping following the traditional recipe of tall plants in back, shorter varieties up front for a pleasing layered look. Among the foundation plants Kaiser suggests are rhododendrons, Andromeda, blue holly, Alberta spruce (for the corners), and conical shaped Hinoki cypress. Kaiser's rule of thumb: Foundation plants should be kept at or below window level.
Problem: You've tried everything, but that less-than-sunny strip unraveling along the garage or house defies beautification.
Plan A: A stone path. "Make a small path and line it with plants like hostas, ferns and coral bells. Think texture rather than color," counsels East Greenwich landscape architect Judith Ireland. Or, following the advice of designer Don Leighton, of Gates, Leighton and Associates in East Providence, lay down a layer of "Barn Red" or "Earth Stone" gravel. "From a distance it looks just like brown mulch," he says. Added bonus? Stone will prevent rain from splattering mud on the building and leave things looking tidier over all. Add a border if you're worried about the gravel spreading.
Plan B: "River stone (right) is attractive," says Leighton. "It's more decorative, but also more expensive. Still, if it's only a small area that you're looking at every day, you might want to consider it."
Problem: There's no focal point and the garden lacks ambience.
Plan A: Incorporate something that draws the eye. Ireland likes birdbaths, small sculptures and interesting planters. "You don't have to put one in the middle of the yard," she says. "Be creative and try placing an element under a tree or at the lawn's edge." A small destination where you can linger will alter the atmosphere, too. "Look to the corners," says Leighton. "If you have one that gets bathed in spring sun, that's an ideal place to soak up the season's earliest rays. It's always a treat to be able to sit and look back at your own house." Paint your chair or bench a color like bright blue to make it pop against a fence or hedge.
Plan B: Integrate a structure like a gazebo, pergola or rose-covered arbor. The last is usually free-standing and conjures instant romance (tip: Choose a climbing rose such as 'William Baffin' for reblooms right into fall).
Problem: The proximity of the road or neighbors makes you feel less than private.
Plan A: "Ninety-five percent of residential design calls ask for major screenings from neighbors," Leighton tells us. How much is necessary depends on a variety of factors. Among the many solutions are island beds (although these take time to grow), tall trees and—a quicker fix—lattice panels (you can eventually cover them with vines). Some perennials like butterfly bush leap up eight feet in one year.
Plan B: Recruit a professional to design a living barrier—trees, shrubs or a combination. Keep in mind, this is money well spent since it will allow you to enjoy your yard more and, at the same time, enhance your home's value.
Problem: Minus plantings and with a big dark space below, the deck looks disconnected from the yard.
Plan A: Depending on how high off the ground your deck is, there are a couple of options. Think about adding a layer of stone or gravel underneath "for a sculptural effect," Leighton says. Or plant handsome spreading plants like hydrangeas and Leucothoe that will "billow" around and under the deck. Or, plant a tree that has a good height and provides a pretty canopy.
Plan B: Marry the deck and the garden with a stone wall. "The deck wants to feel embraced rather than floating. A stone wall will fill the space and attach it to the ground. You can even bring the wall above the deck to a handy seat height," Leighton says.
Problem: Nothing, including grass, grows under a large maple tree.
Plan A: Lay a thin bed of compost and loam around the tree. Then, put in plants that can compete with the tree's fibrous roots. Ireland proposes varieties like Solomon's Seal, sweet woodruff, Leucothoe and Christmas fern for a woodland feel. Leucothoe and Christmas fern stay green all year. "Don't fight Mother Nature," says Ireland. "It's like trying to get a tan in the rain. If moss is the only thing that seems to grow, cultivate moss."
Plan B: Set up a couple of attractive containers sporting shade lovers like impatiens, ferns, coleus and Browallia. Sub smaller pots with sun-lovers in and out for added color. Or stick with white flowers to add a sense of light.
» Before you dig, prune or plant, consult these helpful resources