At Home: Under Wraps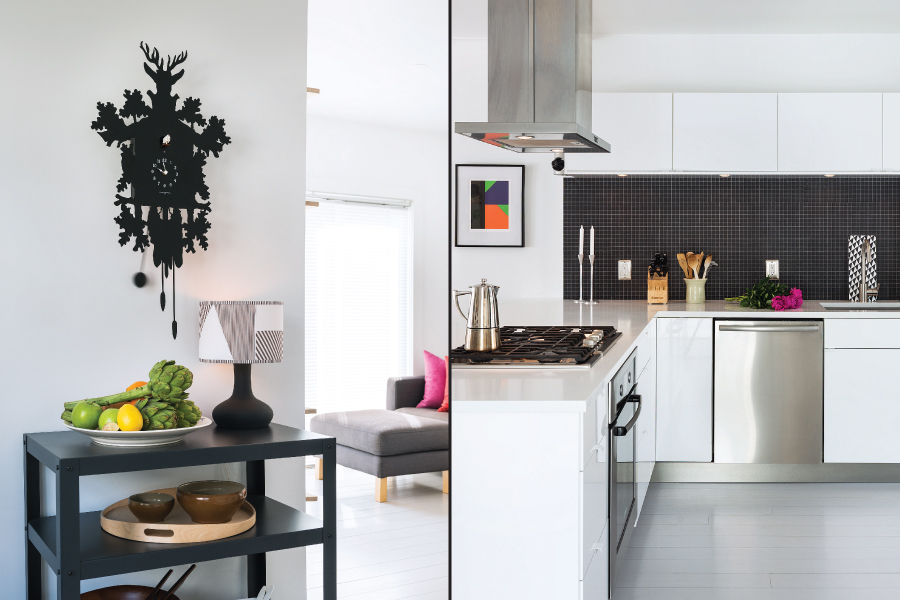 A dark finish gives a classic cuckoo clock an updated spin. Owner Eva Whitmore designed the lamp. The Whitmores have used IKEA cabinets like these in a number of renovations.
Global Outlook
The bright house shouldn't have surprised us. Owners Tom and Eva Whitmore are designers with a highly successful company. Tom's expertise lies in graphics and communications; Eva is the driving force behind LJUSA — a brand of WHTMR/Whitmore Design (whit.nu), which focuses on handmade lamps with cheerfully modern shades (the rehabbed basement is her workroom). The couple maintain a base in Sweden but a recent purchase will also put them in the French Alps for skiing. No matter where they land, it's always with the same panache. Marrying a host of significant pieces by northern European designers like, say, a Thomas Eriksson dining table and Arne Jacobsen chairs with IKEA and flea market finds, they prove minimal living is also elegant and functional.

"Three Seated Girls" is by collage artist Jane Maxwell. The light is Louis Poulsen's iconic PH5.
Personal Stamp
To rejuvenate their 1916 house, the Whitmores removed a wall between kitchen and dining room, reconfigured the hall and added a powder room ("near the front door as is tradition in Sweden," says Tom). On a tear, they also widened the stairs, remodeled a second floor bath and renovated another. The palette is predominately white, with a dose of gray along with jolts of yellow and fuchsia. It's the ideal backdrop for their art, which consists of works by favorite artists and family (Tom's father, Coby Whitmore, was a highly touted painter and illustrator. Among his many achievements were scores of Saturday Evening Post covers). Unnecessary embellishments aren't welcome within these walls. Instead, the savvy couple finesse their living room with vivid pillows, a Jonas Bohlin Liv lamp and Eero Saarinen tulip tables.

The Whitmores have used IKEA cabinets like these in a number of renovations.
Pushing the Boundaries
Commandeering the old attic, the Whitmores forged a luminous atelier with a small deck to provide tree house-type views just for them. Catarina Larsson's Nightfly pendant light hovers above the bed trailing fanciful cloth vines and flowers. As elsewhere throughout the house, a few pops of color enliven the tranquil setting, but clutter is nowhere to be seen. An assortment of cunning built-ins corral everything from photos to books. This keep-it-neat theme continues through every bath too. Incredibly utilitarian, the purposeful spaces also soothe the senses. Dark floors accentuate snowy tiles and sculptural-like fixtures take on art status. Not by accident, towels echo colors found elsewhere, while simple blinds — curtains would have been way too excessive — keep it private.

Traffic Stopping
Locals theorize this house — and a number of its look-alike neighbors — might have originally been built to shelter workers for the nearby estates. Devoid of shutters and as straightforward as they come, all these years later, the simple structures still keep a happy relationship with the street. The Whitmores upped their curb appeal by scrapping the enclosed front porch and devising a more traditional model that furthers the connection with passersby. Off came lackluster aluminum siding and on went cedar clapboard. The new east-facing dormer provides a niche for a desk in the master suite and enhances the now-stylish building's silhouette big time.