At Home: Sweet Staycations
Take it from us, your getaway could be as close as your backyard. We found two multifunctional — and totally diverse — island retreats enhancing their owners' lives in myriad ways.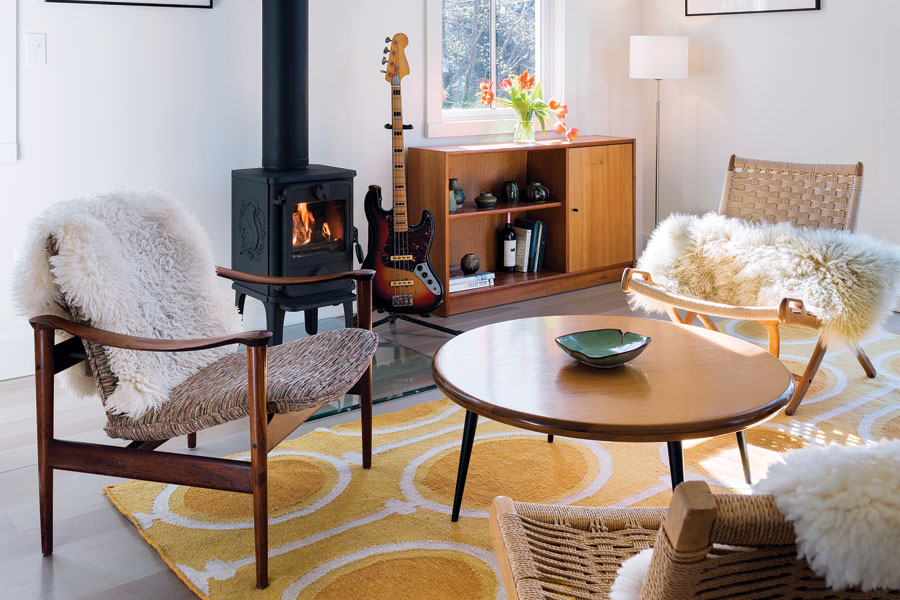 Orange walls signify the husband's studio. The round painting is by Anne Tait; the stairwell piece is by Josy Wright. The project contractors were Granville Builders in South Kingstown. Mary McNally monotypes add interest to the sleeping area.
Happy Endings
Architect Peter Twombly of Newport's Estes/Twombly Architects cleverly designed the little New England-like building to feel far grander than its dimensions. The lofty living area (sixteen feet, eight inches to the peak) and husband's studio sit at the core with a comfortable sleeping niche tucked above. The wife, who managed the project and recently helped form Newport-based interior design firm Roost Modern, claims the airy ell. Light pours in everywhere and furnishings (primarily mid-century finds from Craigslist and consignment shops, along with a dash of IKEA) are brilliantly edited. The ambience? Energized when the artists are working, serene when they're kicking back: the best of two worlds and one spied, just imagine, from their kitchen window.
Big Decisions
Creativity requires room, so it's only logical that the wife — a busy painter and printmaker — and the husband — a lawyer who's also a competent musician — craved more space. But why, they reasoned, simply plug an addition onto their Jamestown house when they could build a stunning studio like the one they had in mind? As it turned out, the 800-square-foot, budget-friendly and zoning-compliant building also affords the talented couple (and their daughters) room for entertaining, overnight guests and, well, just taking time out together. In fact, the short walk from the family's back door to the shared studio/sanctuary is spirit-raising in itself.
---
Clockwise from top left: The painting is by Rhode Island artist Nancy Chapman. Board and batten exterior sheathing and trim details were reproduced. Glass doors unearthed in the barn grace cabinets. The contractor was Legacy Construction Services, Warwick. Styled by Kirby Goff ID of Providence. The desk and chairs belonged to Eve's mother, a British war correspondent in London during World War II. As a gift to the owners, Goff topped the newel post with a scrimshawed button.
Lost Identity
Eve and Bill Woodhull's nineteenth-century Newport home couldn't be handsomer. It was the old Gothic-style carriage house on their glorious property that demanded attention. In recent days, the place housed cars. But, according to Newport architect Gale Goff, who stepped in to rescue the ailing building, "grates on the windows and chew marks on the window sills" substantiated its carriage and horse-barn history. Such pedigrees deserve respect, so Goff's skillful renovation focused on preserving the building's character while also creating a modern cottage with 1,040 square feet of living space and a one-car garage. Now the owners have a rentable unit, a separate abode for visiting children and grandchildren and — should they ever desire one — a charm-filled retirement nest at their elbow.
Back in the Game
The shape of the building remained the same, but Goff popped in dormers for extra light. Where there had been only a ladder, today there's a staircase leading to two welcoming bedrooms above, while downstairs the kitchen, dining and living areas spill happily one into the other. Among the slew of salvaged and repurposed building components are antique bead board panels and brackets, long-forgotten shutters, a marble sink and old mahogany doors (all painstakingly re-hung with original hardware). Filled with history and totally livable — "No muss, no fuss," says Eve — the cottage (which won a Doris Duke Preservation Award) is a haven almost too good to share.