At Home: Stop and Shop
Maybe you don't want to snap up an eighteenth-century chest or a '50s painting at midnight. But you can. Purchasing antiques and collectibles online is painless (PJs allowed), once you know the ropes.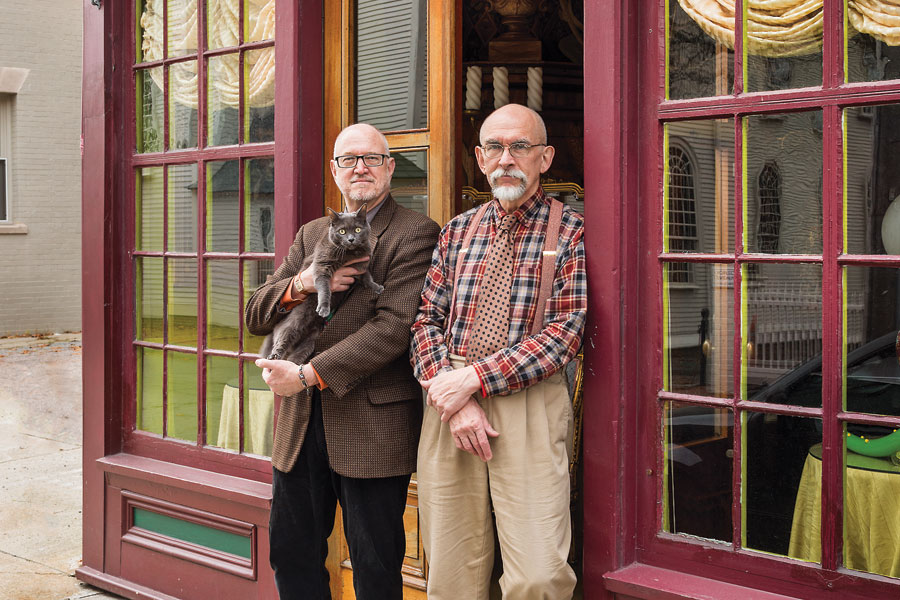 For some e-commerce counsel, we turned to the Drawing Room in Newport — a frontier blazer having sold online since 1996 — and East Providence's D and M Antiques, whose impressive inventory recently came onboard.
Collective Wisdom
In three decades, partners Federico Santi and John Gacher have amassed a carefully curated cache of treasures — everything from Gothic furniture and militaria to porcelain and statuary. Collectors frequently turn to them, though, for their antique Zsolnay ceramics made in Hungary. Touted to have the largest collection for sale on the East Coast, these experts have loaded the Drawing Room's shelves and the Internet — "crowded is a way of life for us," says Gacher — with breathtaking finds, any one of which can be ours without us having barely moved a muscle.
Dazzling Zsolnay finds at the Drawing Room (drawrm.com; stores.ebay.com/drawing-room-of-newport-antiques) include, clockwise from left, a High-style Art Nouveau vase circa 1899; a rare circa 1900 cachepot beribboned with ducks; and a circa 1903 Nabis landscape cachepot. Costs? P.O.R. (see glossary).
"We don't sell antiques to make money," says Santi, "we make money to buy antiques." Bottom line? Don't shell out for something unless you love it and are content to live with it. Looking for a quick turnaround is risky business. Case in point: a carved plaque the Drawing Room featured for twenty-seven years, sold only weeks ago. Although "the best of any category is always desirable," according to Santi, items wax and wane in popularity. Sterling silver, for example, is hot. Silver plate along with Canton and American art glass is not. D and M notes trends too: Fiestaware and clear glass are slumping, they report, while mirrors and picture frames along with fun collectibles like telephones, clocks and radios are up.
Amid the shop's timeless gems are (clockwise from top left) a signed marble bust by nineteenth-century actress and sculptor Sarah Bernhardt ($35,000); numerous objets d'art including a large 1883 wine flask ($7,200); a Colonial Rhode Island map ($750); a Morton Sacks oil ($5,100); and Gorham sterling silver candlesticks ($3,850).

Team Work
D and M Antiques (dmantiques.com; stores.ebay.com/d-and-m-antiques-rhode-island) opened its doors in 1978. Originally participants in a co-op, co-owners Shaffie Pillay and Marvin Rubin eventually took over the little building, skillfully filling it to the rafters with primarily turn-of-the-century and twentieth-century furniture: elegant dining sets that are capable of welcoming generations of family, stately bookcases in pairs, decorative lamps and collectibles by the dozens. There's no end to what we might find on the premises or now — no driving involved — on their ever-burgeoning eBay site.
Amid a medley of stunning Tiffany-style lamps, a reverse hand-painted antique Pairpoint lamp, far left ($4,200), steals the show. Its gleaming perch is a nineteenth-century Centennial-style, serpentine-front sideboard ($1,650). An antique French lingerie chest ($1,500); a circa 1800s slant-front mahogany desk — with key! ($600); and six antique Joseph Gerte shield-back dining chairs ($2,800), the last a handsome heirloom for anybody's kids.
Timepieces in all shapes and sizes mingle with furniture at D and M. Clockwise (no pun intended) from top left: a Gilbert Gothic parlor clock ($250); a Seth Thomas Adamatine mantel clock ($350); an Ingraham, Connecticut, Victorian parlor clock ($325); a Victorian etched glass cruet set ($325); and a circa 1900s French-style table ($1,275)
Whatever online market you visit (rubylane.com is another personal favorite; Santi favors liveauctioneers.com) the criteria for smart buying remain the same:
Do your homework. Shows like Newport's annual Antiques Show (newportantiquesshow.com), shops and flea markets are good learning tools. So is Kovels' Price Guide (kovels.com). For more on Zsolnay, read Santi and Gacher's book Zsolnay Ceramics: Collecting a Culture (Schiffer, 1994).
Deal only with reputable dealers. Customer reviews say a lot. The Drawing Room and D and M both boast 100 percent positive feedback on eBay.
Consider only items that include clear photos and detailed descriptions with any restoration, repairs or damage — no matter how small — noted.
Is it an original or a reproduction? If it's the former, make certain the seller is willing to verify it in writing.
Understand the shipping policy. Generally, the buyer pays for packing and shipping. A ceramic stove shipped to Arizona, says Santi, recently cost a client $1,000.
Check the return policy and the damaged item procedure. eBay has you covered with a "money-back guarantee,"
if an item is not as described. But that may not always be the case.
Red flag? If a dealer won't answer your questions, Pillay warns, move on.
Glossary. Knowing the jargon helps too:
Antique: an item that's at least 100 years old.
Collectible: anything people collect from hats to harmonicas.
Vintage collectible: item that's fifty years old or more.
Reproduction: an item created to look like an original. Depending on the manufacturer and the materials, a reproduction can be costly but never as expensive as the real deal. Sometimes it's difficult for laymen to tell the difference. If it's a big-ticket buy, recruit pro help.
P.O.R.: price on request.