At Home: Pot Luck
6 Great Ways to Grow Vegetables in Containers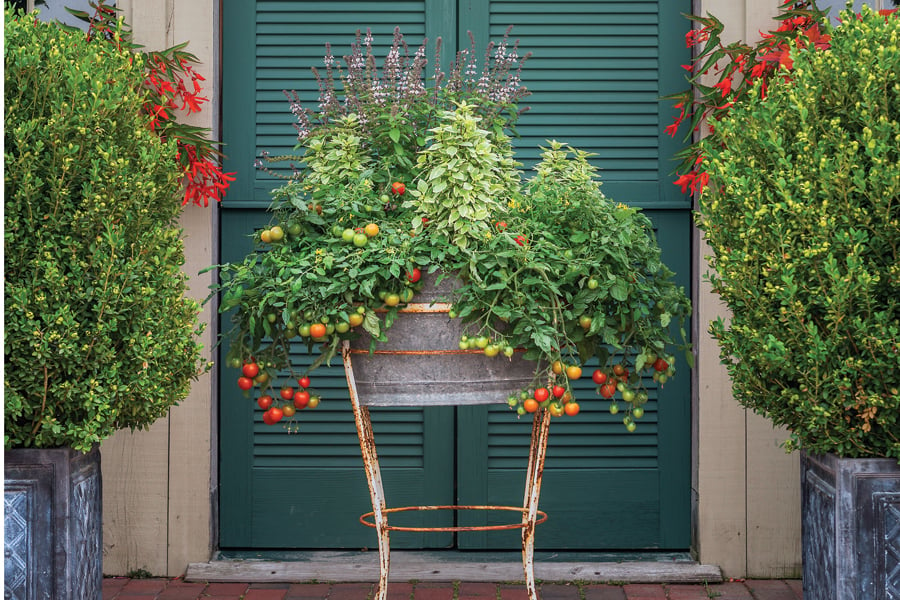 No room for a garden? No gardening skills? No problem. Growing vegetables and their buddies — herbs, berries, even fruit trees — in containers is easy and amazingly productive.

Watching the emerging leaves is half the fun. Climbers like peas (top right) require a support. Radishes (bottom right, which appear in about a week to ten days) require thinning. Look for seeds in artful, worth-saving packages like these from Hudson Valley Seed Library (seedlibrary.org).
What to Know
To prove our point, we corralled expert Sarah Partyka (above), owner of the Farmer's Daughter in South Kingstown, for advice and she concurred. It's just a matter of selecting the right plants, she told us, and giving them what they need: a good home (as in container), the proper soil and as much sunlight as we can manage.
To start, choose a container that complements your environment. Terra cotta pots are classic and most gardeners' top choice, but any kind of vessel (plastic, metal, wood or cement) will do as long as there are holes along the bottom for drainage. Next, fill it up — at least three quarters full — with Partyka's preferred planting mix: half compost (her favorite hails from Earth Care Farm in Charlestown, earthcarefarm.com) and half potting soil "gently blended, never compacted." Ordinary garden soil is to be avoided at all costs. "It hardens like clay" in containers, Partyka warns.
There's no shame in picking up a beautiful container that's already planted. Local garden centers and nurseries are well stocked. DIYers, though, can find inspiration as well as container classes and workshops at numerous stops. For example, in addition to the Farmer's Daughter (thefarmersdaughterri.com), check out Natural Designs, Foster, naturaldesignscorp.com; and Tranquil Lake Nursery, Rehoboth, Massachusetts, tranquil-lake.com.
What to Grow
Think about what you use and, when possible, choose compact varieties, many of which produce all summer. Beets and blueberries (left) and herbs (right) are container-friendly. If your situation — deck, porch or balcony — receives only half-day sun, opt for quick turn-around crops like radishes, spinach and lettuces. These are sown directly into their containers — just follow the packet instructions. Seedlings should be carefully eased out of their original pots and replanted at or just above the same level.

Recipe Box
Follow the recipes Partyka has created for us below or devise your own. In each case, water only after all the plants are tucked into place. And continue to water faithfully as needed. Fertilize with an organic fertilizer (according to the manufacturer's directions) and harvest regularly, which will make the plants grow denser and spur fruiting. Inevitably, some will peter out. Toss them and introduce new recruits.

Apple Delight
1 square 24-inch by 24-inch wood container
2 4-inch bronze fennels
3 4-inch Bright Light Swiss chards
1 4-inch Bloody Dock
1 4-inch variegated ginger mint
1 1-gallon ever-bearing Seascape strawberries
1 4–5 foot tall dwarf or semi-dwarf apple tree
Tip: Plant the tree. Underplant with the remaining players. Save a prime spot along the container's rim for the strawberry allowing it to trail over the edge.
Barrel of Fun

1 30-inch half-round whiskey barrel
3 4-inch King Richard leeks
1 1-gallon white Gretel eggplant
3 4-inch Provider green beans
1 4-inch Winterbor curled kale
Tip: Plant leeks "in a grouping," says Partyka, "with each stem three to four inches apart." Trimming the kale's old leaves will keep it chugging into fall. Gretel eggplant is ready for picking when just three to four inches long.
Tomato Tub

1 24-inch by 16-inch oval galvanized tub (punch holes along the bottom)
2 1-gallon Tumbling Tom tomatoes
3 4-inch assorted basils
Tip: One tall variety of basil like Out of Africa, set at the back of the container, makes a statement.
Berry Picking

1 24-inch by 24-inch terra cotta pot
1 2-gallon Top Hat blueberry
2 1-gallon goji berries
3 4-inch purple basils
Tip: Any dwarf variety blueberry will work. But Top Hat grows only about twenty-four inches high and is a prime fruit producer.
Herb Bonanza

1 18-inch round terra cotta pot
2 4-inch sages, make one a variegated variety
1 4-inch oregano
1 1-gallon Italian oregano
Tip: Any herbs will work. Sub in ones that best fit your taste.
Scene Stealer

1 24-inch by 12-inch rectangular terra cotta pot
1 4-inch each of lemongrass, verbena, parsley, dill, thyme, oregano and tri-color sage
1 4-pack each of mixed lettuce, purple cabbage and pansies
Tip: Edible flowers like pansies and nasturtiums add charm. "Containers can be pretty and utilitarian," Partyka says. "Mix forms and textures for balance."