At Home: Photo Album
Life only slows — and not much — when this well-known photographer and his family are ensconced in the Jamestown house they reshaped to look nothing like its bland former self.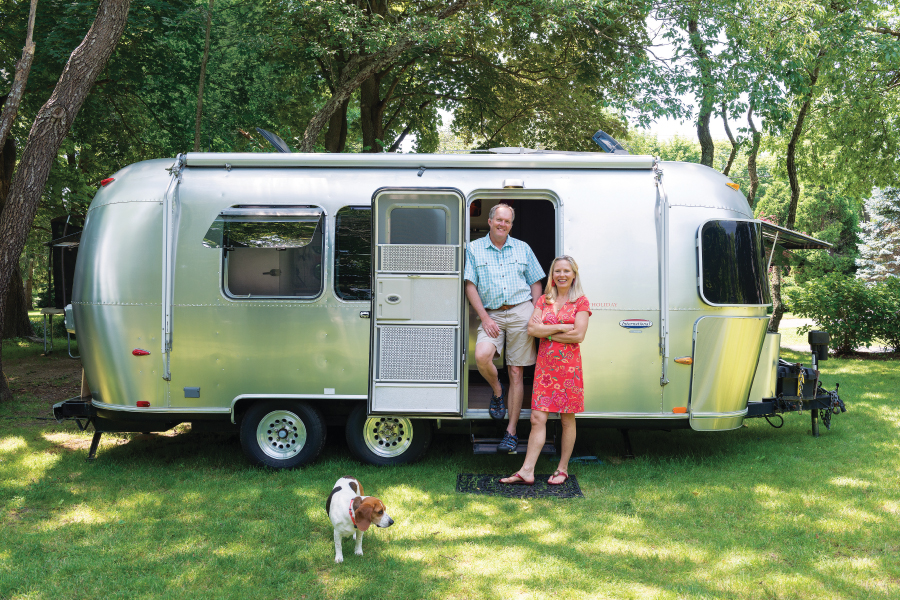 When guests pile up, a gleaming Airstream (left) parked in the yard doubles as a guestroom. Other times the trailer hits the road, serving as motel and mobile studio. "It came decorated just as you see it," Tenley (shown here with Onne) says.

Celebrity Status
Onne van der Wal is almost a Rhode Island institution. Known worldwide for his spectacular nautical photography, his Newport gallery, launched and managed by his wife, Tenley, teems with visitors as well as diehard fans. When they're not working, the couple travels — which really is kind of like working, since Onne, who was born in Holland and raised in South Africa, is never without a camera. Often what looks like a family vacation is actually an assignment. Tenley and the van der Wal's three children — all as photogenic as they come — have been ideal models for dozens of magazines and upscale catalog shoots. Still, when miles and on-the-water hours rack up, home is the sweetest spot of all. Tenley drew on her interior architecture and design background to transform a ranch into the perfect port: a handsome, 3,300-square-foot house (above) with a Frank Lloyd Wright-like silhouette.
Breaking Barriers
The glass-tiled kitchen holds the only two walls remaining from the original house. Tenley, along with contractor James Doehler of East Greenwich's Jaimar Building Company, pushed and pulled the structure into an inviting series of spaces that spill one to the other. Kitchen and family room merge with the help of a porcelain-tiled floor wearing a cement-like finish that defies the traffic of kids and Lucy, the family beagle. Art — Onne's work along with photos, prints and paintings by friends — and books (including Onne's Rizzoli tome Sailing, released this month) are everywhere. Furnishings are a clever blend of handcrafted pieces, vintage finds, heirlooms and the occasional IKEA treasure.

After shingling the exterior and replacing the windows, phase two of Tenley's savvy renovation (phase three hatched more bedrooms and baths) resulted in a master bedroom and woodworking shop for Onne. The living room coffee table (above) is one of his creations, as is the hearth mantle crafted from a piece of the 1885 schooner Coronet now being refurbished at Newport's International Yacht Restoration School. This room becomes the family hub (Tenley only recently relented and allowed in the TV) as fall wanes. Restoration Hardware sheers at the eight-foot French doors will soon be swapped for velvet draft-stopping drapes. Enthusiastic entertainers, the couple frequently gathers friends around a glass-topped table Tenley designed. An accent wall in a dusky espresso hue (Ralph Lauren 'Winchester') sets a sophisticated nighttime tone. Colored napkins and candles are style signatures. "They brighten everything," Tenley says.