at home [outdoor living]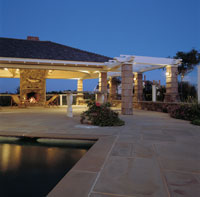 Pool Party

Unlike earlier pools, new models slip into all kinds of settings. Easier to maintain than ever, beneficial to your health (think of the exercise), a pool transforms a mundane backyard into a sumptuous water world.
Form Fitting
Talk about a summer idyll (opening page). Newport architect William Burgin of Burgin Lambert Architects perfected this Jamestown setting with a ceramic tile-trimmed pool, bluestone coping and a Shingle-style pool house. More than just a place to shower and change, the handsome facility also contains a kitchen and bar area and a squash court. Swimmers wanting to do laps, of course, are most appreciative of the straightforward design.
Robert Lambert of the same firm is responsible for this Newport pool (left and below), which extends between the main house and guest house. A bridge, spanning the swimming lanes, links the two. Blue water is visible from the front garden as well as the more private back of the house. In fact, from the terrace, the pool's invisible edge "makes a connection directly from pool water to ocean," Lambert explains. The dramatic wall was constructed using stone culled from the site during construction. Creamy marble was chosen for the terrace and coping. The savvy combination of materials sets off the Arts and Crafts-inspired house and helps spotlight the pool. If you're envisioning a negative edge pool, keep in mind the design requires a minimum drop of four feet.
How to take the plunge

Contact your local building department. Lot size and setbacks determine whether a pool is feasible. Proximity to wetlands is also a factor as are engineering issues like gas lines and underground water levels.

Decide on a location (for heating and filtration systems as well): ideally, out of prevailing winds, away from leaf-shedding trees. Typically, summer is when to pick a locale, fall is for setting the shell in the ground and the following spring sees the completion of surfacing and finishing.
Consider what type of in-ground pool you want: concrete (gunite), vinyl or fiberglass. In our climate, the first two are the most popular. Concrete can be surfaced in a range of materials from stucco to aggregate. A vinyl pool is a liner supported by a metal frame. "Unlike concrete, vinyl flexes with the ground during freezing and thawing," says Brian Clarke, owner of Signature Pool and Spa in North Kingstown. "If the liner wears out, typically somewhere between ten and twenty years, just replace it." Estimate $22,000 to $40,000 for vinyl. Top of the line gunite pools, prescribed by a landscape architect—materials and plantings included—run about $100,000 and up. A simpler gunite version for the average backyard can be had for anywhere from $25,000 to $40,000.
Remember, fencing is mandatory. Fence heights vary. In Middletown, for example, the requirement is five feet; in Newport it's four feet. Covers, for debris and safety, are sensible additions.
Making Waves
Old pools needn't go by the wayside and here's the proof. This Newport site is spectacular; a high perch with a picturesque cove to the east and open water to the south. But the pool was showing its age. And the owners likened their pool house to a 1950s garage. William Burgin gave yesterday's pool a complete makeover, refinishing it with black 3M Colorquartz and installing an inside band of patterned glass. Out went the old coping. In came a sea of bluestone with a rounded edge to match the expanded terrace. And so long quirky cabana. The owners live it up in a new structure complete with protected areas for socializing as well as a kitchen, a changing/bathing room, a kennel and storage. Fabulous by day, the pool redux is even more dramatic at night. A well developed lighting plan promotes safety and increases the family's enjoyment.
For around-the-clock comfort, a good lighting plan is a must. Illuminate not only the pool and outdoor entertaining area, but also paths to and from the house. Casting a beam on plantings and specimen trees is a good way to increase the magic, too.