At Home: Office Hours
In addition to all the students who've headed back to school, what about the hordes of dedicated academics who must teach and inspire them?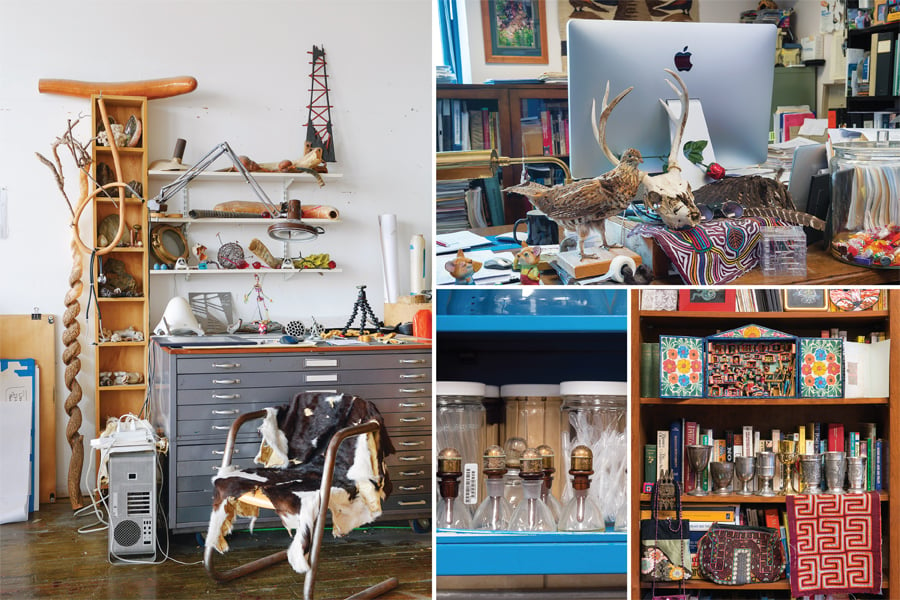 Intrigued with where these academics hole up, we finagled our way into a handful of their workspaces. Forget dull and dusty. These brainy, creative wizards bring their personalities to bear, transforming even the smallest cubby into a personal wonderland.
Joseph A. DeGiorgis
Where: Providence College, Providence
Title: Associate professor, biology department; adjunct faculty, Marine Biological Laboratory Cellular Dynamics Program, Woods Hole, Mass.
We know of no other neuroscientists (fishermen or friends, for that matter) who own a purple skiff. But when DeGiorgis is out cruising for plankton, he seems oblivious to the lively picture he presents. Fueled by a lifelong passion for biology, he's far too immersed in his task. "Through observation you make discoveries," he says. An expert on imaging using an impressive array of techniques from underwater photography to light and electron microscopy, DeGiorgis is excited about helping Providence College develop the best bio- imaging facility in the state. Two new 100-gallon saltwater tanks — one for North Atlantic cold-water critters; the other for tropical specimens — in his bright, crackling-with-energy, bottle-filled PC lab this year are a boon towards that goal. "Now, we'll be able to bring underwater organisms from their environment into the research lab and photo-document their life," DeGiorgis says. Starfish, sea urchins (see far right), coral, squid (its giant axon serves as the model for his noteworthy Alzheimer's research) — DeGiorgis is as comfortable underwater, anywhere around the world, as he is in his labs. "Science is like a detective story," he says. "You gather clues to understand what's going on."
---
Felicia Nimue Ackerman
Where: Brown University, Providence
Title: Philosophy professor, Providence Journal monthly op-ed columnist, short story writer, poet and cat owner
Nevermind the dazzling depth and breadth of her research interests (bioethics and moral psychology among them) or her prolific writing (including roughly 226 published letters on myriad subjects in the finicky New York Times), cat owner could be the moniker Ackerman most prefers. Her cat Palomides (named for a favorite knight and her screensaver) is her beautiful, beloved companion. Unabashedly a feline admirer — cat paintings (those above the mantel are by Sara Ann Ketchum), photographs and statues vie for space — she's also an enthusiastic collector of disparate items like silver goblets, dolls and Mexican folk art. The flamboyant backdrop complements her highly personal fashion aesthetic, which, like her decor, draws on global sources. Today, it's an African hat and dress, chunky necklace and signature red glasses. Favorite musicians range from Vivaldi to Elvis and while Emily Dickinson and William Blake are in her shelves, hairdo tips could well be there too, she admits with a laugh. Adept at reciting lengthy passages from childhood reads like Anne of Green Gables, Ackerman is equally at ease quoting the individual she most admires: Thomas Malory, author of Le Morte d'Arthur. "He's the intellectual and emotional center of my life," she says.
Dean Snyder
Where: Pawtucket studio
Title: Sculptor, Rhode Island School of Design professor, chair of the RISD sculpture department
Dean Snyder's innovative and provocative work ("NeverMind," bottom right, is a recent piece) is internationally known. He's exhibited at big name places like the Tang Museum, the American Academy of Arts and Letters and the Beijing Olympic Park. Artist fellowships from prestigious organizations — among them, the Louis Comfort Tiffany Foundation and, in 2013, the John Simon Guggenheim Memorial Foundation — have, not surprisingly, rolled in too. When Snyder isn't mentoring, he's here laboring away for endless hours gathering more hands-on knowledge to pass along. Skillful at devising new methods for tackling the mediums he favors — high density foam tops the current list with wood, epoxy, metal and rawhide all being successful past players — Snyder also crafts many of his own tools and helps students toward that same self-reliance. It's a valuable trait, he believes, gleaned from growing up on a farm in rural Lancaster County and shared by his father, a large animal vet. To his mother, Snyder attributes his endurance and orderliness. Indeed, his consistently tidy workbench is evidence of the last. Nearby shelves hold found items — rocks, shells, animal horns, fossils, even a perfect dried lotus blossom. Since his inspiration wells in great part from "the growth and formation in nature," Snyder explains, it could be a carnivorous plant or spider's web that captivates him.
Scott R. McWilliams
Where: University of Rhode Island, Kingston
Title: Wildlife ecology and physiology professor, Department of Natural Resources Science
McWilliams returned not long ago from Manitoba, where he spent two weeks banding 6,000 snow geese. He's not unlike the birds he studies. His work, which focuses on the physiological changes that occur in migrating birds (climate change plays a role), zooms him all over the globe. When he's not at some remote location, he's likely to be found in his cozy office where a variety of taxidermied birds — and a stream of students — keep him company. The author of scores of frequently cited scientific papers, McWilliams is a huge proponent of recycling. He's happy to point out his desk and chair previously belonged to the Rhode Island Department of Labor and Training. Accessories at hand include the stained skeleton of a California roach (a fish, not a bug), a tapeworm from the gut of a Canada goose and a handmade toy presented to him by a student. "We have fun with science," he says. Of course, his bookshelves are loaded. Amidst a ton of heady references, there's also a telling amount of poetry and philosophy. Is he worried about the future of our planet? "I'm generally an optimist," McWilliams reassures us.