At Home: Friendly Co-Workers
Many less familiar plants like we've corralled here can mingle with your favorite, say, petunias on the deck. Then — how great is this? — move inside to keep you company all winter.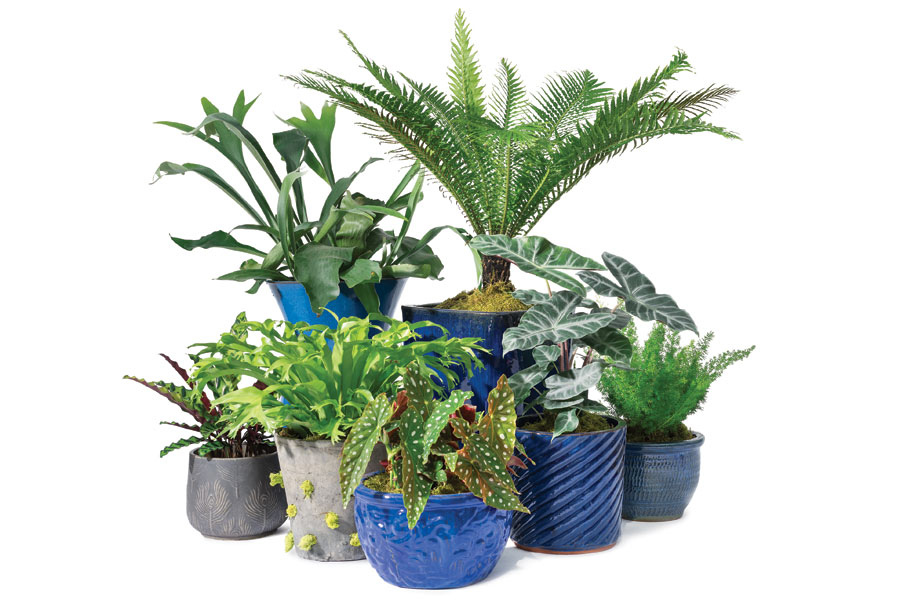 For shady conditions, consider (above, clockwise from top left): Staghorn fern, Silver Lady tree fern, Foxtail asparagus, Alocasia, polka-dot begonia, Bird's Nest fern or Calathea.
Cool Characters
Horticulturist Rick Peckham, who owns Peckham's Greenhouse in Little Compton, knows everything about plants. With a designer's eye, he creates myriad picture-perfect containers. But many of his go-to plants are ones we forget. To help us choose some new, non-boring recruits of our own, he broke a sampling into groups. Almost all thrive in or out and — hallelujah!  — are low-maintenance.
Old School
"I hear it every year," says Peckham. "Customers want New Guinea impatiens but they want something different too." These sophisticated plants happily share space with summer regulars like geraniums. Citrus trees have fragrance and fruit. Herbs are textural — and useful. And a striking player like red banana (alas, not edible) is a show by itself. Any of the possibilities, above, will give your outdoor space an elegant note (clockwise from top left): Red banana, fig, orange, rosemary and kumquat.
Hot Stuff
Colorful containers (blue outsells all others) add another dimension. These sun-loving beauties pair well with ruddy-toned pots that conjure thoughts of heat. Mix sizes and shapes for greater visual interest. But, caution: A plant's size shouldn't equal more than one and one-third the size of its container. How about (clockwise, from top left) a shrimp plant, Euphorbia 'Ascot Rainbow,' elephant ear, red leaf canna, farfugia, tradescantia or agave? "Trying something you've never had before," says Peckham, "is part of the fun of gardening."
Start looking and you'll find the possibilities are endless. Our coterie is tried and true, but there are scores more waiting. 1 Foxtail asparagus 2 Varigated Baby Sun Rose 3 Geranium 'Mini-Martha' 4 Stonecrop 'Blue Carpet' 5 Euphorbia 'Ascot Rainbow' 6 Fig 7 Staghorn fern 8 Calathea 9 Rosemary 10 Canna lily 11 Farfugia 12 Orange 13 Polka-dot begonia 14 Silver Lady tree fern 15 Alocasia 16 Tradescantia 17 Kumquat 18 Bird's Nest fern 19 Shrimp plant.
Rick Peckham is the fifth generation to oversee the greenhouse. His incredible bounty of plants includes many he propagates on site.
Little Gems
Succulents are handsome and just about self-reliant. Peckham cleverly marries them with sedum and geranium here. Heeding his advice (above), we can do it too.

Step 1 Choose your container. "The color," says our expert, "shouldn't fight with the foliage or flowers." Crafted of lightweight fiber stone, this shallow square makes a catchy patio-table centerpiece. Similarly, twin saucer-shaped containers — another of Peckham's tricks — look striking flanking a door. Fill the container according to size with compost-rich potting soil.
Step 2 Gather your plants. Ideally, you want a blend of textures and tones. A leaf's shape and color carries as much visual weight as a bloom. In addition to a number of drought-resistant succulents, Peckham's pretty composition consists of bushy geranium 'Mini-Martha,' which flowers all season, and sedum.
Step 3 Arrange your plants the way you want them before tucking them in. Different heights are eye-appealing, but "you never want more than one scene-stealer," Peckham advises. Allow trailing varieties to spill over and soften the edges. Secret tip: a thin top-dressing of sand will make for a pro-looking surface.
Step 4 Finally, add an unexpected element — Peckham tucks in a shard — to heighten the drama and then carefully snip away surrounding foliage to better highlight it. Every second watering, he feeds the plants with an organic general-purpose fertilizer. Grooming — removing spent blossoms and leaves — occurs when needed.
Resources
Read
The American Horticultural Society A to Z Encyclopedia of Garden Plants by Christopher Brickell (American Horticultural Society, 2004); Succulents Simplified by Debra Lee Baldwin (Timber, 2013) and The Plant Recipe Book by Baylor Chapman (Artisan, 2013)
Shop
We found our containers — and plants — at Peckham's, where there's an endless variety. But other worthwhile bets include:
Briggs Garden and Home, 295 Kelley Blvd., North Attleboro, Mass., 508-699-4949, briggsgarden.com
Clark Farms, 711 Kingstown Rd., Wakefield, 783-8844, clarkfarms.com.
For handcrafted pots, try Cottage and Garden, 9 Bridge St., Newport, 848-8477, cottageandgardennewport.com.
And for rare plants, take a drive to Logee's:
141 North St., Danielson, Conn., 888-330-8038, logees.com.