At Home: Field Work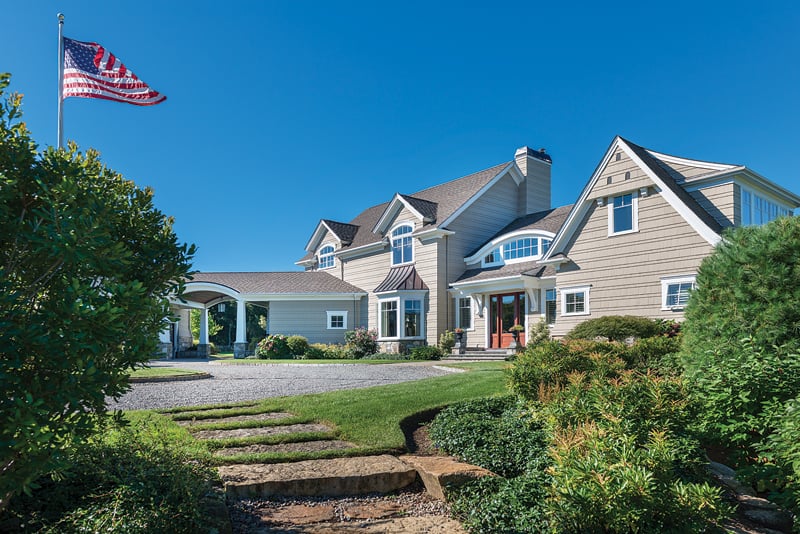 Staking Claim
This is the fourth home designer Debbi Zarrella and her husband, Jerry, owners of East Greenwich's Zarrella Development Corporation, have built for themselves. Together they've produced more than 700 houses — of myriad sizes and styles — in about every corner of the state, including Block Island. With all that expertise, you'd assume devising their current abode would have been easy. Not so. "I'm my harshest critic," explains Debbi. "You've learned what you like and don't like, but you also don't want your place to look like everybody else's." And then consider the magnificent setting. The bucolic thirty-acre property is located at the very spot where Exeter, East Greenwich and North Kingstown converge. The fastest way to take it all in — rolling fields rimmed with old stone walls, graveled woodsy paths and rose beds — is by golf cart. Clearly a bit of glamour was conceivable but the couple also wanted comfort. So Debbi merged the two, contriving a livable, lavish farmhouse.
Water World
The drop-dead marble foyer soars twenty-five feet. With 
a salt-water fish tank, blue pool and a baronial fireplace, it's Hollywood-worthy. Ribbons of colorful fish flow back and forth between the foyer and the swanky master bath located on the tank's opposite side. The see-through sinks were purchased before the house was even on the drawing board to balance atop vanities Debbi designed. Trained as a nurse and completely self-taught, she became a designer decades ago on a dare from her husband. "I told him I could do a better job than the people he had at the time and he said, 'okay, show me,' " she says. Bristol-based finish carpenter Paul Dallaire crafted the vanities along with all the other custom woodwork.
Time Management
The skillful designer pushed the wide open main living area — kitchen, dining and living with guest bedrooms above — to one half the house and reserved the other for the couple's private quarters. Flip a switch and their hearth blazes. A deep Victoria and Albert tub — hovering by a window to grab views — might suggest relaxation. But rest? These busy people barely pause to take a breath. "Why think about retiring?" Jerry responds when friends propose slowing down. "We're a team. We love what we do." On this project, for Jerry and his crew, that included installing the wondrous plant materials specified by landscape architects Gates, Leighton and Associates from East Providence. The koi pond (in the stone terrace) the architects helped Debbi devise was part of her original vision: "I wanted the pool, fish tank and pond to read as one body of water," she says.
Finishing Strokes
Self-labeled perfectionists, the Zarrellas say much of their success is due to the quality of the professionals they recruit to bring their projects to fruition. But tiny house or big, it's always Debbi's ideas that are being articulated. Under her directive came the light-enhancing mirrored columns, gleaming Brazilian cherry floors and swirling staircase. Nixing the country look, with Judd Brown's collaboration, she gathered tony fabrics that withstand pets and never detract from the outdoor panorama. There's not a season when the farm isn't gorgeous, the Zarrellas claim. But when the snow flies, Jerry says, "it's spectacular."