At Home: Earth Bound
Explore Cluck! owner Drake Patten's mini-farm.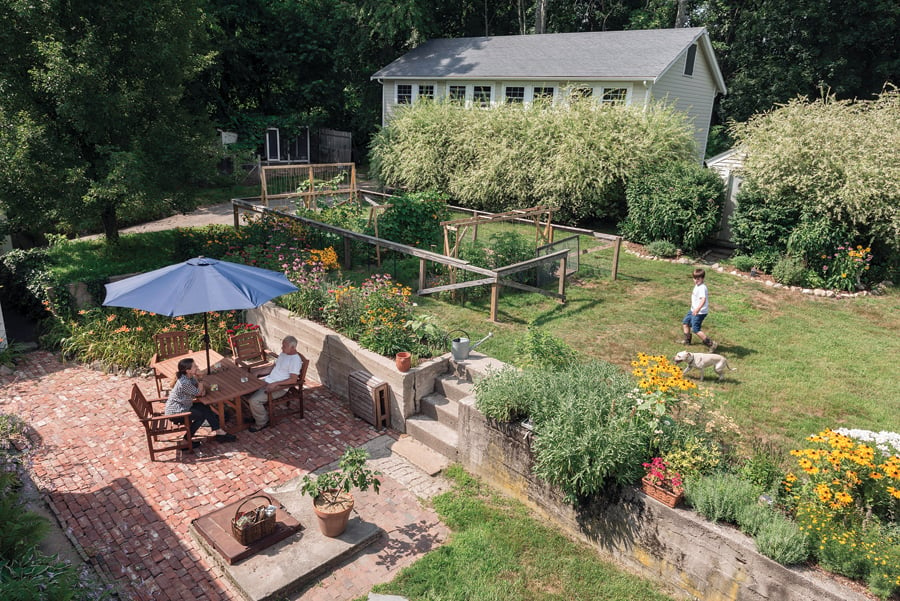 Fruit, vegetables, eggs warm from the nest and honey, too. Thanks to its caretakers' incredible vision, this mini-farm is as productive as you get.
Nine-year-old Jackson Deter pitches in with the everyday work. It's up to him to decide whether the fowl get a name or not.
Back to Basics
Although there's probably not a renovation on earth too challenging for Drake Patten, proprietor of Providence's urban farm and garden supply shop Cluck!, or her partner, artist Wright Deter — both of whom have seen their share of hands-on rehabs — the 1830s western Cranston house didn't need it. The previous owners had tackled the big updates (including ushering in a contemporary kitchen). Patten and Deter clad the walls in the palest of grays, opened some doorways and tweaked the third floor, but their primary focus was outdoors. "Our real work has been to the gardens and the outbuildings," says Patten.
Deter painted the kitchen's eye-catching triptych. A lofty perch affords Smokey a better view.
Still, one peek inside and it's clear the talented couple have transformed the farmhouse with an infusion of their personal and eclectic style. The walls are full of art — their own and that of friends — and every object has some emotional attachment. The talented duo, it seems, are incapable of laying down a book or a basket without having it turn into a photo-worthy vignette. Take note, please: a handful of leggy garlic scapes in a mason jar creates a perfect seasonal bouquet.
Goat Nelly and her companion welcome visitors. Inside their cozy quarters, runner ducks line up for a feeding from Patten.The living room incorporates Deter's sculpture (foreground) and art (the black-framed drawing mimicking a sixteenth-century Albrecht Durer portrait). Rhode Island artist Kenneth MacDonald is responsible for the sculpture on the windowsill. The classic four-holer outhouse came with the property and serves as a reminder of the farm's history.
Live Stock
A bit of a Noah's Ark, this almost two-and-a-half-acre farm includes — in addition to a dog and cat — two Nigerian goats adopted from a rescue in Foster, a number of Muscovy ducks (the originals were also rescues), several elegantly long-necked runner ducks (they run don't waddle, thus, the name) and an assortment of beloved chickens. The diverse flock marks the beginning and ending of each day. "It's not a chore," Deter says. "I actually look forward to watching the chickens come out of their coop in the morning and go back in at night." In winter there may be time to enjoy the fireplace, but with spring the rhythm of both the farm and the shop accelerate.
Homegrown herbs, feathers and flowers vie for show space. The family's dog — Bella Bean Cleveland — came via the Providence Animal Rescue League. Antique jars house necessities.
Country Living
Kitchen windows frame the flower beds, which the owners acknowledge had a good start by the time they arrived. Nevertheless, passionate advocates of sensible land use, Patten and Deter have labored tirelessly to maximize — and also beautify — their acreage. "I'm not an expert. I'm a learner and a resource," says Patten, a constant mover and divider of plants. Many of the products featured at Cluck! are tried here so she can supply customers with firsthand information. No admirer of flower beds that appear overly tidy, Patten prefers "things look a bit wild and out of control."
The owners spent a year creating a patio with recycled bricks. Behind the vegetable garden (above), a robust hedge shelters Deter's studio.
Community Spirit
The lush vegetable garden is mostly Deter's domain and keeps chugging well into winter (January saw the last of the kale). In addition to the usual must-haves, there's also fruit: raspberries, blackberries, strawberries and rhubarb. When they're not planting, tending animals or working, the couple (move over, Martha) even find time for canning.
As they see it, food is a constant. The public's growing awareness about where it comes from and how it's handled is causing a resurgence in small-scale farming. Urban dwellers are realizing even the tiniest plot can yield a harvest. So enthusiastic are Patten and Deter for this idea they've decided to — not without sadness for leaving a place they love — move on. What adventure lies ahead? A forty-eight-acre farm that, if all goes as planned, they intend to share not only with a greater number of creatures big and small but with fellow Rhode Islanders. Stay tuned.