At Home: Early Riser
Color Pops In Point Judith Waterside Garden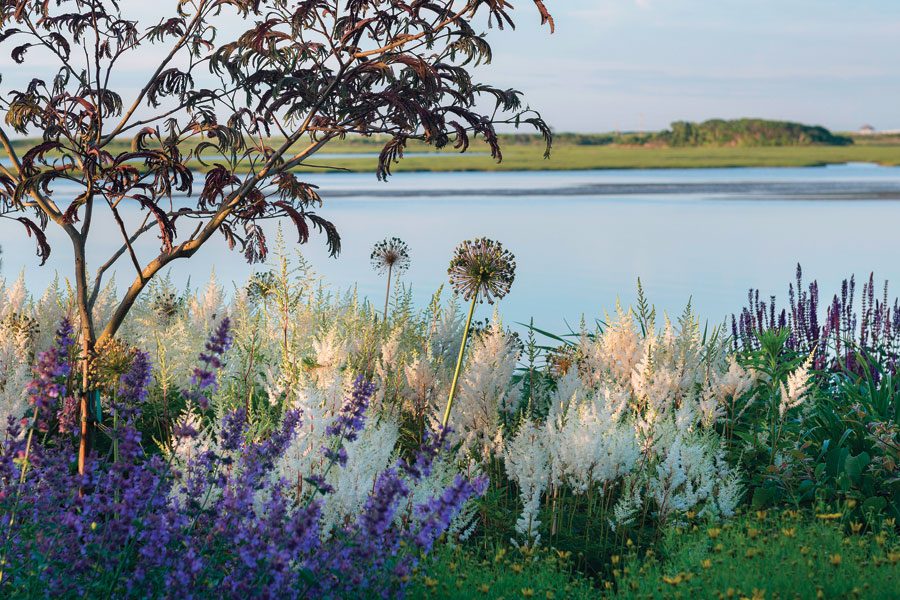 Room to Grow
There are neighbors close by, but who notices? Garden designer Julia Garriga, who heads an eponymous North Kingstown-based firm, has planned the small paradise so skillfully — and profusely — that the attention focuses on Point Judith Pond and the glorious plants. "Color in spring brings hope and starts the season with joy," Garriga says. Splashy iris and some 800 narcissi, tulips and alliums are a mere beginning. By summer's end, not a speck of bare ground will be visible. The cherry-picked plants (among them some twenty-three types of lilies, David Austin roses, peonies, dwarf fruit trees, ornamental grasses and hydrangeas) appear as if on cue, each complementing the other. Still, it's not just the controlled palette that holds the scene together. Garriga's deft play of textures is worth its weight in gold. Above, river birches and grasses anchor a salvia-dotted border making its way to the dock. In just a few weeks, the border will be a mass of flowers.

Annual maintenance includes three yards of compost (from Earth Care Farm in Charlestown) spread in spring and allowed to rest for two weeks. Then, a layer of top-grade mulch (from Wildwood Nursery and Garden Center, East Greenwich, or Highland Farms, Wakefield) is applied by hand. "We need less as plants get bigger," says Garriga. Clockwise from top: A bronze sculpture of the Roman goddess Diana lords over the landscape. Cheery daisies are a must-have classic. Double Knock Out roses lend vibrancy. A poolside bed brims with nepeta.

Salvia (foreground) provides nonstop color and complements the blues in the water. "This garden is a pollinator's heaven," says Garriga happily.

On the home's entry side, the terrace bed contains a mix of foliage-worthy euphorbias. Assertive alliums give the neat-as-a-pin vegetable bed a visual punch.

Climbing hydrangea's heart-shaped leaves are almost as charming as the vine's mid-summer blooms. Spiky lupine adds height.

Picture Perfect
Garriga credits her early childhood on a small farm in La Mancha, Spain, for her love of the soil. "This agrarian utopia developed my yearning to do what I do today," she tells us. Clearly also evident, though, is her training as a fine art painter. The garden's original plan was laid out by Rye, New York-based landscape architect Christopher Cohan. But over the past four years, Garriga has reconstructed old beds and enhanced the property with the addition of new ones. "We've increased the plants by tenfold," the designer says.
Her definition of the consummate gardener is someone who is "bold and experimental" but also preserving and patient. "A great gardener," Garriga says, "sees the painting before it has been painted and plants accordingly so each vignette changes with season and light." Here, even the vegetable garden with its flurry of lettuces and cardoons is snapshot-ready. The deep pink Double Knock Out roses are staples blooming incredibly from May through November with what Garriga calls "judicious deadheading." As keen on tidiness as she is on good sustainable garden care (insecticides are verboten), the designer has errant grass clippings — the result of lawn mowing — blown out of the borders. It's that attention to detail that makes this garden so captivating, even in the kick-off weeks of a fresh season. Coming years will, we're thinking, only bring more depth and drama. "Nature is not static," Garriga says. "It's a constantly evolving picture."
Tiers of flowers flank the garage.