At Home: A Tale of Two Houses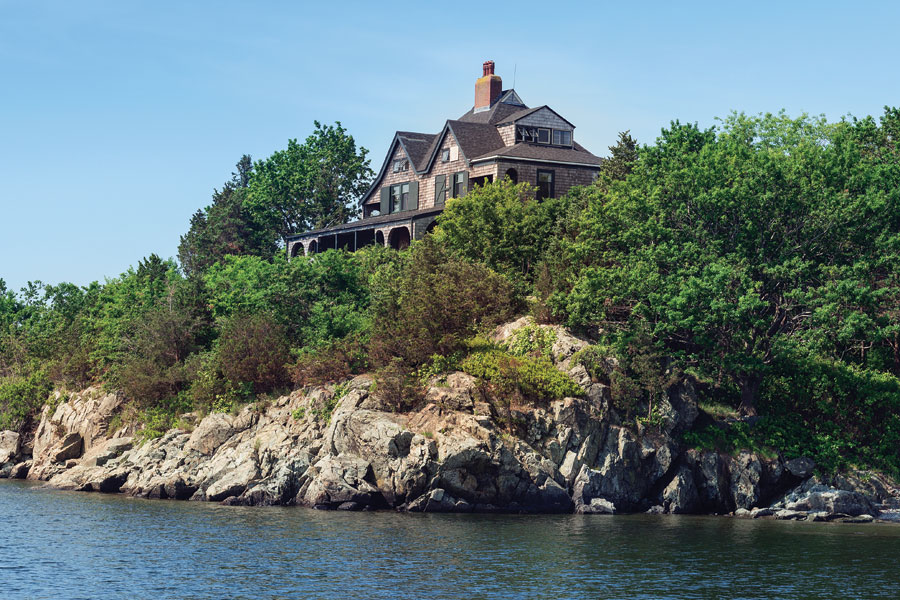 Suitcase Ready
There are lots of us who go no further than our coastline to reach a vacation destination. What makes the Laurie family different, however, is that they split their time between two historic houses. Built in 1888, for Admiral Thomas O. Selfridge, the Barnacle (so named because it literally clings to the rocks) is the quintessential Jamestown summer home and one of the few remaining almost untouched, thanks to David and Petra Laurie. "We see ourselves as caretakers preserving a magical house for our children," says David, who grew up spending summers there. A master storyteller and history lover, David recounts wonderful tales of parties on the porch, sailboats in the harbor and generations gone by. "It's a happy house," he says.

Numerous island houses are attributed to the home's architect, Charles Bevins. Gracious details like the entry's coffered ceiling speak to his style. The angel-head door is an Italian treasure. Plywood was often used in waterfront homes because paint peels and paper curls.
Settling In
The Barnacle, despite its imposing silhouette, is remarkably livable, with human-scaled rooms and plenty of light. Old photos and family mementos abound. There's a tiny hall chock full of antique buoys, for instance, a carved figurehead that might have ridden a ship's bow and myriad shells toted home from the nearby beach. Harbor sounds — gulls, bells and boat horns — lull the family to sleep in plywood-paneled bedrooms that haven't changed in decades. Only when temperatures begin to drop do the Lauries head back across the bay to their 1773 Wickford home. Known as the Narragansett House, the thirteen-room colonial sports ten fireplaces, by which celebs like bespectacled Benjamin Franklin once sought warmth.

The panoramic photo above the door depicting Jamestown and President Teddy Roosevelt's Great White Fleet was printed from a glass negative.

David is the great grandson of artist John A.S. Monks, whose painting hangs above the sofa. Monks was the first of David's relatives to arrive in Jamestown. A dash of blue highlights an architectural detail. The wide board floors throughout are original.
The Changing Seasons
Imagine: In what was the taproom, Continental soldiers mustered, taking their oaths in front of the hearth above. There were stagecoaches stopping at the door and a cow or two in the barn out back. Not unlike the Jamestown house, this one — which the Lauries purchased years ago (Petra grew up across the street) — is also amenable to today's lifestyle. A convivial mix of old and new furnishings (the red chair belonged to Petra's parents; the yellow sofa to David's family) freshen the cozy rooms, making them just right for weathering winter. "It's the best of both worlds," Petra says. "Here we have a Currier and Ives view from our bedroom window. From our Jamestown porch, we see every boat entering and leaving Newport Harbor."