Artisan Jewelry Made in Rhode Island
Life is too short to wear department store jewelry, and with all the talent in our little state, there are plenty of options for handmade baubles.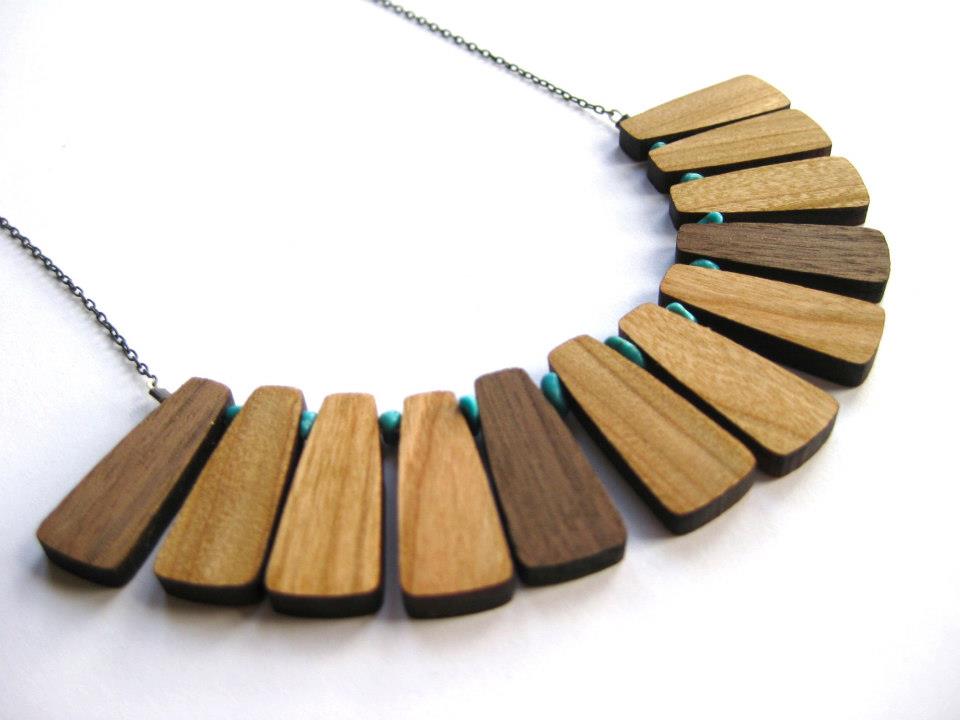 These jewelry designers use local resources to create some fabulous wearable art.
DA Metals, Pawtucket
Would you describe yourself as simple, elegant and colorful? If so, then DA Metals Jewelry is just your style. These rings, bracelets and pendants are distinctly geometric and vivid. They make a perfect addition to a professional outfit or weekend getup. DA Metals uses recycled Argentium silver and industrial resin to make long-lasting, timeless jewelry. DA Metals also sells Rhode Island Pride pins in a variety of bright, happy shades. Hope Artiste Village, 1005 Main St., Pawtucket, 401-645-6852, dametals.com
Allison J. Johnson, Providence
If silver's not your style, try something more natural. Allison Johnson's medium of choice is wood – gorgeous wood, if we do say so ourselves. This RISD student shapes maple, beech and walnut into geometric necklaces, rings and earrings. Her homemade plywood makes for fun striped rings that you can find in her Etsy store. Her jewelry is also for sale at Studio Hop on Hope Street in Providence.
Silvery Tides Jewelry, Narragansett
Have you ever found a stunning shell on the beach and wished you had a way to show off its beauty? Amber Bettez of Silver Tides jewelry grants that wish! Her jewelry displays stones, seashells, fossils and sea glass in whimsical wire wrappings. Each necklace, ring and earring set is crafted with a Reiki blessing, so it exudes positive energy. Amber will also take your found treasures and create a one-of-a-kind custom piece from it. So the next time you're enjoying a day at the Narragansett sea wall, pop in to Silver Tides and see what new pieces she's dreamed up. 140 Boon St., Narragansett, 401-248-4390, silvertidesjewelry.com
Even though natural beauty won't last forever, here's something that will. Darrien Segal's "wildcrafted" jewelry starts as castings of flowers, twigs, shells and even lobster antennae. These dainty silver pieces exhibit the unique shapes and textures of nature. Her initial pendants, cast from twigs, make a personalized gift for a friend or spouse (or yourself)! She also makes custom engagement rings (set with the stone of your choice) and wedding bands for nature-loving couples. You can find her pieces at Muse on Main Street in Warren.
Iconic is certainly the right word for this company's quirky, out-of-the-box jewelry. You can straighten yourself out with Individual Icon's level earrings or get headed in the right direction with compass cufflinks! LeeAnn Herreid, the artist behind these "working" pieces, also accepts custom orders; she has a gallery full of engagement rings if you need some inspiration. Her work can be found alongside Darrien Segal's at Muse in Warren.
Felicia Grace Designs, Block Island
What's better than summer in Rhode Island? With Felicia Grace's sea glass designs, you'll have a year-round reminder of those sunny beach days. The brightly-colored sea glass she uses is collected from beaches around the state. Each piece is as unique as the glass that inspired it; even earring pairs aren't perfectly symmetrical. She also has a new line of raw gem jewelry, featuring uncut sapphires, topaz, aquamarine and more.
More photos can be seen on each designer's Facebook page.