Art in Unexpected Places
An upcoming series on Rhode Island PBS highlights public art.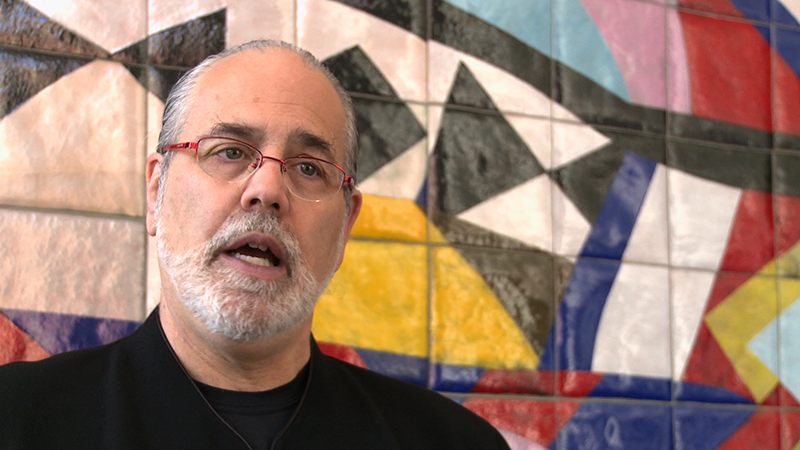 Rhode Island is home to many artists, but some creations in the Ocean State aren't particularly easy to find. An upcoming series called "In Plain Sight: Art in Unexpected Places" on Rhode Island PBS will change that, by taking viewers into libraries, convention centers, cemeteries and college campuses and showing them three centuries worth of public art.
The series, which starts April 3 at 8 p.m., was directed, produced and photographed by Richard Goulis and Victoria Veh was creative director. Here's what you will see:
April 3: "Downtown Providence." Multimedia artist and WaterFire creator Barnaby Evans leads a tour of public art in Providence's parks, convention centers and downtown streets, telling the story behind pieces such as a sculpture by Daniel French, who also designed the Lincoln Memorial and a glass sculpture in the Rhode Island Convention Center created by Macarthur fellow James Carpenter.
April 10: "Funerary Art and Monuments." University of Rhode Island art history professor Ronald Onorato shows the beauty in two of Providence's most historic cemeteries: Swan Point and North Burial Ground.
April 17: "Art in Libraries." Tonia Mason from the Providence Public Library will show viewers some of the historic architecture, in addition to collections of ship models and illustrated manuscripts and tablets. And Alison Maxwell from the Providence Athenaeum will discuss its wide-ranging collection.
April 24: "Brown University and RISD Campuses." Both campuses are home to lots of art, and Jo-Ann Conklin, director of the David Winton Bell Gallery at Brown, takes viewers to see both outdoor sculpture by artists like Jenny Holzer to indoor installations by Sarah Oppenheimer and Diane Samuels.