April Issue: Cheap Eats Extra
Matt Jennings's favorite spots for cheap eats.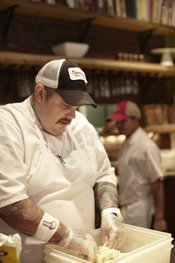 Matt Jennings's favorite spots for cheap eats.
In the April issue, we also include a profile on Farmstead chef and owner Matt Jennings. Download the issue here, or pick it up on newsstands on April 1. In the story, you'll learn interesting facts about Jennings and how he got his start in the retail and restaurant business, which has become even more challenging lately. He also served as our cover model for our Cheap Eats feature.
Farmstead has launched several affordable new options for diners, including a monthly Sunday brunch, which takes place on the first Sunday of every month. Don't miss it on April 7 from 10 a.m.−2 p.m. Previous dishes have included boudin noir sausage with biscuits and gravy, fried oysters and poutine, whiskey-brined Rhode Island ham, house-made candied nut granola and corned beef hash. They've also expanded their lunch menu to include more entrees like leg of chicken confit, slow roasted pork belly and Rhode Island caught monkfish, but they still have the usual suspects, the beloved cheesemonger's grilled cheese and mini burgers on Kate's delicious cheesy-chive biscuits. Try the new menu.
Below, Jennings shares some of his favorite spots for cheap eats.
1.       "Fall River has such an awesome food culture. Sam's Bakery is one of my top three places in the country." 256 Flint St., Fall River, 508-674-5422.
2.       "I love Taconazo on Valley Street. It's a little converted trailer. You go in, you order, you get your tacos, there's a cooler with Jarritos in it, you grab a soda and go sit outside." 500 Valley St., Providence, 437-8808.
3.       "I am a huge Sun and Moon fan. The bibimbap is supreme, the potato noodles a revelation and their dumplings are some of the best around." 95 Warren Ave., East Providence, 435-0214, sunandmoonkorean.com.
4.       "Not Just Snacks. I love that space. It's so simple and you walk in, sit down, you get a tray. There's no big to-do, no hostess. They do a braised mutton (aged lamb) all full of bones and it comes with delicious rice. You don't see mutton many places anymore. They do goat there, too. I've always loved goat. Sometimes we have it at the restaurant." 833 Hope St., Providence, 831-1150, letseat.at/NotJustSnacks.
5. The Wurst Window and Hewtin's Dogs. "Matt's dogs are the best in the city." Chez Pascal, 960 Hope St., Providence, 421-4422, chez-pascal.com; Follow Hewtin's at @ChezPascal.
6. Tallulah's Tacos. "Chef Jake Rojas brings his Chicano flava to a taco cart." The tacos are also now available upstairs at the restaurant Tallulah on Thames Thurs.−Sat. from 11 a.m.−3 p.m. through April, and Rojas will open a new taco spot, the Shack at Dutch Harbor in Jamestown, on May 10. Tallulah on Thames, 464 Thames St., Newport, 849-2433, tallulahonthames.com; follow the cart at @Tallulahstacos.
*Parts excerpted from a previous interview with Jennings.
Photo by Alex Gagne.
Every month, we send out a local food e-newsletter called the Dish, featuring restaurant news and extra stories that aren't in the magazine. Sign up to get the newsletter free to your inbox every month.