Author Ann Hood Reflects on New Year's Eve
This confirmed curmudgeon has learned there is, in fact, a perfect reason to celebrate.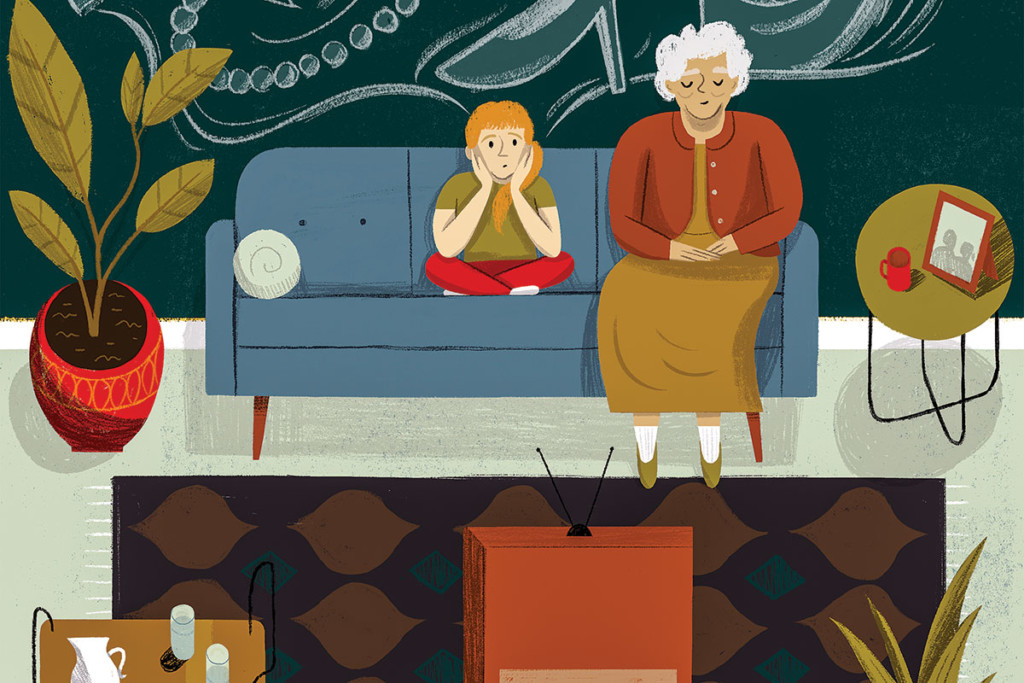 Some people dread Thanksgiving and having to spend an entire day overeating with relatives. Some people dread Christmas with its disappointments and dashed hopes. Me, I dread New Year's Eve. Or I used to anyway. For this, I blame my parents. Every New Year's Eve of my childhood was a flurry of excitement as my mother packed for their overnight at the Ramada Inn in Seekonk. I'd sit on her bed and watch as she folded her new nightgown with matching robe, a sparkly party dress, high heels, jewelry and a pantsuit with color coordinated shoes and handbag. The pantsuit was for the buffet breakfast on New Year's Day that was included with their room along with dinner, dancing and a Champagne toast at midnight.
It seemed so exotic, this celebratory trip to Seekonk. They went with four or five other couples, all of them in rooms along the same hallway. My parents always brought a cooler stocked with cheese and crackers and pepperoni, beer and cream for the white Russians my mother liked to drink. Before the dinner and dancing, all the couples gathered in one room and smoked cigarettes and drank cocktails and had, as my father used to tell me, a damned good time.
Mid-afternoon they were off, leaving a cloud of Old Spice and Chloe perfume — and me — behind. My grandmother, Mama Rose, and I did absolutely nothing special. No hors d'oeuvres or a fancy dinner of prime rib. Certainly no dancing or breakfast buffet of scrambled eggs, sausages, bacon and waffles. Instead, Mama Rose and I watched Saturday Night at the Movies and forced ourselves to stay up for Guy Lombardo — "Mr. New Year's Eve" — singing "Auld Lang Syne" from the Waldorf Astoria Hotel in New York City. I was certain that the Ramada Inn in Seekonk was just as fancy, with chandeliers and Champagne fountains and my parents waltzing as effortlessly as all the black tie and evening gowned couples on TV. How could any New Year's Eve ever hold up to their magical one of my imagination?
This is why I'm certain that the New Year's Eves of my teenaged years were so disappointing. The party horns and cardboard crowns with glittered 1974 on them. The forced fun and loud countdown to midnight. The anti-climax after strangers gave each other wet, sloppy kisses. All of it. Where were the white Russians and chandeliers? The guy in a tuxedo who would spin me around a ballroom? Not in the basement rec rooms in my hometown of West Warwick, or later in my Barlow dorm at the University of Rhode Island, that was for sure.
None of this was helped by the fact that I usually ended up dateless on New Year's Eve. Too many boyfriends who had to work bussing tables at the Barnsider at Midland Mall or go off skiing with their families. My parents, however, continued their annual pilgrimage to the Ramada Inn, arriving home New Year's Day, cheeks red from the chill of a New England January and the excitement of their time away spent dancing with Champagne toasts. As a child, I used to wait by the window until they got home and then I'd pepper them with questions about what all the women wore and what was on the breakfast buffet, titillated by the customs of the adult world. But my teenaged self was surly and cynical after yet another New Year's Eve with Mama Rose and Guy Lombardo.
After college, I went to work as a flight attendant and I moved away from Rhode Island, to Kansas City and Boston and St. Louis and New York City. I happily opted for trips that kept me away from home on New Year's Eve. No party horns or glittery crowns for me! Sometimes I crossed enough time lines to forget the holiday all together. More than once, thanks to jet lag, I slept right through it in hotel rooms in Frankfurt or Cairo or Madrid.
But eventually I hung up my wings. I lived in Manhattan and crowds descended to watch the ball drop in Times Square as December 31 neared. Once again, I was faced with a night alone while my actor/bartender boyfriend had to tend bar in the Upper East Side restaurant where he worked. "So what are you and Josh doing for New Year's?" my mother asked me long distance. "Nothing," I muttered. "He has to work. I hate that stupid holiday anyway." "No one hates New Year's Eve," my mother said gently. "I have never had a fun New Year's Eve. Ever," I said, petulant as the teenager I'd been a decade earlier.
That December was one of the coldest and snowiest on record in New York City. So you can imagine my surprise when my parents showed up New Year's Eve morning on my Bleecker Street apartment doorstep, having driven through ice and snow down Route 95 from West Warwick. "No one should be alone tonight," my mother said, handing me a giant Ziploc bag of meatballs and two Mason jars of red sauce — her homemade "gravy." "What about the Ramada Inn?" I asked them. My father shrugged. "It'll be there next year," he said.
Grateful, I got out of my jammies and bundled up, determined to show my parents, who had come so far on such a frigid day, a good time. We took a taxi across the West Village to my favorite Mexican restaurant, home of giant margaritas and twinkly multicolored lights. The taxi deposited us on the godforsaken corner of West 12th and Washington and sped off toward noisy revelers a block away. My fingers and toes already numb from the below-zero weather, I turned and saw that the restaurant, usually loud and bright, was dark and empty. Closed. That taxi was already gone, and my parents and I were left on this isolated street.
"I hate this holiday!" I said through gritted teeth as I hopelessly stuck my arm out for a cab. Washington Street was as dark and empty as the restaurant. I don't know how long we stood there shivering, trying to make a plan, before the door opened and a guy walked out, surprised to see us. "I gave everyone the night off," he explained. "For New Year's Eve!"
I told him how my boyfriend was working and my parents had driven 200 miles just to keep me company on this dumb holiday. "Get in," he said, opening the door to a van. "I'll take you to a place up the street that's open." This was the dangerous New York City of the '80s, but we climbed in anyway. He took us up the street and to a Cajun restaurant where we ate alligator and gumbo. "Best New Year's Eve ever," my father said.
Of course that was long ago, and in the decades since then, New Year's Eves have come and gone. I've held my children's sticky hands and watched puppets and acrobats at Providence's First Night; I've thrown big dinner parties at my old house on the East Side; I've watched fireworks in the night sky above India Point Park; and yes, I've worn those cardboard crowns bought from Benny's with 1998 or 2001 written in glitter. Some years I had fun and some I felt grumpy and more than once, I've stubbornly gone to bed way before midnight. New Year's Eve, I decided, is just one of those elusive nights that never lives up to my expectations, to those magical imaginings of my childhood.
Until last New Year's Eve, that is.
My life had undergone enormous changes — a divorce, a move from my lovely Colonial home on the East Side to a bright sunny loft on the West Side, and a new marriage to the man of my dreams. Then in February, my feisty eighty-six-year-old mother died suddenly and I found myself, at sixty, living a completely different life in every possible way than I'd lived for twenty-five years. New home, new love, but my mother, my rock, gone.
Making plans for the holidays this year, I asked my husband what we had done last New Year's Eve. I couldn't remember, I told him. "I don't remember either," he said. We looked at each other and broke into smiles. Whatever we'd done, we agreed, it had been magical. Maybe the best New Year's Eve ever.
That long-ago New Year's Eve when my parents showed up on my doorstep, I didn't know that for maybe the only time ever, my father was wrong. Not everything, or everyone, is with us the next year. Maybe that's why we celebrate my least favorite holiday — not for the Champagne toasts or party horns, but for what we lost but still hold dear, for what we still have in our lives, for love and family and memories, for happiness and for hope. This New Year's Eve, wherever I am, I'll lift my glass to Mama Rose and Guy Lombardo, to my kids and my darling new husband, to my little house on Arnold Street, to my mom and dad and a cold December 31 in Greenwich Village. Better even, than those long-ago Champagne toasts at the Ramada Inn, I'll take a right goodwill drink, for auld lang syne.