Ann Hood on Tragedy, Fame and Her Favorite Stories
The Rhode Island-based author has a gift for exploring the human condition.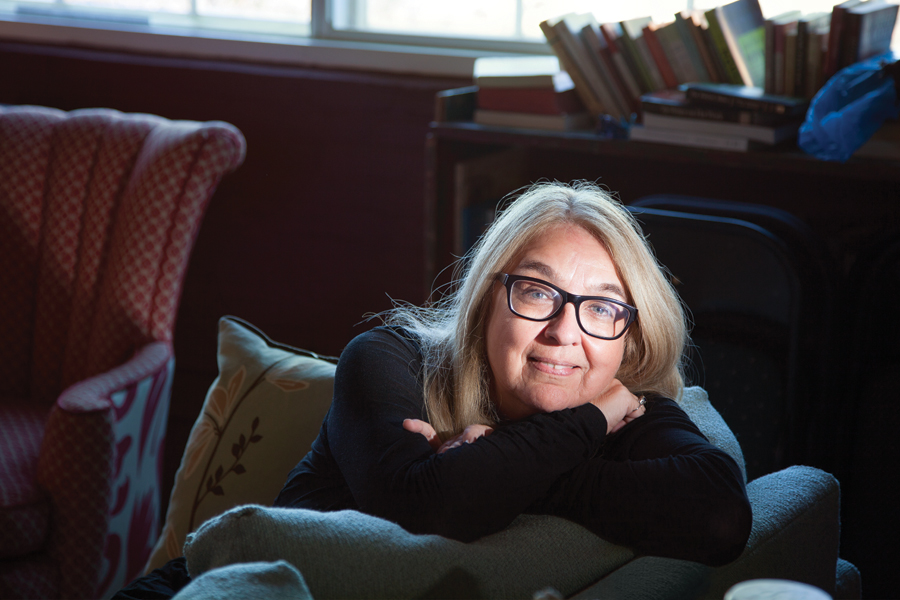 Life has been good to Rhode Island native and author Ann Hood.
She is a prolific, popular and more-than-occasionally bestselling writer of novels like The Obituary Writer, Places to Stay the Night, Waiting to Vanish, and many more, her success taking her around the world to talk about the books her readers embrace.
But life has also been unimaginably hard. Her only sibling, older brother Skip, died in a household accident in 1982. In 2002, she endured the horror of taking her five-year-old daughter, Grace, to the hospital for treating what seemed a routine fever, only to lose her forty-eight hours later to a virulent form of strep.
Tragedies like that might paralyze most people, and for two years after her daughter's death, Hood was emotionally crippled into inactivity and inertia. But she came back, wrote more, adopted a baby, and continues to be energized by a love of words that began as a little girl growing up in West Warwick's Natick neighborhood.
There, she devoured anything she could lay her young eyes on, effectively teaching herself to read by age four. By the fourth grade, she wrote her own short stories. The first was about a little girl who finds a deserted amusement park where the carousel comes to life as she climbs on one of the horses. It takes her back in time to meet her grandmother, who is a little girl just like her.
"When I was learning to read and realized the letters made sense on the page it was so thrilling," says Hood. "After I wrote that first short story, I knew I wanted to be a writer."
Hood has had short stories and essays published in lofty publications including the New York Times, the Atlantic Monthly and the Paris Review. She also wrote a series of books for middle school-aged readers. Along the way she's won a gaggle of awards including two Pushcart Prizes and the Paul Bowles Prize for Short Fiction.
But it's her many novels, more than a dozen so far, which she categorizes as "literary women's fiction," for which she is best known. Her first book, Somewhere Off the Coast of Maine is about three women coming of age in the '60s, penned longhand while she was a TWA flight attendant. Her most recent, The Book That Matters Most, is an ode to the healing power of literature.
In between there was The Knitting Circle, a novel carved from the unspeakable agony of losing Grace, and Comfort, an unflinching first-person account of that time in her life that a review in the Los Angeles Times said "enriches our lives, brings Gracie into our world."
Hood, recently divorced, now does a lot of her writing curled up with her laptop on her couch in her new apartment on Providence's West Side, much the same way she did as a little girl curled up in her bed in West Warwick with pen and paper.
"It's pretty much all I've done," Hood says of her writing career while sitting on the couch and munching on homemade pasta e fagioli, a tribute to her Italian heritage. "I figured it out early and stuck to it."

Family, with its power and drama and angst, often finds its way into Hood's writing, including in Do Not Go Gentle: My Search for Miracles in a Cynical Time, a memoir about trying to find her father a miracle cure for cancer, and in the novel An Italian Wife, which one reviewer called "a multi-generational masterpiece," about an Italian-American family arriving in Rhode Island in the late 1800s – just as Hood's did.
"My great-grandparents came to America during that great wave of immigration, and settled in Natick, which was all Italian when I was growing up," she says. "They bought a house that my mom still lives in, where my grandmother had ten kids, where I grew up."
It was a veritable ethnic family compound, with children, cousins, uncles and grandparents, which could be at once crowded, noisy, chaotic and happy. Being raised in "a real immigrant childhood," she recalls fondly, included looking out her window and seeing the family's tomato plants.
Her father, Lloyd Hood, worked twenty years for the Navy and met his wife, Gloria, when he was stationed in Newport. He worked at Quonset when he retired from the military, for a company that shipped material to Vietnam. In her youth, Hood recalls hanging out with her dad when he went to work on Saturdays and eating at Custy's.
Her childhood was rife with stories told by many people, planting the seed for Hood's own stories as she developed into a writer.
"I think I wrote that first story about the little girl in the amusement park because of my grandmother," Hood says, "We lived with her. She was a tough cookie, not the warm-and-fuzzy grandmothers you see on TV. I drove her nuts with questions she wouldn't answer, like 'why did you come here, why did you have so many kids, why, why, why?'
"Maybe I wrote that story to understand her," she says. "If I knew her as a little girl, maybe I'd know more about her."
Hood hung out with friends and family, but also liked her time alone in her room, in her world, creating stories, says her mother, Gloria. "She had a lot of friends but liked being by herself," she says. "She was a lovable girl, but liked being alone writing her stories. One time I asked her doctor about it and he said, 'She likes herself, leave her alone.' That was my Ann."
She calls her Ann, "my beautiful little child."
Her joy was dressing her daughter up and showing her off, with her long blond hair and blue eyes that reflected her father's Scottish-Irish heritage.
"Ann loved reading, her stories, she loved old things — that's why she loves me," recalls Gloria, eighty-five, who still cooks Italian feasts for the family at Christmas, Ann at her side to help. "When it would storm, she'd sit and listen to stories about Italy. We all grew up very close to each other."
Asked what she makes of her daughter's success, Gloria Hood beams with pride. "Well, you're asking someone who's very prejudiced," she says, "but there's no daughter in the world like my Ann. She's so considerate, I don't care if she's in Providence or Japan, she always calls to check on me."
Ever the voracious reader, Hood consumed books such as Little Women, which knocked her socks off, all the Nancy Drew books, Agatha Christie novels and even David Copperfield in the fourth grade. "I don't know what I got out of it, but remember liking it," she says.
She met Jane Flora in the seventh grade, Flora helping her with math, Hood helping her with English. "And that's how it started," Flora says of their lifelong friendship. "Two people lost, you help me out, I'll help you out."
They grew up together, working on the school paper and yearbook. "I guess we complemented each other," Flora adds. "She was tall, I was short. We both brought something to the relationship that was different, but held onto each other's importance."
They did typical West Warwick things, including hanging out at the Rhode Island Mall, walking carefully across busy Route 2 to get there and browse the stores and the boys, "all the stuff kids do to find other young people, very normal," Flora says. "When you think about who makes a good friend, it's someone loyal, good and supportive. They never stop being that person. And that's Ann."
Hood wrote constantly, carrying notebooks to create stories and "really bad poetry," she says with a laugh. She graduated West Warwick High School in 1974, and went to the University of Rhode Island to major in English. It was there Ann Nash met her on the second day of college, the start of another lifelong friendship. Nash lives in Maine and gets together with Hood when she's up that way to teach, do book signings or speak at book clubs.
"When Ann talks, she tells wonderful stories," Nash says. "Even if you didn't know she was a writer, you could tell."
Nash has read and loved all her friend's books. "One thing I love the most is how she develops characters. I really get to know them," she says. "And because I'm a friend, I can pick out experiences she's had and weaves into the book. I like that, it makes me feel more connected to the book."
Hood loves life, Nash says. "She has a good grasp on it and enjoys the small things and is grateful for what she has. She's one of my best friends. I'm very lucky to have her in my life. She's someone I can always count on."
As Hood developed as a writer in Rhode Island and read about the world, she realized she had to get out into it to grow. "I thought to be a writer, you had to have adventures," she says. "So I became an international flight attendant with TWA so I could see the world."
She was fresh out of college and bounced around, moving to Boston, St. Louis and New York, and loved it all. "Those days I worked twelve to fifteen days a month and made more than my friends who were interns or in low-level bank management. It was a great job back then."

From left: Grace Adrain, age three, 1999. Sam Adrain, twenty-three, and daughter, Annabelle Adrain, age twelve, at the Edinburgh, Scotland, Fringe Festival, August 2016. Ann's cousin Gina, Ann, Ann's cousin Gloria-Jean, in Venice, May 2016.
But for the first time in her life, she was alone and a bit scared. There was a morning where, for the first time, she ate breakfast alone in a hotel, which began to show her how to navigate the world.
She started to write her first unpublished novel, that "terrible beginning novel we all write, which was imitative, uneven, awful." It was a revenge novel called The Betrayal of Sam Pepper.
She put it aside when life got ugly. Her brother died in the hot summer of 1982 and she took a leave of absence to go home and be with family. She was scheduled to move to New York, where she had an apartment lined up. But she didn't want to go. "My mother said, 'you can't stay and take care of us the rest of your life. Go.' So I did," Hood says.
She moved to Greenwich Village and a tiny apartment where her bed was a door with foam on it stretched across two saw horses. She sat on its edge, wondering what she was doing, sad and still grieving her brother's death. She thought about that first book and pulled it out.
"I got thirty pages into it and thought it was awful," she says. "I tossed it into a dumpster on Sullivan Street, where it belonged."
It was during lulls in long international flights that Hood wrote — by hand — Somewhere Off the Coast of Maine. And found a publisher for it. It was during that time, on one flight, when she met a classic jerk of a passenger, whom she learned was a writer. She told him she was one, too, and that she'd just sold her first novel.
"He said 'You look too stupid to be a writer,' " Hood recalls. "I said, 'You mean you don't think a flight attendant can be a writer.' 'No,' he replied, 'I mean you look too stupid to be a writer.'
"I looked at him and said, 'I'll remember you and when my novel comes out, I'll find you.' "
A few years later, Hood was at a bookstore signing copies of Somewhere Off the Coast of Maine. The line was out the door. And in it, she noticed, was that jerk passenger.
"He said you probably don't remember me, and I said, yes I do," Hood says, clearly savoring the memory. "Yeah, it was a bit of schadenfreude. He had to wait in line for someone who looked too stupid to write a book."
The book sold well so she started working on a second, and at the same time freelanced for magazines, writing interviews, reviews, essays, short stories, assignments they don't offer much anymore, she laments. "Those days are long gone."
She says her first agent didn't work out but then she found Gail Hochman of Brandt and Hochman Literary Agents in New York. Both women agree it was a match made in writing heaven. As Hood says about her agent, "She's phenomenal, she understood just what I was writing. We've been together since 1988."
"Ann's got a fresh voice, great energy, her characters rise off the pages and she's a tremendous storyteller," Hochman says. "She is fabulous revising and listens when we discuss something about a manuscript or business. She promotes like she was born to do it and audiences love her."
Most importantly, Hochman says, "She's become a real friend."
Hochman also calls Hood "a life force. She's lived through very sad or distressing situations and she does it with grace."
Which she would need in spades when her daughter died in April 2002.
It was out of the blue. Grace had a fever, and hood and husband, Lorne Adrain, brought her to the hospital, suspecting nothing unusual. In forty-eight hours Grace was gone, and unimaginable grief followed.
In Comfort, Hood writes about seeing her daughter behind a pane of glass in the ICU, a pane she beat with her fists, screaming Grace's name so loudly and desperately it left her hoarse for days. A doctor told her that the night she died would be the longest of her life.
But there were many more. For two years, Hood couldn't write or read or do much else but exist and grieve. She tried, buying a journal to carry around and sometimes just writing "fuck" on its tauntingly blank pages, over and over again.
"I was scared to death for her. As a mother I couldn't find words to console her," Gloria says. "She lost her brother, my son, and when Ann lost Grace, I knew what she had ahead of her. I thought I'd lose my Ann."
Hood's son, Sam Adrain, is twenty-three, an actor in New York. He was about eight when his sister died, the memory of it hazy. "I think I sort of had to push it away," he says. "It was definitely a struggle."
He lauds his mother's strength, talent and stamina, saying that of the 150 or so shows he's done, "I can count on one hand the ones my mom hasn't seen."
About two years after Grace died, Hood recalls driving her car one day, Sam in the backseat playing with one of his Transformer toys. "He had it in his lap, and was peering out the window," Hood says.
"I looked at him in the mirror and thought he looked so sad, the back seat big and empty. At that moment, I thought, I gotta kick this family in the butt. I have to show this kid you don't get defeated by stuff, show him there's still joy and hope and that you have to want to embrace it."
In 2005, she and Adrain adopted an eleven-month-old baby from China. Annabelle is twelve now, thriving, and enjoys when her mom reads to her. The child's listed birthday is April 18, the same date on which Grace had died three years earlier.
This made Hood recall the Chinese idea of "the red thread," a belief that people in the past, present and future are all connected by invisible red thread that can fray and tangle but cannot be broken.
"It took me a few years to accept having Annabelle's birthday connected to the day Grace died," Hood says.
A novel, The Red Thread, evolved years later. In the interim, she was still aching. Hood says "a very wise friend suggested I knit."
She loved it, finding comfort in the endless repetition of knitting and purling and being with like-minded souls doing the same. She thought she'd love to teach the world to do this, where everyone was so calm, a place to zen out, she says, "a novel about someone saved by knitting."
She did just that, creating the bestseller, The Knitting Circle, about a woman who loses her only child and finds knitting as solace.
She talks about this and more at book-club meetings and signings. She vowed to do sixty such events in 2016, marking her six decades (she's now sixty) on Earth. At a book club meeting at Wakefield Meadows in South Kingstown, an impressive spread of fruit, cheese and pastry goes largely untouched while a couple dozen devoted readers sit around the living room, listening to Hood easily and comfortably talk about her writing, her books, her life.
She talks about, as a kid, "wanting to live inside a book," how in writing one "if you know the beginning, you know the end, it's the 300 pages between that's hard." Her latest, she admits with a laugh, "is due Monday, so I hope it'll be done Monday." And she talks about how writing never ran in her family of math-oriented people, including her mother, an IRS auditor who, even when her Ann's books were on bestseller lists, would say, 'You know, the post office is hiring.' "
She is asked if writing is lonesome. She smiles. "I like solitude. I like wearing my PJs to take my kid to school, running back, getting coffee, curling up with my laptop and writing." What she's done since she was a kid in West Warwick, she's doing now as a woman in Providence — getting lost in the magic of words.
"Time flies," she says sitting on the couch in her living room, her pasta e fagiolo gone cold. "I have to set my alarm or I'll forget to pick up my kid. I just love being in that world so much."
---
The Book That Matters Most
Then she sat staring at her phone as if she could make a response from any of them appear just by her sheer will and desperation. She tried not to think of where Maggie might have gone. Of what might have happened to her. Once, when Maggie was fifteen and just back from a wilderness treatment program in Utah, she went missing. Ava and Jim had driven around Providence, looking in all the places where kids went to buy drugs, getting out of the car to show Maggie's picture to stoned teenagers in doorways on Thayer Street. Two days later, she showed up back home. "I met a boy," she said as an explanation, as if that was okay.

The Red Thread
There exists a silken red thread of destiny. It is said that this magical cord may tangle or stretch but never break. When a child is born, that invisible red thread connects the child's soul to all the people – past, present, and future – who will play a part in that child's life. Over time, that thread shortens and tightens, bringing closer and closer those people who are fated to be together.
The Knitting Circle
Usually, Mary was one of the first to arrive at the knitting circle, especially when she drove in with Lulu and Scarlet. She liked the settling in, the way they each gravitated toward the same seat every time, Lulu in the center of the lumpy sofa, Scarlet in the green rocking chair. Mary always sat beside Alice so she could ask for help if she needed it or simply to breathe in her clean citrus scent. Alice was the freshest-looking person Mary had ever known, as if she'd just emerged from a good hot bath.
Comfort
Then, one Sunday morning, Lorne said he wanted us all to go to church. I wanted to flat out refuse. But so desperate was I for help, so desperate to make our little broken family whole again, that I went despite my comfort. As we slid into our usual pew, a family of three now instead of four, I felt everyone's pity pouring over us. It wasn't pity that I wanted, or even sympathy. I wanted Grace back. And short of that, I wanted God or someone to help me understand why she was gone and what to do without her.

The Books That Matter Most: Ann Hood's Faves
Favorite authors
F. Scott Fitzgerald, Elena Ferrante, Maurizio de Giovanni, Elizabeth Strout, Alice Munro, Alice Hoffman, Lily King

Must-have desert island books
The collected stories of John Cheever and William Trevor and everything by Shakespeare.

Favorite books in high school
Marjorie Morningstar, Dr. Zhivago and The Bell Jar.

Favorite book quote
The last line of The Great Gatsby, the most beautiful line in a novel: "So we beat on, boats against the current, borne back ceaselessly into the past."

Favorite genre to read
I love noir! Especially Denise Mina's tartan noir books set in Glasgow and anything that takes place in World War I.