An Afternoon with Apples
A day at the press with friends and family.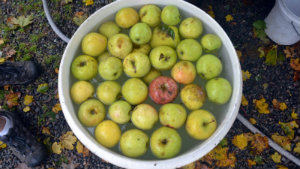 If you're anything like me, apple cider has taken precedence in your refrigerator; the milk cartons and the orange juice have been pushed aside. After this weekend, the bottom shelf is completely reserved for the home-pressed apple cider gallons garnered from my participating in a yearly traditional cider making.
For thirty-five years, Dan Siegel of Narragansett has been using a press to make apple cider. His wife's elderly friend let them borrow it each year until the year before she passed away, she wrote a letter to them and gifted the press for Christmas. The Siegels have continued this tradition of inviting friends and family from nearby states for cider making, which has now also become a change of the season celebration.
We started with 1,200 pounds of apples and with the help of about thirty volunteers, we cultivated fifty gallons of homemade, organic cider. The morning began with heavy lifting. Bails of apples, which were gathered from an orchard in northern Rhode Island, were unloaded into large plastic bins filled with water for soaking and cleaning. The apples were washed here, bruises were picked off and the apples were then ready for the press. We continued this cycle for a couple hours till no more apples were left.
The volunteers designated themselves at certain stations: While I washed the apples with ten others, there were five volunteers manually turning the press with two additional people dropping the apples in for pressing. Others stood near the filter and bottled the final product. As the day continued, the sun peeked its way through the gray sky, making for a quintessential fall afternoon.
Although it may be uncommon that a friend has a press at their disposal (I feel lucky to be able to participate in this process), there are places nearby where you can stock up on just as good, fresh-tasting apple cider: