Amos House Helps Families Reunite
Moms get back together with their kids in a former bed and breakfast.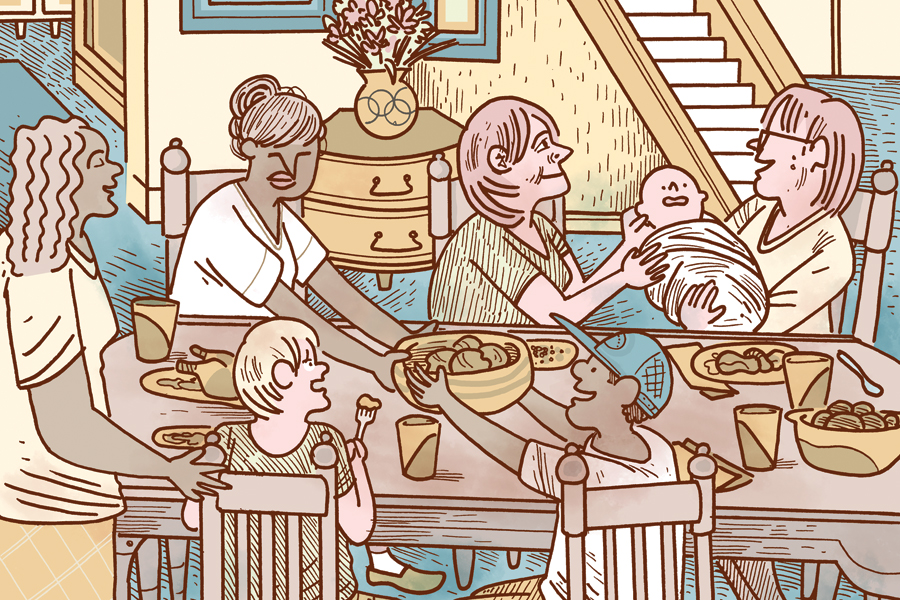 A Victorian former bed and breakfast with a turret and gables is home to thirteen formerly homeless women and their young children. The Providence home was purchased five years ago by Amos House with grant funding to launch its Mother-Child Reunification Program. The women who live here have overcome substance abuse issues and many have open cases with the Department of Children, Youth and Families (DCYF). The goal of the program is to provide the counseling services and parenting classes necessary to successfully reunite the women with their children, under twenty-four-hour supervision.
"Everyone was homeless. Most of them had their children taken from them. Some of them came from prison. Usually what happens is they have gone from prison to our ninety-day program to here, or they have been in another treatment program," says Amos House President and CEO Eileen Hayes. "But they have to be clean for ninety days before coming to this program."
Often times, women with substance abuse issues recover and DCYF cases are closed, but then support ends. "It was important for us to create this program where there is ongoing support even after cases are closed so they can continue learning what they need to know," says Jessica Salter, Amos House's director of development.
Downstairs, the women gather around a kitchen table in the home's dining room, eating breakfast and talking while holding their babies that range in age from two weeks to one-year-old twins. They pitch in by doing daily chores around the home while also participating in one-on-one counseling, group meetings, parenting classes and eventually training to reenter the workforce. Each woman has an intensive case management plan, and she and her child or children live in one suite with a bedroom and bathroom, but they use common areas to bond and learn parenting skills.
"These kids start thinking they are siblings," says Salter. "The real beauty of this house is they form their own family under this roof." amoshouse.com