Alone in a Crowd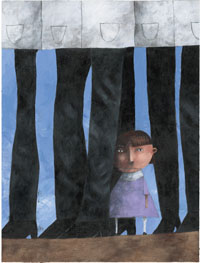 First, there was the handwriting. Angus and Petrina Ross watched their thirteen-year-old daughter's handwriting shrink to a painful, nearly microscopic script. Next, there were the noises. The teenager clapped her hands over her ears to shut out everyday sounds: the smack of iron against ironing board, the clatter of dishes and glasses, even her father's breathing. Then, there was the coma-like sleep. One day in January 2003, Petrina couldn't rouse her daughter until nearly midday. The next day, it happened again. Doctors couldn't find anything wrong.
"I knew there was a problem, but I didn't know what it was," Petrina Ross says as she and her husband sit in the neat living room of their spacious suburban home. On this warm fall evening with a light fog hanging over their East Bay neighborhood, the Ross home is peaceful. Petrina shares the couch with the friendly family cockapoo, and Angus sits in a nearby wing chair.
It was the summer of 2003. After months of erratic and out-of-character behavior, their daughter revealed she had been molested over a long period of time by her YMCA gymnastics coach. For three years, she had been spending up to five hours a day training with the gymnastics team, working toward her dream of Olympic gold. The former coach is now a fugitive from justice and has been featured on "America's Most Wanted."
Being part of the gymnastics team was an activity that Petrina says, "I thought was sacrosanct safe."
The disclosure shocked the Rosses. It was just the first of many. It has not yet led to healing, and afterward their home became anything but peaceful. Their once-happy daughter would often yell uncontrollably, and they gesture to a spot on the wall where she would bang her head. They recall the evening she hid under her bed and screamed to escape an unwanted visitor. The unrelenting tantrums left her physically spent and soiled from her own urine.
After one such emotional explosion in the fall of 2003, they brought her to Hasbro Children's Hospital in Providence. She was hospitalized for eight days.
Thus began a cycle that is all too familiar for many families whose children have mental and behavioral health problems. Treatments seem to be too little, too late. Behavior degenerates. An emergency lands a child in a hospital. Insurers advocate for release. The cycle begins again.
Caring for a seriously ill child can be overwhelming even with plentiful treatment options, cooperative health insurers and plenty of emotional support.
In Rhode Island, many families do not have it this easy. Here, children can languish without treatment as families struggle to navigate a confusing system with a shortage of services.
It is not this difficult because state officials have ignored the problem. In fact, they've boosted services and smoothed the rocky path to treatment.
It is not this difficult because there are no topnotch facilities and practitioners. Bradley Hospital in East Providence, a private psychiatric facility, offers inpatient and outpatient care for children and adolescents, and families whose children have been treated there praise it highly.
It is not this difficult because professionals have not reacted to the shortage. Bradley hopes to break ground this summer on an estimated $26 million outpatient facility.
It is not this difficult because there are no support groups. Parents, hospitals, community mental health facilities and organizations such as the National Alliance for the Mentally Ill (NAMI) sponsor a variety of support groups.
"Before many other states were even thinking about community mental health, Rhode Island was doing a lot," says Elizabeth Burke Bryant, executive director of Rhode Island Kids Count, a children's policy organization. "We're trying to get the services into the communities so kids can be seen earlier and seen where they live. That helps prevent escalation."
But Rhode Island is still a place where families can be forced to wait months for appropriate care. It is still a place where there is a dire shortage of professionals from child psychiatrists at the top to respite caregivers at the bottom. It is still a place where many professionals do not accept private health insurance and insurance providers dictate the type and length of care. It is still a place where the child and adolescent mental health system remains in crisis.
"There are waiting lists for services everywhere, for community mental health, for psychiatric beds and other services," says Dr. Gregory K. Fritz, Bradley Hospital's medical director. "But the longest wait is for outpatient services. For an outpatient evaluation, you are lucky to get one in six weeks, and it could be more like three months. The unit that matters is time on a waiting list."
For a child who is depressed and suicidal or whose behavior is erratic and difficult to control, such a wait can result in a costly hospitalization that might have been avoided if he had been evaluated more quickly.
The Rosses saw this happen to their daughter. She was released from the hospital, only to be placed in a partial-treatment program that didn't provide enough support. She eventually attempted suicide.
Fritz says one indicator of a system in crisis is when children who should be in psychiatric inpatient treatment instead end up in general hospital emergency rooms and pediatric hospital wards because of a lack of psychiatric beds. That happens regularly here; between October 2004 and March 2005, approximately 204 children were boarded in emergency rooms and medical floors of Hasbro Children's Hospital while waiting for beds to open somewhere in the state.
A 2002 Rhode Island Kids Count report on children's mental health services in Rhode Island says 83 percent of the caregivers of mentally ill children on Medicaid felt overwhelmed by their children's needs; 99 percent could not find parent education classes or respite care; and 48 percent could not find mental health counseling.
"Will the crisis be rectified? The best predictor of that is the past," Fritz says. "We've called it a crisis for many years now, and we've never made a dent in it. That might be the cynical prognosis, but maybe the realistic one."
One obstacle to solving the problem is that there are actually many problems. The persistent stigma of mental illness is one. Another is the risk for a parent who accompanies a child to the doctor and counseling appointments during office hours. Take too much time off work, and she could lose her job.
"One issue flows into another. It is not simple," Fritz says. "The solutions are elusive."
Janet Anderson, assistant director of children's behavioral health for the state Department of Children, Youth and Families, says state officials are committed to working toward solutions despite the complexity of the issue and tight budgets for expanded programming. "We still don't have enough," she says. "There are problems of both integration and accessibility. But there is a lot going on in the state."
One key difficulty is a national shortage of child psychiatrists, says Fritz, who is heading a ten-year effort by the American Academy of Child and Adolescent Psychiatry to recruit more young professionals.
There are barriers to these efforts. Child and adult psychiatrists are paid comparably, although child psychiatry requires two more years of training. In addition, evaluating and treating children takes longer than treating adults, but insurers reimburse both treatments identically. Compounding this: Rhode Island's insurance reimbursement rate is 20 to 30 percent lower than either in Connecticut or Massachusetts, and salaries for child psychiatrists in New England are significantly lower — by as much as 30 to 40 percent, estimates Fritz — than in many other areas of the country. Still, because Rhode Island is an attractive place to live, more child psychiatrists practice here. A 2006 nationwide study in The Journal of the American Academy of Child and Adolescent Psychiatry ranked Rhode Island in the top five states for the number of psychiatrists per 100,000 children.
"It is pretty good in Rhode Island," Fritz said. "But it's not good enough. There is no consumer or professional who thinks it is good enough. There is no place in the country where it is good. A very wealthy person who is willing to pay top dollar out of pocket in Manhattan, San Francisco, or Washington, D.C., could get access to a competent child psychiatrist within a few days. But if you have to use insurance, even in those places, there aren't many choices."
Dr. Gregory P. Stiener, a child psychiatrist who works both at Newport County Community Mental Health Center and in a private psychiatric practice, says while lower-income residents qualify for public-funded treatment and the wealthy can afford to pay for services, middle-income families are most often in a bind because they rely on private health insurance.
"The group that is the hardest hit is the middle class, the ones who don't qualify for Rite Care, but don't have a lot of extra money," he said, referring to the state's public health insurance. "They could need to outlay $2,000 to $5,000 for services. They also have the hardest time accessing services. I challenge anyone to start calling the Blue Cross provider list to find the service they need. You might have to call twenty to thirty people before finding someone."
He does not accept insurance in his private practice.
"Most people in Rhode Island don't," he says. "I get a lot of heart-wrenching calls from parents pleading to get their kids services. Even if they are willing to pay, I can't take them. I'm not taking new patients. I just can't fit them in."
He sees about 200 private-practice patients. "It's labor intensive," he says. "We are not just pill pushers. It takes a lot of time. We tend to focus on the ones who get our attention the most, the ones who set fires, who steal cars. It would be a lot better to treat the small problems before they get large."
Although the shortage of child psychiatrists is a concern, professionals agree the more dire need is for intermediary services, such as therapists, social workers and less intense programs that can help kids avoid hospitalization.
"There is no real step-down care for mental illnesses," says Arthur Mercurio, assistant director for the Center for Autism and Developmental Disabilities at Bradley Hospital. "There is no access to alternative levels of care."
A changing attitude is keeping demand high. While mental illness was once viewed as a condition to be hidden or ignored, more families now realize their children will improve with treatment, if only they can find it.
Just a generation ago this was not the case. Roseann and John Mumford of Westerly say when their oldest son was diagnosed with bipolar disorder at age twenty-one, they felt guilty and ashamed.
"It was like bars went up around the house, and we didn't tell anyone," Roseann Mumford says. "You feel a lot of guilt. I don't know why there should be shame, but there is. For years, we never said anything to anyone."
Their son was a Providence College junior in 1977 when he became paranoid, saying the Mafia was out to get him. College officials called and asked his parents to bring him home. The Mumfords now facilitate a NAMI support group. John says the stigma may have decreased, but is far from gone. "We have about twelve regular members in our group, but there are some 6,000 or more people in South County who need help," he says.
Local professionals estimate for every child who's in treatment, five more are probably in need but aren't getting it. One reason is the system is so difficult to navigate, only the most persistent find appropriate care. Another is that treating mental illness is not an exact science, and a variety of treatments and diagnoses is not uncommon.
Linda Succi, an East Providence elementary school principal, says she tried for fourteen years to find enough help to keep her developmentally disabled daughter at home.
When her daughter was just eight months old, she was the only baby at a Gymboree class who could not yet sit up. Many years later, her daughter was diagnosed as developmentally disabled, with attention deficit and impulsivity disorders. "She basically met no milestones," Succi says, referring to those signposts such as walking and talking that measure infant and toddler development. "The first thing is where do I go for services? What's available and how do I access it?"
Succi says she spent hours each day calling agencies. But even when she was approved for services, her problems did not end.
Her daughter needs skilled care, so Succi was told she could obtain at-home care.
"You get approved, but then it's up to you to find a person by working through an agency," she says. "Then I'd get someone who could only work mornings, or only certain days. I put my own ad in the paper, and I had to do the interviews and check the qualifications. It was successful, but costly. Once I was starting a new job as a principal on a Tuesday, and the weekend before I was still interviewing people to take care of my daughter."
Succi's fifteen-year-old daughter is in a full-time residential program at Bradley. She attends school, gets twenty-four-hour medical and mental health care and participates in recreational programs.
"She's in a good place now," Succi says. "There's always a risk she could be cut off from insurance, but I think it's okay."
Midje Rekowski, secretary for a Westerly NAMI support group, says she worked for years to find appropriate services for her son, who was not diagnosed with bipolar disorder until he was an adult. Her son was intelligent, but his behavior was unpredictable and erratic. He was labeled a bad boy in school and was expelled from Sunday school, Little League and Boy Scouts, she says. Too often mentally ill children grow into mentally ill adults and wind up in prison before getting an accurate diagnosis and treatment, she says.
Many families tell similar stories: a desperate search for help, a trail of failed therapies and shifting diagnoses because of the inexactness of mental illness, a stack of bills and an abyss of stress.
Angus and Petrina Ross, who are natives of Great Britain, moved to Rhode Island in 1996 when Angus took a job at the Naval War College in Newport. They feel it is important to share their travails because doing otherwise only perpetuates the taboos of mental illness. It is not an easy story to share. Angus leans his head back against their living room chair for support. Petrina frequently wipes away tears.
The Rosses have three children, and their middle daughter's problems have strained them all. Their oldest daughter now attends college out of state, but is in therapy and is frequently angry and irritable when she is home. Their youngest, a son, is often sad and once told his mother he couldn't understand why his eyes were always watering. "He was crying, and he didn't even realize it," Petrina says.
In July 2003, shortly after their daughter's gymnastics team returned from a national competition in Georgia, the YMCA fired the girls' coach for an undisclosed reason, the Rosses say. Their daughter was then attending a gymnastics summer camp under the supervision of a new coach. One day, during lunch, the girls were talking incessantly about their muscle tone, and the new coach told them they were too young to be concerned with such issues.
Their daughter told the new coach that the previous coach had always insisted they have good tone and would frequently feel them to ensure they had it.
The new coach asked some more questions and reported to authorities what several of the girls told her.
"It was Friday, and they had a show at the end of the week," Petrina says. "I turned up at the Y to watch a show, and there were police there. That's how I found out about it. We found out there were six girls he (the former coach) had sort of handpicked."
Their daughter was reluctant to say more to police. The police and the Rosses arranged for her to meet with a female counselor from a sexual abuse trauma center.
"They videotaped her statement," Petrina Ross says. "I wasn't allowed in."
After their petite, blond-haired daughter told of her molestation, her emotional state did not improve. She tried to return to her normal life: school, friends and gymnastics. There was seemingly nothing normal left.
"She really started to crumple," Petrina says. "There was no more enjoyment in life for her. She didn't laugh. She didn't smile. She was like a robot."
During her initial eight-day hospitalization at Hasbro, "her voice was just a whisper," her mother says. "Her eyes were mostly shut."
After she was released, she entered a partial-day treatment program for eating disorders, because she had been diagnosed with anorexia. The Rosses drove back and forth to Hasbro twice a day, delivering their daughter each morning and picking her up each evening. Every night, they'd complete a form describing how she acted once she left the hospital.
"We'd fill them out diligently, but we felt they didn't really believe us about her behavior," Angus says. At home, their daughter was chanting, yelling and rocking.
"One night we taped her, and when we showed them that, they taught us how to safely restrain her," he says. "That was awful. We became part of the problem for her."
At one point, doctors suggested an intervention therapy in which a circle of close friends and relatives would all meet with their daughter. The friends repeated how much they loved her and reminded her that nothing that happened had changed their relationship. Instead of helping, she began chanting loud enough to block out their voices and banging her head against the wall. "They'd say there were things that might help, but might not," Angus Ross says. "You keep trying different things."
In early December 2003, she was admitted to Bradley. She continued to injure herself, banging her head until the skin split.
"They put a plastic helmet on her to protect her, and then she started to bite her arms," Petrina says.
Their daughter was at Bradley for a year and ultimately was diagnosed with severe Post Traumatic Stress Disorder, the same type of illness that plagues many combat veterans. After a year at Bradley, she was released to attend a partial-day treatment program. Within a month she was rehospitalized when her behavior deteriorated. By spring, she was released and entered another eating disorder clinic. In December 2005, she made her suicide attempt, overdosing on antidepressants and anti-anxiety pills. She was rehospitalized.
Last June, she was released from Bradley to a residential treatment center in Massachusetts that specializes in treating Post Traumatic Stress Disorder and other mental illnesses in adolescents. The center was recommended by Bradley physicians and DCYF officials. There she attends school and receives therapy, and coping and social skills training. The Rosses visit her each Saturday, a trip that can take more than two hours each way if traffic is heavy.
Their insurer has disputed some of their daughter's treatment and is balking at paying for the out-of-state treatment. Their problems are compounded because they have been unable to secure U.S. citizenship. That means they can't rely on Medicaid after they exceed benefit limits imposed by their primary insurer. Because of this, unpaid medical bills are mounting. The Rosses keep stacks of them clipped neatly in a thick, white, three-ring binder.
"There are a couple of college educations in here," Angus says, holding the binder in his lap. "We wanted her evaluated for trauma," Petrina says. "It cost us $12,000 for a four-day evaluation. The insurance wouldn't pay. We already owe more than $250,000."
The Rosses aren't yet hopeful their daughter is progressing at the Massachusetts center. "They promised she'd be in a trauma therapy group by now, but she's not yet because they say she's not stable enough," Petrina says.
In Massachusetts, she is away from the familiar sights that could trigger bad memories; both Angus and Petrina Ross say they believe she at least is not regressing. It's a small step, but it's all they have for now.
Need help?
Here's what you can do if you suspect your child has a mental or behavioral problem or a developmental disability.
Use state and local resouces. Call one of the state's seven CEDARR Family Centers (Comprehensive Evaluation, Diagnosis, Assessment, Referral, Re-evaluation.). They offer one-stop shopping for diagnosis and treatment. Contact the National Alliance for the Mentally Ill, an independent nonprofit group with affiliates and support groups throughout the state. Other sources: the Parent Support Network of Rhode Island, The Sensational Child, Bradley Hospital, community mental health centers.
Recognize your pediatrician may not be the best professional to consult. They're not necessarily trained in mental health issues. A mental health professional is best.
Educate yourself. There are websites and online articles for many disorders, treatment centers and support groups.
Be persistent. With demand for services very high, parents who are the most vigilant can be the most successful.
Know that one size does not fit all. A medication or therapy that works for one child may not work for another. The same is true with therapists.
Be vigilant. Children, especially teens, are very good at masking problems.
Don't lose hope. Understand that mental illness and developmental and behavioral disorders are treatable with proper medication and therapy.