All in the Family
If there's one common ingredient in every Italian dish, it's heritage.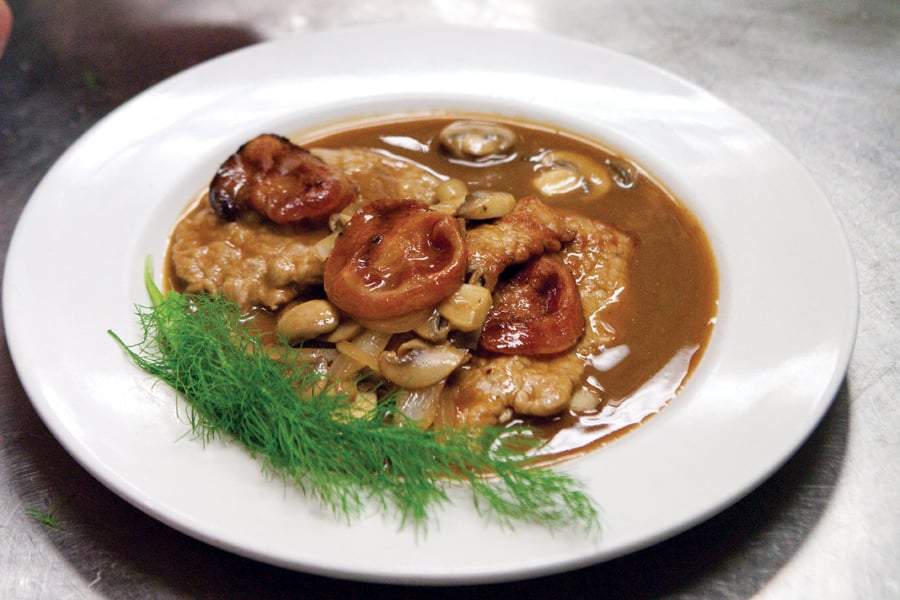 Everything comes from or pays respect to those who tilled the soil and eventually sailed the seas to bring their cuisine across the Atlantic. It's only right that chefs from around the state pay tribute to the grandmothers who sparked their love of cooking. We persuaded them to share their favorite recipes.
From Richard Sardella, Sardella's Restaurant, Newport.
One of the restaurant's bestsellers, Veal Loretta, named after Sardella's mother, was his favorite dish growing up.
12 small veal medallions (1 pounds approx.   inch thickness per medallion)
Salt and pepper to taste
Flour, for dredging
2 Tbs olive oil
2 oz onions, sliced thinly
4 oz pancetta slices
2 oz mushrooms, sliced
2 oz brandy
6 oz veal stock
2 Tbs butter
Season medallions with salt and pepper, dust with flour. In a medium saute pan, heat the olive oil over a moderately high flame. Saute the medallions 2 minutes per side then remove from pan to complete the sauce.
Add onion, pancetta and saute until transparent and then add mushrooms, cooking until they release their liquid.
Add the veal medallions back into the pan and flame with brandy until the alcohol is burned off.
Add veal stock and butter and reduce
for 2 minutes.
Serve over favorite pasta. Serves 2.
Pollo Della Nonna (My Grandmother's Sicilian Chicken)
From Anthony Tarro, chef and co-owner of Siena Restaurant Group.
"This recipe is said to be four or five generations old in my father's family," Tarro says. "My grandmother, Rose Lozito Tarro, was born in Syracusa, Sicily. As a child I had this dish almost once a week in our house; I've never shared it with anyone but family. It's intended to be made with chicken on the bone and at home we use a whole chicken. There is a certain flavor that cannot be replicated by using boneless chicken but be careful when eating it to remove the bones."
5 lbs bone-in split chicken breasts, skin off, or 1 whole 5-lb roasting chicken
1/2 cup extra virgin olive oil
1/4  cup unsalted butter
2 Tbs chopped garlic
2 cups dry white wine
1 10-oz jar Pastene Sicilian olives with pits
1 cup chicken stock, low sodium
4 stalks celery, cut into 2-inch by 1/2-inch sticks
2 Tbs fresh basil, chopped fine
1 Tbs fresh mint, chopped fine
1 Tbs capers, drained
  1/4 cup white vinegar
  1/4 tsp freshly ground black pepper
Kosher salt to taste
Cut each chicken breast into 3 equal pieces. In a large saute or braising pan, heat the olive oil and butter on medium-high heat. Before the butter starts to brown, add the chicken. Allow the chicken to cook to a golden brown color on all sides, reducing the heat if the butter starts to brown too much.
Add garlic and cook for 30 seconds.
Add wine and reduce by half its original volume.
Add olives and all the olive brine as well as the remaining ingredients except salt. Bring to a quick boil then reduce to a simmer. Cover the pan and continue to cook for approximately 45 minutes. (The chicken should pull off the bone, but not be shredded.) Season with salt if desired and serve with rice pilaf or risotto. Serves 6.
Gennarina's Zuppa Fagioli
From Antonio Franco, executive chef at Basta on Broad, Cranston.
Antonio Franco still loves the bean soup that his grandmother, Gennarina Franco, used to make for him. "My family didn't always use pasta," he says, "unless we had leftover from the night before, in which case grandma would cut it up and add it right at the end of the cooking process. This is why we called it zuppa fagioli (bean soup). Add pasta and you get pasta fagioli. Almost every Italian family has their own version of this dish, varying ingredients and techniques depending on what you prefer. Use this as a guide, add your own touches and enjoy."
4 Tbs extra virgin olive oil
4 large garlic cloves, crushed
1 large Spanish onion, diced
3 stalks clean celery, diced
1 4-oz piece of prosciutto ends or smoked ham
1 3/4cups chicken broth
16 oz canned Italian plum tomatoes, drained, hand-crushed
2 Tbs fresh parsley, minced
1 stalk fresh basil
3 large fresh sage leaves
1 4-oz piece Parmigiano-Reggiano rind
48 oz canned cannellini beans, rinsed and drained
  1/4 tsp crushed red pepper flake
Sea salt and freshly ground black pepper
Grated Parmesan
Heat olive oil in heavy large skillet over medium heat. Add garlic and saute until brown, about 2 minutes.
Add onion and celery and cook for 5 to 6 minutes on low heat until onions become translucent. Add prosciutto or smoked ham, cook for 3 to 5 minutes on medium heat, letting the fats cook out. Stir in chicken broth and cook 5 minutes, stirring frequently.
Add crushed tomatoes, parsley, basil stalk, sage leaves and Parmigiano rind; simmer until tomatoes soften, stirring occasionally and breaking up tomatoes with back of spoon, about 15 to 20 minutes.
Add beans and crushed red pepper; cook for another 10 minutes. The zuppa should have reduced and thickened slightly. If you like it thinner, add water to desired consistency. Remove prosciutto end and Parmigiano rind before serving. Season with salt and pepper, to taste. Serve in a soup bowl with hard Italian rolls. Serves 6.
Mushroom Risotto
From Joseph DeQuattro, executive chef at Pane e Vino, Providence.
The Italian equivalent of serving potatoes with a meal: there's nothing risotto can't cradle but this traditional mushroom version pairs equally well with a variety of meat.
 1/4 cup extra virgin olive oil
4 Tbs butter
1 large white onion, diced
2 garlic cloves, minced, divided
4 cups any variety of mushrooms, chopped
1 tsp dried thyme
2 cups Arborio risotto
1/2 cup dry white wine
8 cups chicken broth, low sodium (you can also use vegetable broth or water)
2 Tbs parsley, chopped
1 Tbs truffle oil
Kosher salt
Black pepper
Add the oil and 2 Tbs butter to a large saute pan and heat over medium heat until butter is melted. Add the onions and garlic and sweat them until the onions are clear and transparent. In a separate large saute pan, add 2 Tbs of butter and melt over medium heat, adding the mushrooms and thyme and then saute until golden brown. Cook in two batches if needed.
Add the risotto to the onions and garlic, stir together and toast for a few minutes over the heat, until it is well-coated and opaque, 1 minute.
Stir in wine and cook until it is nearly evaporated. Ladle in 1 cup of broth at a time, stirring frequently until the rice has absorbed the liquid, continuing until all the broth is gone. This should take about 20 minutes and the risotto should be slightly firm and creamy, not mushy. Once risotto is finished cooking, gently fold in the mushrooms and parsley. Add salt and pepper to taste. Serves 4 to 6.